From private enterprise to space pioneer
Leave it to a few intrepid aviation dreamers and a team of financiers to usher in a new era in space exploration. \nTomorrow, they will make the first private attempt to launch a man into space in what they hope will be the seminal first step towards mass space travel. \nThe action will start early tomorrow from a dusty airstrip in the barren Mojave desert in southeastern California, where Burt Rutan, a legendary but maverick aviation designer will roll out SpaceShipOne for a flight that could change aviation history. \nThe bulbous rocket will first be carried aloft aboard a spindly white jet plane to a height of some 16km. The pair, described by technology magazine Wired as "resembling a dragonfly mating with a winged bratwurst" will then separate, and the rocketship's pilot will ignite its engine for an 80-second burn. \nThat will shoot SpaceShipOne to three times the speed of sound, sending it 100km above the Earth's surface. For a few seconds the unnamed pilot will feel the silence, blackness and weightlessness of space. \nThen the rocket will re-enter our planet's atmosphere, diving back down to earth, before its wings move, coaxing the ship to a gentle glide back to earth, according to the team's plan. \nThe men behind the project are designer Rutan, who is without doubt the closest thing that avionics has to a celebrity. His designs include the "Voyager," the first plane ever to fly around the world nonstop without refuelling. \nThe project has been funded by Microsoft co-founder Paul Allen to the tune of US$20 million. He may get some of it back if SpaceShipOne follows up Monday's flight by winning the US$10 million Ansari X prize. This will be given to the first team to successfully launch a manned spaceship carrying the weight of three people into space, twice within a period of two weeks. \nBut the ultimate prize is much bigger than that. Developing a successful private space vehicle would allow them to lead the way in developing space tourism, where flights would be sold to wealthy individuals for more than US$100,000 a pop. \nEven more significantly is that success would place them in a prime position for new government contracts that are at the heart of plans to reform the US space agency NASA by granting a much greater role to private enterprise. \nNASA has held a complete monopoly over space exploration for the last 40 years. But as the Economist magazine noted in a recent issue, the "agency has done so in a spectacularly expensive fashion, wasting hundreds of billions on projects that fail to live up to their billing." \nThe space shuttle is hugely expensive, fatally unreliable, and like the International Space Station that it is meant to service, thought to be largely superfluous to the scientific reasons for space travel. \nNASA's bureaucracy is notorious, and when it does hand out some of its US$15 billion budget to private firms, the work mostly goes to just two giant aerospace firms, Boeing and Lockheed Martin. \nThis means that creative entrepreneurs have had virtually no impact on advancing the space frontier. \nNow, if all goes as planned at 6:30 tomorrow morning, a small team of designers, engineers and yes, space visionaries, are about to launch a man out of the earth's atmosphere at a price that would probably not cover the NASA coffee budget. \nRutan is renowned for coming up with brilliant and cost effective engineering solutions. In the case of SpaceshipOne his plans called for cobbling together existing technologies for a project that will become far more than just the sum of its parts. \nThat, say his critics, is his weakness. \n"You've got to put this in the right context," said Mark Lewis, a professor of aerospace engineering at the University of Maryland. \n"Taken in and of itself, it's not a big deal. They've got a small cockpit on a rocket engine. The speeds they're reaching are speeds we reached 50 years ago. The concept of dropping the craft from a carrier plane is great, but we were doing that back in the World War II era." \nOthers claim that the private space effort will fail at the first hurdle. \n"My take on SpaceShipOne is that it won't make altitude" when it comes time to go for the X Prize, said Randa Milliron of Interorbital Systems, a Scaled Composites competitor. "It might be able to just kiss space with one person on board," Milliron said. \n"But with three people? If he does it, he'll be extremely lucky."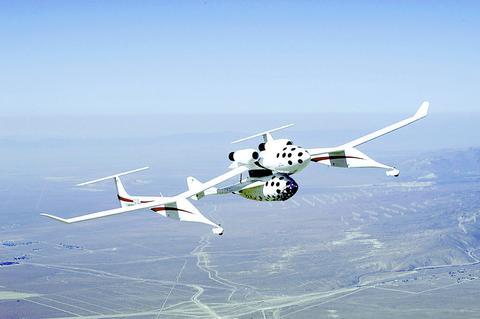 This NASA file image from June last year shows Scaled Composites' SpaceShipOne slung below its mothership as it flies during testing.
PHOTO: AFP
Comments will be moderated. Keep comments relevant to the article. Remarks containing abusive and obscene language, personal attacks of any kind or promotion will be removed and the user banned. Final decision will be at the discretion of the Taipei Times.