'Dilbert' cartoon dropped after racist rant by creator
The cartoon Dilbert has been dropped from numerous US newspapers in response to a racist rant by its creator on YouTube.
Scott Adams called black Americans a "hate group" and suggested white Americans "get the hell away from black people" in response to a conservative organization's poll purporting to show that many African Americans do not think it is OK to be white.
"If nearly half of all blacks are not OK with white people ... that's a hate group," Adams said on his YouTube channel on Wednesday. "And I don't want to have anything to do with them."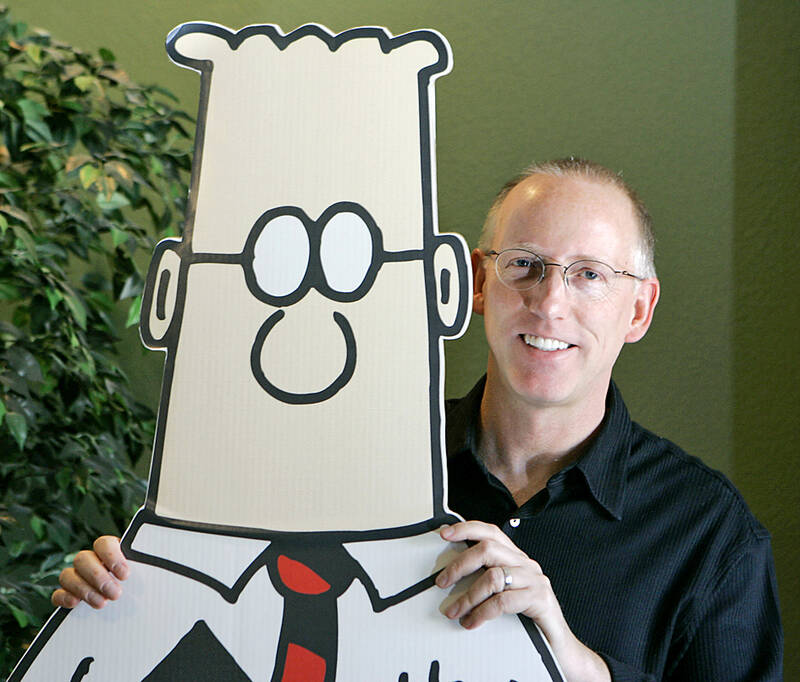 Scott Adams poses for a portrait with the Dilbert character in his studio in Dublin, California, on Oct. 26, 2006.
Photo: AP
The comments ignited a furor on social media, along with calls for the conservative cartoonist's work to be dropped from publishers' rosters.
His once-popular comic strip, which lampoons corporate culture and was launched in 1989, would no longer be carried by the Los Angeles Times, the Washington Post, the USA Today-affiliated group of newspapers and others, the newspapers announced in statements on Friday and Saturday.
"This is not a difficult decision," Chris Quinn, editor of the Plain Dealer in Cleveland said in a letter to readers posted on Friday. "We are not a home for those who espouse racism."
The Los Angeles Times on Saturday said it, too, would drop the strip.
"Cartoonist Scott Adams made racist comments in a YouTube livestream Feb. 22, offensive remarks that The Times rejects," the newspaper said on its Web site.
The Times said it had removed four Dilbert cartoons from its pages in recent months, because they violated the newspaper's standards.
Adams could not immediately be reached for comment on Saturday.
However, on his YouTube channel, he confirmed his comic was being dropped — and said he had expected that to happen.
"By Monday, I should be mostly canceled. So most of my income will be gone by next week," he said. "My reputation for the rest of my life is destroyed. You can't come back from this."
Adams' initial remarks came in response to a conservative Rasmussen Poll that appeared to show that 26 percent of black respondents said they disagreed with the statement "It's okay to be white." Another 21 percent said they were not sure.
However, Rasmussen also said the online and telephone survey last week of 1,000 likely US voters showed that 72 percent of Americans overall agree it is OK to be white, compared with 12 percent who disagree.
Adams said in his Wednesday rant that he had moved to a different location to get away from black people, and urged other whites to do the same.
"I'm not saying start a war or anything like that," he said. "I'm just saying get away."
Comments will be moderated. Keep comments relevant to the article. Remarks containing abusive and obscene language, personal attacks of any kind or promotion will be removed and the user banned. Final decision will be at the discretion of the Taipei Times.