FEATURE: Japanese seniors still called by the mountain
Yuichiro Miura has an unusual routine for a man who just turned 75.
At dawn, the veteran adventurer wakes after a night in a private low-oxygen chamber. He straps weights onto his ankles, hoists a 20kg backpack onto his shoulders and hikes for hours around Tokyo. Sometimes he adds a stroll on his treadmill.
Ask Miura why he isn't on the golf course or puttering around a vegetable garden, and he has a simple answer -- Mount Everest.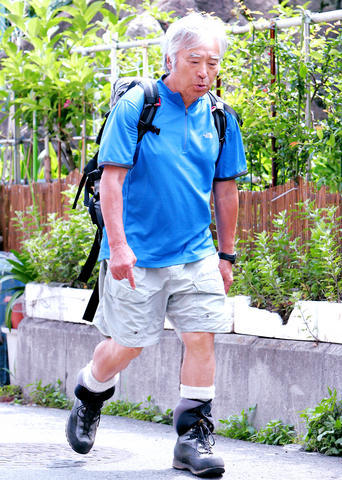 Yuichiro Miura wears weights strapped onto his ankles and a 20kg backpack as he hikes around Tokyo on June 7. Miura is one of a small cluster of graying Japanese climbers who have conquered Mount Everest.
PHOTO: AP
Miura is one of Japan's old men of the mountain, a small cluster of graying Japanese climbers who since 2002 have been passing among themselves an august title: the oldest person to have conquered the world's tallest peak.
"It's a tough but wonderful thing to get to the peak when you are past 70," Miura said at his Tokyo home. "I hope to send the message that we have the potential for many things in this aging society."
Miura is already famous for having skied down Everest in 1970, a feat captured in an Oscar-winning documentary. Now, for seniors like him, climbing the 8,850m Himalayan peak is as extreme an elderly activity as they come.
Toshio Yamamoto started the string of Japanese victories by scaling the peak in 2000 at 63 years. In 2001, American Sherman Bull reached the summit at 64 years old. Tomiyasu Ishikawa, then 65, took the title in 2002.
Miura won the distinction in 2003, at 70, but was eclipsed by fellow Japanese climber Takao Arayama, who scaled the peak last year, just three days older than Miura was when he did it. Katsusuke Yanagisawa took the crown this year, at age 71 years and 63 days.
Now Miura wants to do it again.
"It feels like the goddess of Everest is beckoning me to come back," said Miura, who is planning an assault on the mountain next spring, when he'll be 75 (Edmund Hillary was 33 when he becameone of the the first men to climb Everest, in 1953). None of three other Japanese record-holders plans to scale the mountain again, they say.
The Japanese also holds the record for oldest woman on Everest: Tamae Watanabe in 2002, at age 63.
Some attribute the prevalence of Japanese adventurers among the ranks of older climbers to the same factors that make them live increasingly longer: a diet heavy in vegetables and fish, excellent health care and trim physiques.
"Overall, the elderly have more vitality than before and their performance in sports is also improving," said Takuji Shirasawa, a specialist on aging at the Tokyo Metropolitan Institute of Gerontology who consults Miura.
Another factor in play is increasing affluence.
The spread of commercial expeditions beginning in the early 1990s allowed inexperienced but rich climbers to reach the summit.
Arayama, who broke Miura's record when he scaled the peak last year, said climbing Everest was a remote idea in his 20s, when the science was undeveloped and the experience was not widely open to the general public.
"The way we climb has changed. You use oxygen so you won't tire yourself, and more was found out about the best pace of climbing, and that's why I got to climb," he said.
Money brings world-class equipment, expert assistance on the mountain, and state-of-the-art training.
Miura's climb is estimated to cost around ¥200 million (US$1.7 million) spanning three years to next year, including overseas training trips and ¥60 million for the May expedition, which includes expenses for his climbing companions as well as communication and video recording costs. The effort is supported by corporate giants including Toyota Corp and Toshiba Corp.
But Miura says setting a record isn't all that important, since someone else will surely come along and break it. Instead, he said, "It's about discovering what I can do."
Comments will be moderated. Keep comments relevant to the article. Remarks containing abusive and obscene language, personal attacks of any kind or promotion will be removed and the user banned. Final decision will be at the discretion of the Taipei Times.