Lighting up the Taipei night celebrating Diwali
Hundreds of people yesterday attended Diwali celebrations in Taipei organized by the de facto Indian embassy, enjoying fireworks and traditional music, food and cultural performances.
Diwali, also known as the Festival of Lights, is observed by Hindus and those who follow other religions across India, and celebrates the "victory of good over evil and the victory of light over darkness," India's representative to Taiwan Manharsinh Laxmanbhai Yadav said at the Taipei event.
The "auspicious" annual festival "cuts across the lines of religion, region, nation and language," with about "1.4 billion people celebrating in India and millions of Indians celebrating across the world," he added.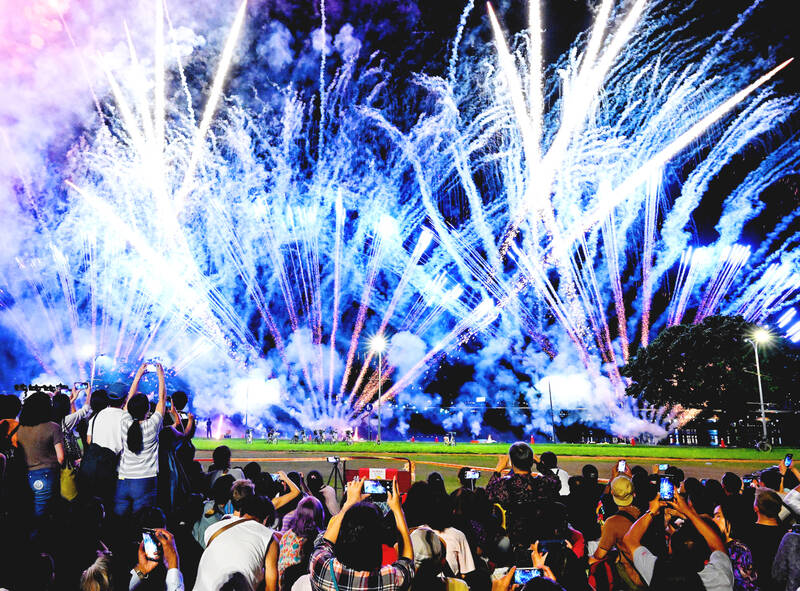 People watch a fireworks display along the banks of Taipei's Yanping Riverside Park during a celebration of Diwali, also known as the Festival of Lights, hosted by the India Taipei Association yesterday.
Photo: Chu Pei-hsiung, Taipei Times
Yadav said that traditionally Indians would illuminate their homes, temples and workspaces with oil lamps, candles and lanterns. They also do rangoli, the art of decorating the floor and the entrance of their home to welcome guests, as well as cleaning their living space thoroughly.
"All these are physical actions, but there is a deeper meaning to each one of them. When we light a lamp, we are trying to show that we are open to positive thinking and are open to positive energy. And when we clean our homes, we get rid of all the bad habits in our minds," Yadav said.
The envoy, who took office this August, said it is in this spirit that he is happy to see so many Taiwanese joining their Indian friends and participating in traditional dances at yesterday's event.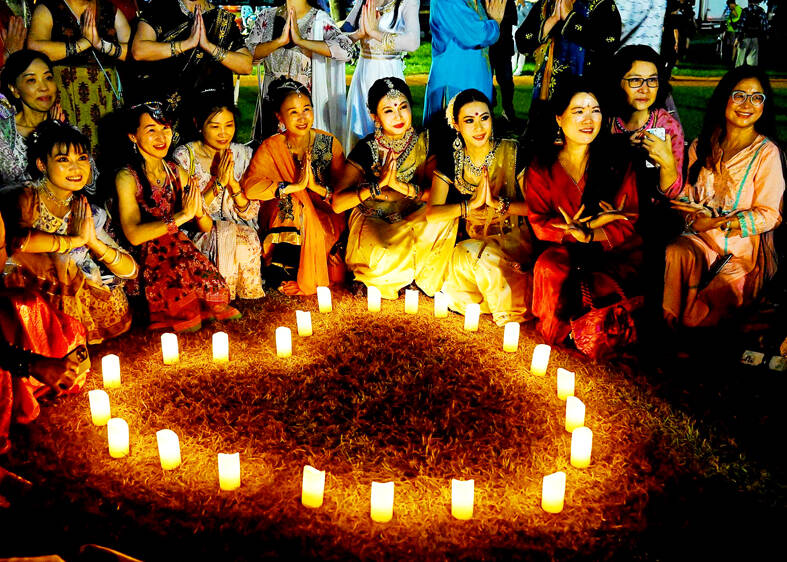 Women in Indian clothing pose for a photograph during Diwali, the Hindu Festival of Lights, in Taipei yesterday.
Photo: Chu Pei-hsiung, Taipei Times
On his part, Minister of Foreign Affairs Joseph Wu (吳釗燮) praised the annual event as showcasing the cultural heritage of the "great civilization" of India.
The top Taiwanese diplomat said he is a huge fan of Bollywood movies and that Indian cuisine is also widely popular in Taiwan.
"The relations between Taiwan and India have become closer than ever, in every aspect, including science and technology, education and supply chain resilience," Wu said.
Bilateral trade between India and Taiwan reached US$8.4 billion last year, he added, saying that the Ministry of Foreign Affairs recently announced it would soon open a new representative office in Mumbai, the cultural and business hub of western India.
Comments will be moderated. Keep comments relevant to the article. Remarks containing abusive and obscene language, personal attacks of any kind or promotion will be removed and the user banned. Final decision will be at the discretion of the Taipei Times.