Hou unveils his 'consensus' view
New Taipei City Mayor Hou You-yi (侯友宜), who is the Chinese Nationalist Party's (KMT) presidential candidate, on Monday said he would support a version of the so-called "1992 consensus" that conforms with the Republic of China (ROC) Constitution.
Hou was previously vague about his stance on the "1992 consensus."
The "1992 consensus" — a term that former Mainland Affairs Council chairman Su Chi (蘇起) in 2006 admitted making up in 2000 — refers to a tacit understanding between the KMT and the Chinese Communist Party that both sides of the Taiwan Strait acknowledge that there is "one China," with each side having its own interpretation of what "China" means.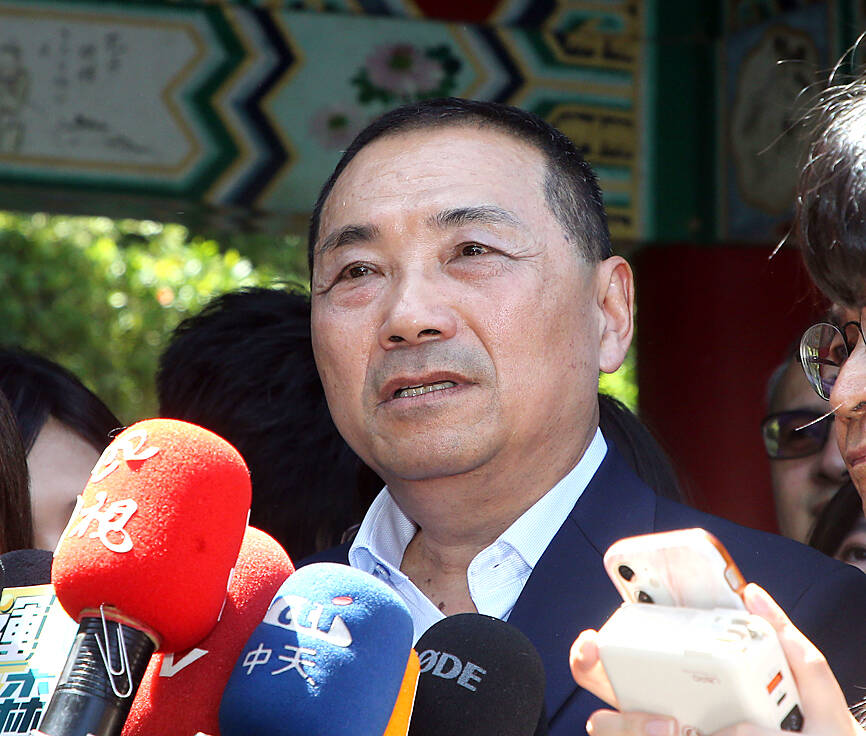 New Taipei City Mayor Hou You-yi speaks at a news conference in New Taipei City yesterday.
Photo: CNA
He said he is against interpreting the "1992 consensus" as referring to "one country, two systems," as done by the Democratic Progressive Party (DPP) and strongly opposes President Tsai Ing-wen's (蔡英文) "stigmatization" of it.
Hou did not comment on criticism that he merely echoed the KMT's long-held position of "one China, different interpretations" — which gives tacit freedom to Taipei and Beijing to come to separate conclusions as to what "China" means. Beijing has never formally endorsed this stance.
The DPP on Tuesday said that Hou's "consensus" views "flew in the face of mainstream public opinion in Taiwan."
Referencing a 2019 speech by Chinese President Xi Jinping (習近平), the DPP said that the "1992 consensus" and "one country, two systems" — an arrangement under which China agreed to rule Hong Kong and Macau, and has also proposed for Taiwan — are the same thing.
The speech referred to the "1992 consensus" as a political "foundation" to enable negotiations and exchanges, while "one country, two systems" was characterized as a "policy" and "plan" for achieving "peaceful reunification."
The DPP has refused to accept the "1992 consensus" on the grounds that Beijing has never acknowledged the ROC's existence and that agreeing to the "1992 consensus" would imply accepting China's claim over Taiwan.
Comments will be moderated. Keep comments relevant to the article. Remarks containing abusive and obscene language, personal attacks of any kind or promotion will be removed and the user banned. Final decision will be at the discretion of the Taipei Times.