Legislature passes tax and social worker amendments
Import tax for quartz glass products used in the semiconductor industry is to be lowered to 1.2 percent after the Legislative Yuan yesterday passed the third reading of an amendment to the Customs Import Tariff Act (海關進口稅則).
The Ministry of Finance last year proposed the amendment to ensure that the categories listed in the act align with last year's edition of the Harmonized Commodity Description and Coding System published by the World Customs Organization. The bill was approved by Executive Yuan on Aug. 11 last year.
Quartz glass products used in the semiconductor industry are imported in many forms and can be classified under different tariff codes under current regulations, resulting in a range of applicable tax rates, the finance ministry said.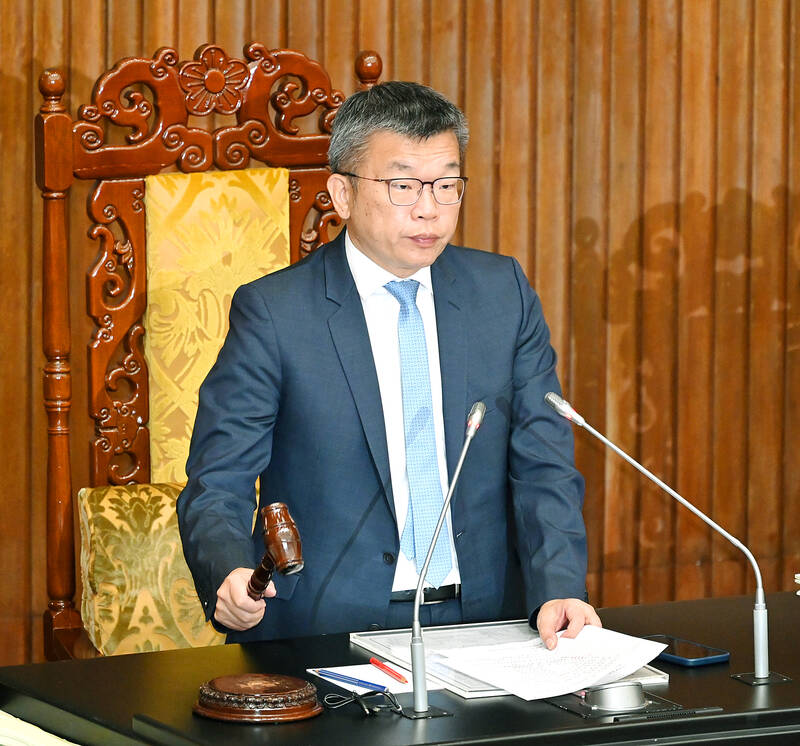 Deputy Legislative Speaker Tsai Chi-chang bangs the gavel at the Legislative Yuan in Taipei yesterday.
Photo: Liu Hsin-de, Taipei Times
For example, the import tax for glass balls, glass rods and glass tubes is set at 1.2 percent, while the tax for quartz crucibles used in the manufacture of semiconductors is 5 percent and that for other industrial glassware is 10 percent, the ministry said.
The amendment sets tax rules for quartz glass products exclusively used in the semiconductor industry and stipulates additional regulations, the ministry said.
If a quartz glass product is certified by the Ministry of Economic Affairs as for use in the semiconductor industry, it is to be taxed a uniform rate of 1.2 percent, meaning some products with import tax of 10 percent could benefit.
The amendment also adjusts the tax classification of squid products by adding four new categories: live, fresh or frozen squid; unsmoked frozen squid; dried, salted or soaked but unsmoked squid; and smoked squid.
The tax rates were set in accordance with the norms of the WTO, the ministry said.
The amendment would help expedite trade negotiations with other countries, the Executive Yuan said.
An amendment to the Social Worker Act (社會工作師法) was also passed by the legislature.
It bans those who have been found guilty of contravening the Sexual Assault Crime Prevention Act (性侵害犯罪防治法), Sexual Harassment Prevention Act (性騷擾防治法) or Child and Youth Sexual Exploitation Prevention Act (兒童及少年性剝削防制條例) from becoming social workers.
Comments will be moderated. Keep comments relevant to the article. Remarks containing abusive and obscene language, personal attacks of any kind or promotion will be removed and the user banned. Final decision will be at the discretion of the Taipei Times.