S Korea must prepare for a Taiwan war: ex-official
'INEVITABLE': In the event of a war with China, North Korea could launch partial attacks, so South Korea needs to strengthen its missile defenses, the ex-official said
South Korea would inevitably be drawn into a potential war in the Taiwan Strait, so it must take steps to prepare and prevent war from breaking out, a former South Korean official said on Friday last week.
The US plans to send a submarine equipped with nuclear weapons to the Korean Peninsula as a deterrent against a nuclear attack by North Korea, US President Joe Biden said during a visit to the White House by South Korean President Yoon Suk-yeol on March 26.
Former South Korean Ministry of Foreign Affairs official Lee Yong-jun said the submarine would also have important implications for the US' ability to respond to a Chinese attack on Taiwan, South Korea's Chosun Ilbo reported on Friday last week.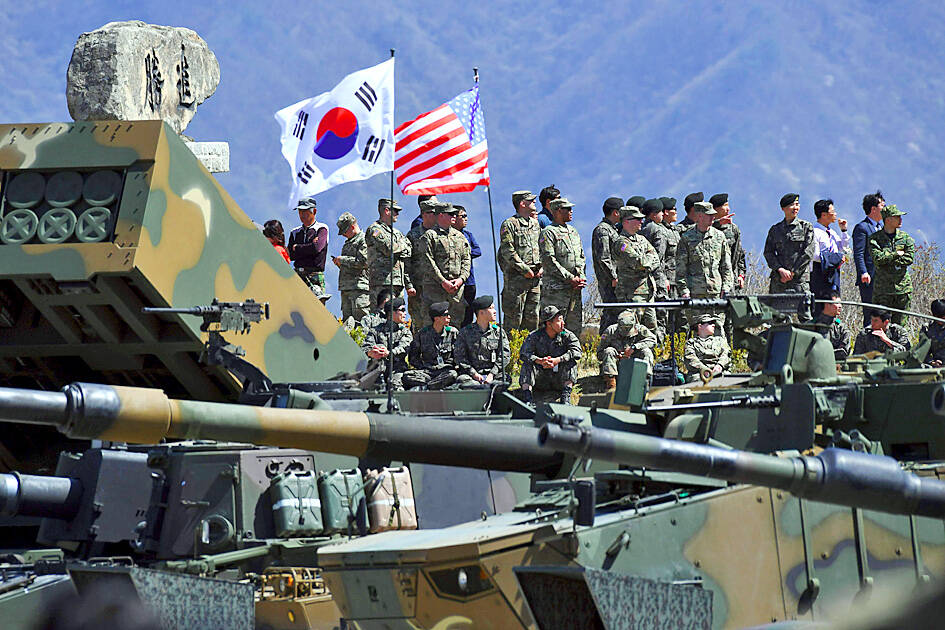 South Korean and US soldiers watch a joint drill between South Korea and the US in Pocheon, northeast of Seoul, on April 26, 2017.
Photo: AFP
The Ohio-class nuclear submarine could be equipped with 192 nuclear warheads — nearly half of the total number of nuclear warheads that China has — including the Trident-2 nuclear missile, which has an accuracy of within 100m, he said.
"Each of those warheads is 32 times stronger than the atomic bomb dropped on Hiroshima in World War II, meaning a fully equipped Ohio-class submarine is a threat equivalent to 6,000 times that bomb," he said.
"Within three to five minutes it could turn every major Chinese city into scorched earth," he said.
Having such a powerful US arsenal so close to China's shores would leave the Chinese leadership feeling helpless, he said.
"But this is largely China's own fault. This is the price China should pay for allowing and supporting North Korea's nuclear weapons development over the past 30 years, obstructing international sanctions, and helping North Korea complete its nuclear armament," he said.
Many people believe that Chinese President Xi Jinping (習近平) would attempt an invasion of Taiwan within the next few years, and if that happens, the US would inevitably be drawn into the conflict, and Japan would most likely assist the US, he said.
Those assumptions were evidenced by a number of factors including the US' acquisition of bases in the Philippines, US aid packages to Taiwan for defensive weapons and Japan's arming of uninhabited islands in Okinawa Prefecture, he said.
In the event of a war, the US and its allies would provide large-scale military assistance to Taiwan, and the US would completely block trade and financial transactions with China, he said.
"In that scenario, it would be very difficult for South Korea to only provide humanitarian aid to Taiwan, as it did during the Ukrainian war, or to remain on the sidelines," he said.
"US troops stationed in South Korea may be transferred to the Taiwan front at that time, and North Korea may be incited to take military action," he said, adding that South Korea would be unable to escape the possible diplomatic, military and economic repercussions of the war.
A Russian defeat in the Ukraine war would greatly weaken China's will to invade Taiwan, Lee said, adding that the South Korean government should provide greater support to Ukraine's defense.
South Korea and its allies must continue to articulate their opposition to a Chinese invasion of Taiwan, he said.
"Since a Chinese attack on Taiwan may instigate North Korea to launch a partial missile attack, South Korea's missile defense network should be greatly strengthened," he said.
South Korean companies should also readjust their trade with and investment in China in advance of such a conflict, as sanctions on China would make such trade impossible, he said.
Comments will be moderated. Keep comments relevant to the article. Remarks containing abusive and obscene language, personal attacks of any kind or promotion will be removed and the user banned. Final decision will be at the discretion of the Taipei Times.