Taiwan could recognize dual relations with China
Taiwan does not exclude the possibility of having formal diplomatic relations with countries that also have formal ties with China, regardless of Beijing's stance, Minister of Foreign Affairs Joseph Wu (吳釗燮) said on Sunday.
There was speculation in 2012 that Honduras was attempting to have simultaneous diplomatic relations with Taiwan and China, an idea that then-minister of foreign affairs David Lin (林永樂) rejected.
Honduras severed formal ties with Taiwan on Sunday morning after establishing diplomatic relations with Beijing.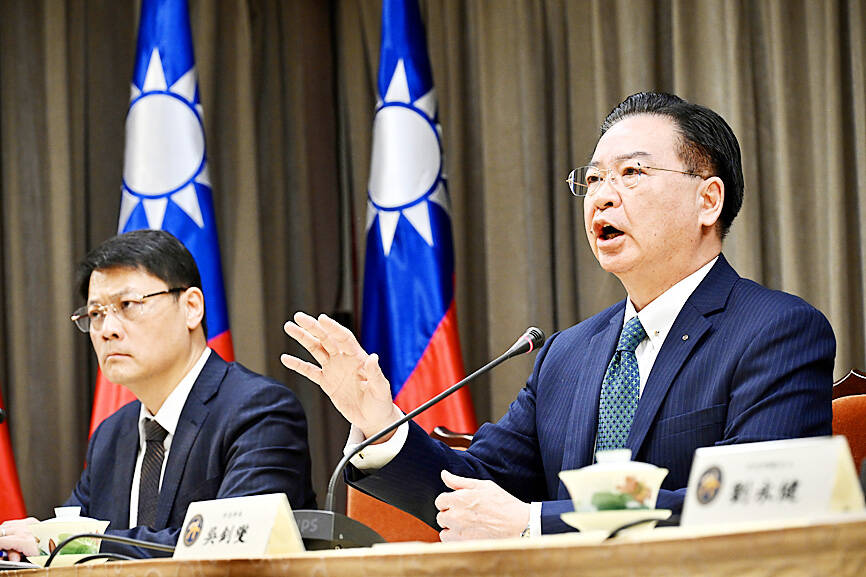 Minister of Foreign Affairs Joseph Wu, right, speaks at a news conference in Taipei on Sunday.
Photo: Lo Pei-de, Taipei Times
President Tsai Ing-wen's (蔡英文) administration has taken a more practical approach to relations with like-minded countries since assuming government in 2016. Previous administrations took the position that the two sides could not "stand together" regarding their formal ties with other countries.
Taiwan is resisting China's attempts to isolate the nation by becoming an important economic, cultural and technological partner of Latin American countries such as Argentina, Brazil, Chile and Mexico, in the fields of economics, culture and technology, Vice Minister of Foreign Affairs Alexander Yui (俞大?) told the Spanish-language online news outlet Infobae.
Taiwan would not ask other countries to sever diplomatic ties with China, but rather welcomes the idea of forming relations with both countries, Yui said.
Countries should consider whether Beijing's Taiwan exclusion demand is reasonable, he added.
"We will not rule out any possibility," Wu said when asked on Sunday whether the ministry encourages dual recognition.
If any country wants to bolster relations with Taiwan, whether in politics, diplomacy, culture or trade, Taipei would not consider their relations with Beijing as a factor, he said.
China's suppression of Taiwan's global participation "is not just toward a political party or certain people, but a problem for our country," Wu said.
The government is working to expand Taiwan's "breathing room" internationally, such as with a group of Czech lawmakers visiting Taiwan this week, he added.
Chinese Nationalist Party (KMT) Chairman Eric Chu (朱立倫) yesterday said Wu's remark would result in more diplomatic losses, as accepting dual recognition "creates ambiguity."
Comments will be moderated. Keep comments relevant to the article. Remarks containing abusive and obscene language, personal attacks of any kind or promotion will be removed and the user banned. Final decision will be at the discretion of the Taipei Times.