Legislator's ex-boyfriend handed jail term for abuse
Raphael Lin (林秉樞), former boyfriend of Democratic Progressive Party Legislator Kao Chia-yu (高嘉瑜), was sentenced to two years and 10 months in prison by the New Taipei City District Court yesterday.
Most of the term can be commuted to a fine of NT$780,000.
Lin did not appear in court yesterday, as he had tested positive for COVID-19.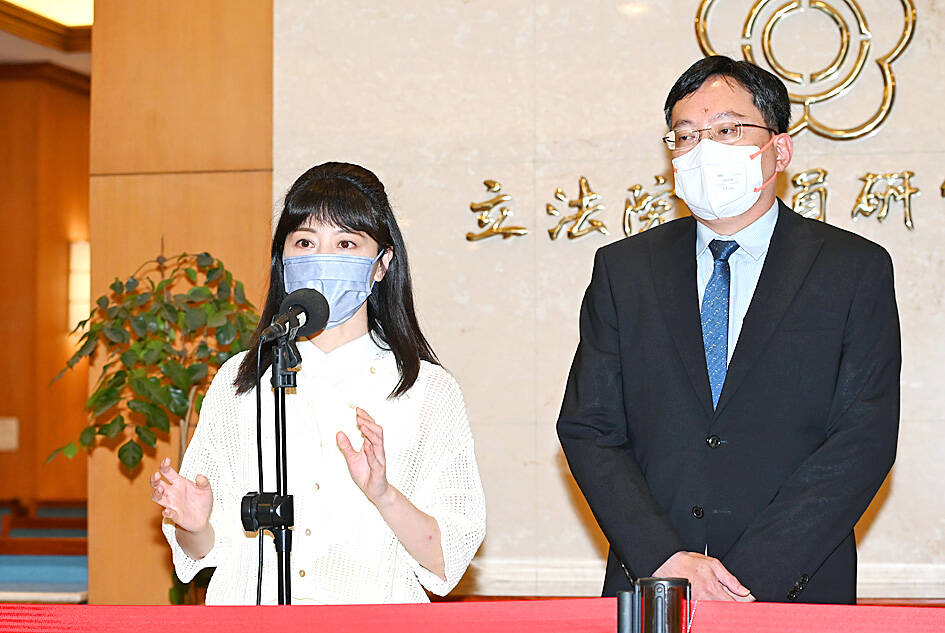 Democratic Progressive Party Legislator Kao Chia-yu, left, and her lawyer, Li Yung-yu, hold a news conference at the Legislative Yuan in Taipei yesterday.
Photo: Tian Yu-hua, Taipei Times
The New Taipei City District Prosecutors' Office in January indicted Lin on charges including assault causing injury, unlawful confinement, illegally recording intimate activities, threatening behavior and slander.
A psychiatric assessment of Lin determined that he had full mental capacity at the time of the crime.
The office asked the court to sentence Lin to at least three years in prison, as his behavior was "abominable."
Prosecutors and police officers found that Lin took intimate images of Kao in September last year, followed by slandering and threatening her in October, as he suspected that she had contacted a former boyfriend.
On Nov. 11 last year, Lin coerced Kao to stay in a room at the Grand Forward Hotel in New Taipei City's Banciao District (板橋) for two days, forcing her to take off her clothes and proceeding to abuse her, prosecutors said.
On Nov. 24 last year, Lin became angry at Kao after Vice President William Lai (賴清德) did not attend his mother's funeral, forcing her to kneel and kowtow in front of the funeral hall, they said.
On Nov. 29 last year, after discovering that Mirror Media magazine would report the incident, Lin told Kao that "if I die, you will die too," prosecutors said.
After the report was published the next day, Lin was detained and held incommunicado by prosecutors.
Kao and her lawyer did not appear in court yesterday, but responded to the ruling in the afternoon.
She said that the sentence was too lenient and "completely unacceptable," adding that she would "definitely file an appeal."
Lin was found not guilty of the charge of unlawful confinement, which Kao deemed as "seriously harmful" because he had allegedly hurt more than 10 women who were afraid to come forward.
Hoping that no one else suffers what happened to her, Kao said that she would push for legal amendments to protect victims of abuse.
Comments will be moderated. Keep comments relevant to the article. Remarks containing abusive and obscene language, personal attacks of any kind or promotion will be removed and the user banned. Final decision will be at the discretion of the Taipei Times.