Typhoon sea warning could be lifted today
AFTERNOON EASING: People living in mountainous areas should prepare for extreme downpours, while strong winds could hit northern Taiwan, the weather bureau said
The Central Weather Bureau yesterday said it might lift a sea warning for Typhoon Muifa this afternoon, as it is expected to accelerate and move toward central China by tomorrow.
As of 8:30pm yesterday, Muifa was centered 250km east of Taipei. It was moving northwest at 10kph, packing sustained winds of 137kph with gusts of up to 173kph.
Muifa is forecast to be 320km northeast of Taipei by 8pm tonight.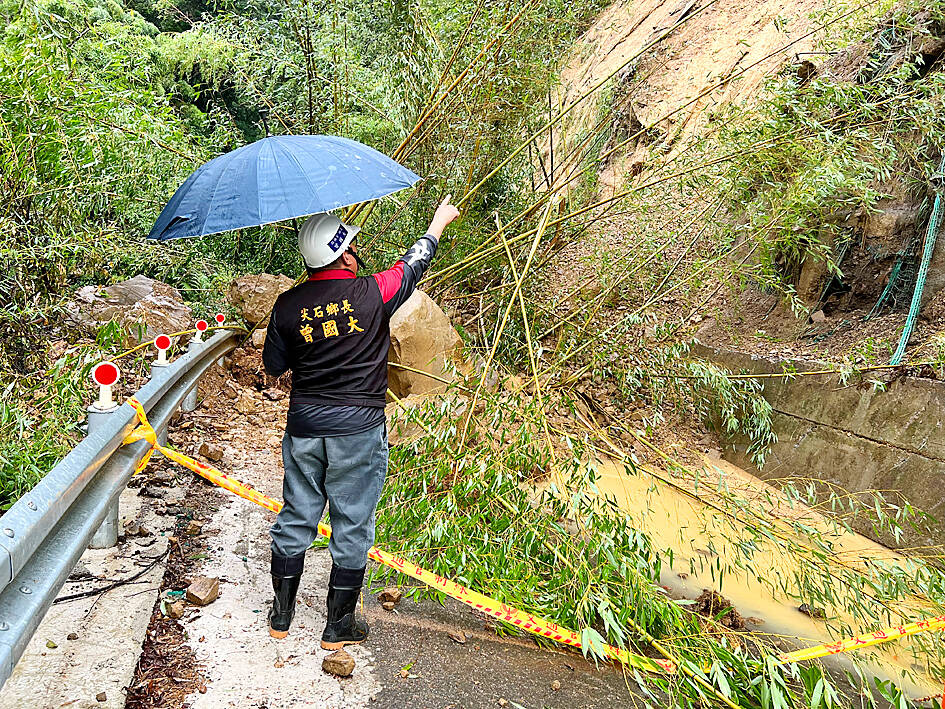 Heavy rainfall yesterday brought by Typhoon Muifa caused landslides on an access road to an Aboriginal tribe in Hsinchu County's Jianshi Township.
Photo: Huang Mei-chu, Taipei Times
Bureau senior forecaster Liu Yu-chi (劉宇其) said that Muifa is moving away from Taiwan and heading toward the coast of central China.
Muifa's center moved slightly to the east as it turned north, Liu said, adding that the bureau could lift the sea warning this afternoon if the typhoon continues to move along its projected path.
Although Muifa's eye did not make a landfall on Taiwan proper, the typhoon's circulation has brought substantial rainfall to northern and northeastern Taiwan, as well as mountainous areas in central and southern Taiwan, he said.
Between 12am Saturday and 8pm yesterday, New Taipei City's Wulai District (烏來) had the highest accumulated rainfall of 485mm, bureau data showed.
Rainfall on Lalashan (拉拉山) in Taoyuan's Fusing District (復興) reached 373.5mm, while Taipingshan (太平山) in Yilan County had 303mm, and Niaozuishan (鳥嘴山) in Hsinchu County had 279mm.
Heavy rain is expected in northern Taiwan until late afternoon, gradually easing later in the day as the typhoon moves north, Liu said.
Residents in northern and northeastern regions, as well as the mountainous areas in central and southern Taiwan, should prepare for extremely heavy rainfall, particularly those living in mountainous areas in Taoyuan, New Taipei City, and Yilan and Hsinchu counties.
Strong winds might continue over the Hengchun Peninsula (恆春半島) and the coast of Keelung, which could reach level 8 to 9 on the Beaufort scale, Liu said.
Waves off the north and east coasts could be 3m high, while the west coast could receive waves 2m high, he said.
The weather should become stable tomorrow once Muifa is far enough away from Taiwan proper, Liu said.
Meanwhile, tropical storm Merbok formed yesterday and was about 4,130km east of Taipei, Liu said, adding that it is expected to move northeast and should not affect Taiwan.
Another tropical depression was detected yesterday about 1,800km east of Taiwan, which could be upgraded to a tropical storm, Nanmadol, within the next two days, he said, adding that it would be 1,000km away from Muifa and not interact with the typhoon.
Rain and wind brought by Typhoon Muifa disrupted some sea and air transportation services.
As of 6pm yesterday, 10 maritime passenger routes were suspended, including those to Lienchiang County, Green Island (綠島), Orchid Island (Lanyu, 蘭嶼) and Siaoliouciou (小琉球), the Maritime and Port Bureau said.
Six domestic flights and two international flights were canceled by 6pm, the Civil Aeronautics Administration said yesterday.
Comments will be moderated. Keep comments relevant to the article. Remarks containing abusive and obscene language, personal attacks of any kind or promotion will be removed and the user banned. Final decision will be at the discretion of the Taipei Times.