Keelung mayoral candidate denies plagiarism charges
FRANK AND OPEN: Tsai said his opponents are trying to 'crush' him in light of his popularity, while his critics said his doctoral thesis has multiple uncited passages
Democratic Progressive Party (DPP) Keelung mayoral candidate Tsai Shih-ying (蔡適應) yesterday denied plagiarism accusations and said he would support a National Taipei University research ethics committee examining his doctoral thesis.
Tsai, who is a DPP legislator, described the research questions, purpose and design of his doctoral thesis at the university's Graduate Institute of Urban Planning, saying that the empirical results obtained from his in-depth interviews were applied to his political platform for November's mayoral election.
The university mandated use of a plagiarism checking system at the time his thesis was submitted, and he would be confident presenting his thesis again for originality, Tsai said at a news conference.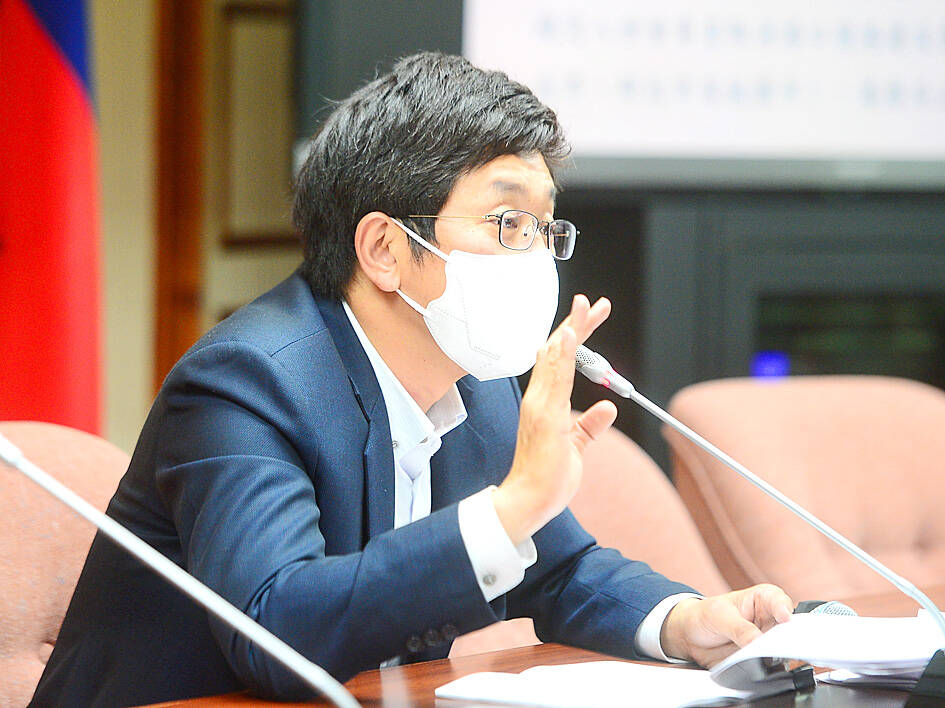 Democratic Progressive Party Keelung mayoral candidate Tsai Shih-ying yesterday denies plagiarism accusations at a news conference in the legislature in Taipei.
Photo: Wang Yi-sung, Taipei Times
He said that Keelung residents are aware of his long-term engagement in public service, and that they rank his performance as a legislator highly.
Keelung Mayor Lin Yu-chang (林右昌) is well recognized for his political achievements, and his "opponents will obviously do everything to crush" a rival, Tsai said.
He said he would be frank and open in the face of any attack because Keelung residents know that he is the "most capable candidate to continue Lin's legacy."
New Power Party Keelung city council candidate Chiang Hsing-yi (江欣怡), and the party's Taipei city council candidates Chen Hui-min (陳志明) and Jerry Liu (劉仕傑), accused Tsai of plagiarism at a news conference on Thursday.
They said that parts of his thesis were allegedly copied from Wikipedia and Baidu, as well as Lin's letter to a media outlet.
Upon receiving information that Tsai's thesis allegedly contained plagiarized sections, they found in their own investigation that 25 passages were not cited, Chen said.
The three said they plan to send material to the university to support the accusation.
"How can Keelung's citizens trust a person whose honesty is questionable?" Chiang asked.
Tsai said that he missed some citations, but not 25, and would update the thesis' reference list.
The most problematic part of the thesis is the results section, which was found to be a "collage" of five texts, she said, adding that 2,457 out of its 7,533 words appear to be plagiarized.
Liu said that page 81 of the thesis contains 707 words that appear to be plagiarized, calling on Tsai and the university to investigate the issue.
The Chinese Nationalist Party (KMT) yesterday supported the candidates' claims, saying that the thesis includes passages from Taiwanese academics, other students' assignments and Chinese content farms.
Former KMT Youth League head Lu Ching-wei (呂謦煒) said that Tsai copied content from Baidu and Chinese content farm Read01, and that information cited from a French library was from the KKnews content farm.
The thesis also includes uncited paragraphs written by Tamkang University professor of China studies Chang Wu-ueh (張五岳) and other Taiwanese academics, as well as a student paper from National Quemoy University, he said.
"Keelung's citizens have discerning eyes and want a mayor who doesn't plagiarize," Keelung City Councilor Sean Chang (張淵翔) said, adding that Tsai should apologize and withdraw from the election.
Additional reporting by Shih Hsiao-kuang and Yang Cheng-yu
Comments will be moderated. Keep comments relevant to the article. Remarks containing abusive and obscene language, personal attacks of any kind or promotion will be removed and the user banned. Final decision will be at the discretion of the Taipei Times.