Chen defends vaccine procurement cost confidentiality
Democratic Progressive Party Taipei mayoral candidate Chen Shih-chung (陳時中) yesterday defended the government's position to keep its COVID-19 vaccine procurement costs confidential, saying that the practice is common in other countries.
The Chinese Nationalist Party (KMT) caucus on Friday said it was surprised to find out that, according to the National Audit Office, the Ministry of Health and Welfare had classified the COVID-19 vaccine procurement data confidential and that the information would remain sealed for 30 years.
The documents cannot be publicly disclosed until Feb. 25, 2051, not even to legislators, preventing the opposition from monitoring how taxpayers' money has been spent during the COVID-19 pandemic, the KMT said.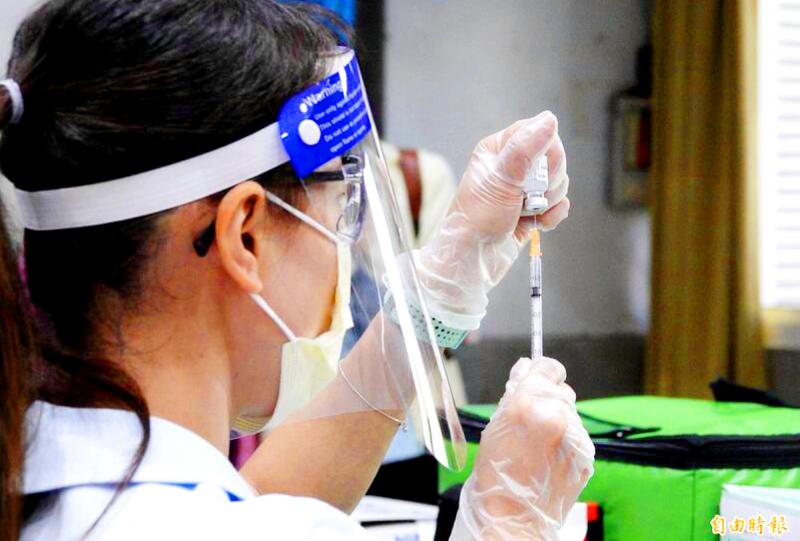 A nurse prepares a dose of a COVID-19 vaccine in Changhua County on Dec. 23 last year.
Photo: Chen Kuan-pei, Taipei Times
Chen, who stepped down as minister of health and head of the Central Epidemic Command Center last month to focus on his Taipei mayoral campaign, said on Friday that the cost of the vaccines are covered by a confidentiality clause in the contracts, and that the medicine procurement commonly requires a nondisclosure agreement.
KMT Legislator Johnny Chiang (江啟臣) on Saturday wrote on Facebook that the Classified National Security Information Protection Act (國家機密保護法) says that data are classified as confidential if "the disclosure of the information could reasonably be expected to cause exceptionally grave damage to the national security," and therefore the government should explain what "grave damage" could be caused by disclosure of vaccine expenses.
The act also says that information should not be classified as confidential for the purposes of "concealing violations of law or administrative error," "restraining fair competition," "preventing embarrassment to a person, corporate entity, organization, or agency," and "preventing or delaying the public release of information that should be publicized," and therefore the government should also say for which of these reasons the information is being kept secret, Chiang said.
KMT Taipei City Councilor Hsu Chiao-hsin (徐巧芯) on Saturday asked why the government cannot disclose what it paid for COVID-19 vaccines when Japan did so in April, as did Taiwan Semiconductor Manufacturing Co and the Hon Hai Precision Industry Co-affiliated Yonglin Foundation, which donated Pfizer-BioNTech vaccines to the government.
Chen said that Taiwan faces more external interference than other countries or entities, and must be careful to avoid disclosing information that could be used in harmful counteractions.
Only one European country revealed its vaccine procurement costs, and that was by accident, Chen said, adding that this fact is just to the best of his knowledge.
Comments will be moderated. Keep comments relevant to the article. Remarks containing abusive and obscene language, personal attacks of any kind or promotion will be removed and the user banned. Final decision will be at the discretion of the Taipei Times.