Huang debates recall supporter
IN ATTENDANCE: The New Power Party's Huang Kuo-chang denied the claim that he neglected his constituency's needs and thanked the public for its support
The New Taipei City Election Commission yesterday held a televised debate between New Power Party (NPP) Executive Chairman Huang Kuo-chang (黃國昌) and Sun Chi-cheng (孫繼正), chairman of the Greater Taipei Stability Power Alliance, a group opposed to gay marriage, over the second round of voting for the legislator's recall scheduled for Dec. 16.
Sun criticized Huang for supporting amending of the Civil Code to legalize gay marriage and said it would destroy values that are intrinsic to families, adding that this was his primary reason for launching the recall effort against Huang.
More than half of New Taipei City residents are opposed to the proposed amendments, as well as 60 percent of all Taiwanese, Sun said.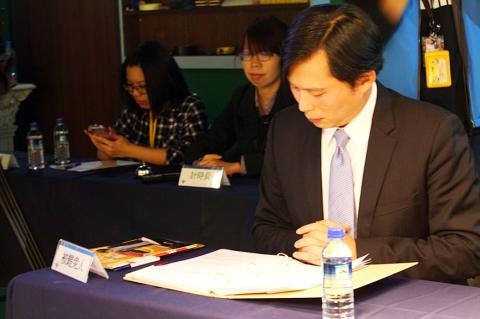 New Power Party Executive Chairman Huang Kuo-chang yesterday takes part in a televized debate organized by the New Taipei City Election Commission at a television station in New Taipei City.
Photo: Chiu Shu-yu, Taipei Times
There is neither legal nor public consensus on the issue, but Huang insists on "pushing it through," Sun said, adding that such actions go against Huang's touted belief that "people should determine public policies."
Huang's actions have gone against his campaign promise to make "the next generation happier," Sun said.
Using his daughter's school textbook, Sun said that its contents, such as sections on masturbation, fellatio and anal sex, are not only inappropriate, but absurd.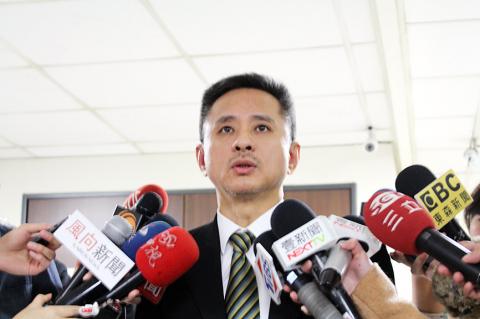 Stability Power Alliance chairman Sun Chi-cheng yesterday criticizes New Power Party (NPP) Executive Chairman and Legislator Huang Kuo-chang after a televized session organized by the New Taipei City Election Commission at a local television station in New Taipei City.
Photo: Chiu Shu-yu, Taipei Times
Such material drives students toward sexual liberalism, making them susceptible to orgies, sadism and masochism, threesomes and more, Sun said, adding that it was inappropriate handling of the subject of sexual education.
Sun called on constituents in the city's Sijhih (汐止), Jinshan (金山), Wanli (萬里), Juifang (瑞芳), Pingsi (平溪) and Gongliao (貢寮) districts to vote and witness how their votes would become a milestone in Taiwan's governance.
Huang said he respects that people oppose same-sex marriage out of religious beliefs, adding that he had not verbally abused Christians and called on everyone to respect different opinions.
Citing the Council of Grand Justices' Constitutional Interpretation No. 748 in May, Huang said that same-sex marriage has been declared a basic human right and by law, the Legislative Yuan has to conclude the amendments within a two-year period.
Public issues must be based on facts and common sense, and should be in line with the law, Huang said, adding that those who spread hateful commentaries are themselves the source of social instability.
Huang thanked the public for its support and said that he has not disappointed his supporters since his election, adding that the televised debate was due to the amendments to the Civil Servants Election and Recall Act (公務人員選舉罷免法).
His attendance at legislative affairs, including inquiries and budget reviews, was in accordance with his campaign promises, Huang said.
Rejecting Sun's claim that he has not tended to the needs of his constituents, Huang said he has asked the Taiwan Railway Administration (TRA) to ameliorate and improve the crowded conditions on Siko TRA Station platforms near the Sijhih Science Park.
Huang also said he was involved in the environmental assessment of a planned extension of the Taipei MRT System into New Taipei City's Sijhih District (汐止), adding that all of his actions are recorded on the publicly viewable platforms associated with the Legislative Yuan.
The debate is positive for the deepening of democracy in Taiwan, Huang said.
According to the recall act, the recall vote — the last of three phases — needs the approval of at least 25 percent of the total eligible voters in an electoral district to be considered successful.
Huang's constituency, the 12th electoral district of New Taipei City, has 251,191 eligible voters, requiring 62,798 "yes" votes to remove the NPP lawmaker from his post.
Comments will be moderated. Keep comments relevant to the article. Remarks containing abusive and obscene language, personal attacks of any kind or promotion will be removed and the user banned. Final decision will be at the discretion of the Taipei Times.