DPP legislator says comments about marine's training taken out of context
Democratic Progressive Party Legislator Chen Ting-fei (陳亭妃) yesterday said that her words regarding the training regimen of Marine Corps recruits were taken out of context, adding that she intended to encourage more Taiwanese to join the military.
Chen raised the issue in a legislative committee meeting on Thursday by displaying photographs of a marine recruit with his nose bleeding while going through aquatic training at a naval base, along with other pictures of soldiers doing strenuous exercises.
She said that the images could discourage young people from signing up to the military and could cause anxiety among parents regarding the harsh treatment dished out by the military, adding that the photographs were released on Mother's Day last weekend.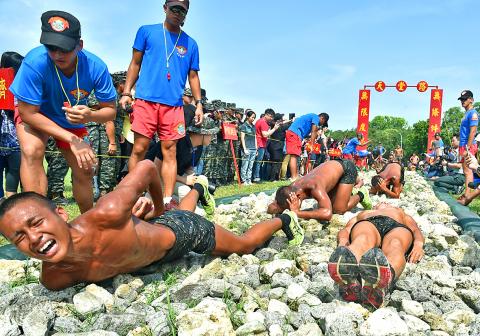 Members of the Marine Corps on Thursday crawl over a road of rocks, known as "Paradise Road," under the supervision of their superiors as part of the final stage of their training in Kaohsiung.
She said it was not the way to carry out military recruitment, adding that the photographs gave the impression that the marines had a more punishing training regimen than other branches, which could have a negative effect on the efforts to attract young people into the ranks of the all-volunteer force.
The photographs were taken during training of recruits for the Amphibious Reconnaissance and Patrol Unit, also known as the "frogmen" special forces branch of the Marine Corps, which is regarded as Taiwan's equivalent to US Navy SEALs.
Deputy Ministry of National Defense Cheng De-mei (鄭德美) said that the photographs showed different training methods for recruits, adding that "the rigorous training is needed. If they do not receive proper training now and get a nosebleed, when they go into combat, they will have real bleeding."
Chen's words prompted criticism from some Internet users, who chided her for having no idea what military training is about and having no understanding of the tough conditions the recruits need to go through to become a member of the Amphibious Reconnaissance and Patrol Unit, and the kind of work they are expected to perform in the field.
Chen said her intention was to encourage recruits and military officials, adding that she wanted to help the Ministry of National Defense to use positive images and attributes to attract young people, rather than trying to scare them off.
"Some people have taken my words out of context and twisted their meaning at the committee meeting. Of course I know that some military units have to undergo harsh training. However, to attract new recruits to the all-volunteer force, there is no need to use photographs showing pain and bleeding from the 'frogmen' unit," she said.
"I was trying to say that these photographs might create the misunderstanding that all new recruits have to undergo such rigorous training as the 'frogmen' unit. This might become a kind of negative promotion," she added.
Chen said that she raised the issue to fight for better financial subsidies for the military, especially for elite forces requiring more rigorous physical training and burdened with heavier work duties than other branches, and to enable the nation to achieve the goal of an all-volunteer military force in the near future.
Comments will be moderated. Keep comments relevant to the article. Remarks containing abusive and obscene language, personal attacks of any kind or promotion will be removed and the user banned. Final decision will be at the discretion of the Taipei Times.