Taipei book fair a roaring success
HUNGERY FOR SUCCESS Despite the badly ailing economy, publishers have turned up in droves this year to showcase an eclectic mix of book releases
Apparently unaffected by the sagging economy, the 10th Taipei International Book Exhibition (TIBE) this year surpassed previous levels of popularity, with the number of participating publishers expanding to 1,015 from last year's total of 886. \n"Running from Thursday through Sunday, the TIBE this year offers the public a wide range of book selections with 1,856 booths and publishers coming from 47 countries and regions," TIBE spokeswoman Chen Thu-yen (陳祖彥) said. \nSponsored by the Government Information Office and the Chinese Publishers' Development Foundation, this year's theme is called "Style Orient, Global Perception," with Japan as this year's featured country. \n"Every year we feature a specific country to offer the public a wide cross-section of its culture, literature and publications," Chen said. \n"Last year, France was the featured country, and the reason we are featuring Japan this year is that it is a country that has a voracious reading public and that is in love with books." \nChen also said that TIBE provides a great opportunity for book lovers to indulge in a wide variety of books in one venue. \n"Not to mention the added benefit of meeting some of the best-known authors in person and getting their autographs." \nPublishers utilize popular authors to attract crowds to their booths. \nFor example, Alice King (金美齡), an author and Tokyo-based national policy advisor to the president, was on site yesterday signing her two recent books. \n"By writing about my experiences and life in Japan, I hope that the readers will get a better understanding of Japanese culture and thus to enhance interactions between Japan and Taiwan," King said. \nAccording to the TIBE's ticketing office, approximately 56,000 people visited the book exhibition during these past two days. \nChen added that because many children have ended their winter break from school, the crowd coming in yesterday and Thursday appeared smaller than last year. \nChen also said that she expected the crowd to greatly increase today and tomorrow. \nTaking place in Hall 1 and Hall 2 of the Taipei World Trade Center, the TIBE this year has booths organized in five themes: International Exhibitors, Children's Books, Comic Books, e-Books and General Books. \nUnlike last year, when the fair exhibited books exclusively, this year the TIBE also features a collection of etchings from the Louvre as well as Russian illustrations. \n"By providing these static displays and an array of activities featuring celebrities and popular authors, we hope that the crowd finds the exhibits' content not only rich but also entertaining," Chen said.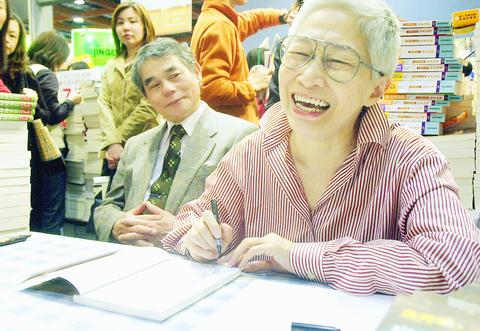 Japan-based Taiwanese independence activist and presidential national policy advisor Alice King promotes her new books yesterday at the 10th Taipei International Book Exhibition, held at the Taipei World Trade Center. The book fair ends tomorrow.
PHOTO: CHIANG YING-YING, TAIPEI TIMESN
Comments will be moderated. Keep comments relevant to the article. Remarks containing abusive and obscene language, personal attacks of any kind or promotion will be removed and the user banned. Final decision will be at the discretion of the Taipei Times.