Proposal to standardize Gogoro's swappable battery tech 倡組台灣隊 Gogoro 開放電控系統
The Ministry of Economic Affairs' Industrial Development Bureau is planning to use Gogoro Inc's battery specification as a universal standard for electric scooters with swappable batteries. However, the plan has sparked a dispute with rival manufacturers. Gogoro CEO Horace Luke last week announced the company would open up its battery control units for purchase by other electric scooter makers and would also waive all licensing fees. Luke says he hopes the move would allow other electric scooter manufacturers to form a "Team Taiwan" that can take on the global market. Gogoro started selling its electric scooters two and a half years ago and in doing so opened up the domestic market for electric scooters with swappable batteries. There are currently 500 battery-swapping stations nationwide which have handled 9 million battery swaps to date. On average, customers carry out 30,000 battery swaps every day.
Luke believes that Gogoro's electric scooter battery-swapping network is already mature and ready to be opened up for everyone to use, which will reduce component costs and increase efficiency. If companies work together to build the industry, they can take the technology to overseas markets including India, Vietnam, Indonesia or Malaysia, where the scooter markets are several times the size of Taiwan's, he says.
However, Taiwan's leading scooter manufacturer Kwang Yang Motor Co (KYMCO) didn't mince its words: "We will not be using Gogoro's swappable battery system." Meanwhile, Sanyang Motor Co (SYM) said that it has yet to see the details of Gogoro's proposal, and would refrain from making any further comment at this stage. China Motor Corp also said it needed to carry out further evaluation since current information around the proposal is incomplete.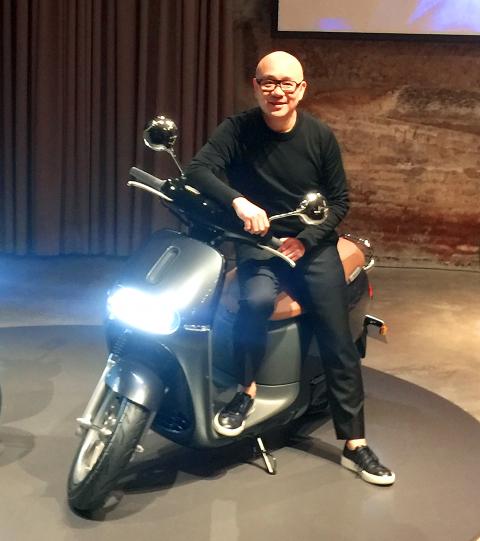 Gogoro CEO Horace Luke. Gogoro 執行長陸學森。
Photo: Yang Ya-min, Liberty Times
照片:自由時報記者楊雅民
Other scooter manufacturers have said that although Gogoro will waive royalty fees, its battery control units and component sets are too expensive and using them would amount to nothing more than "putting old wine in a new bottle." Critics of the plan added that the technology behind the batteries, battery-swapping stations and battery control units would all rest in the hands of a single manufacturer, which would be too great an operational risk.
(LIBERTY TIMES, TRANSLATED BY EDWARD JONES)
工業局擬採用Gogoro電池規格做為換電式電動機車統一標準,引發圖利廠商爭議,Gogoro執行長陸學森上週宣布開放其他機車業者購買Gogoro電控系統,不需另付權利金,一起組「台灣隊」,進攻國際市場。睿能創意兩年半前開賣Gogoro,開啟台灣換電式電動機車市場,目前在全台已建置超過五百座電池交換站,累計換電次數高達九百萬次,消費者平均每天會換三萬顆電池。
陸學森認為,Gogoro電動機車換電系統已經成熟,開放給大家用,零件成本才能降低,達到效率化,如果共同把這個產業做好,就可以一起去開發海外市場,像是印度、越南、印尼或馬來西亞,機車市場規模都是台灣的數倍。
不過,台灣機車龍頭光陽則直接表態,「不會使用Gogoro的換電系統」;三陽則指出,尚未看到相關細節,暫不予評論;中華汽車也說,還要再評估,因為資訊不夠齊全。
部分機車業者則說,即使授權金免費,但電控系統及零組件賣得貴,只是換湯不換藥,況且換電系統的電池、電池交換站和電控系統三大核心技術都掌控在單一家廠商手中,營運風險太大。
(自由時報記者楊雅民)
Follow up
課後練習
Questions:
1. Is it a good idea to standardize swappable battery technology across the industry using only one company's technology? Is there a better way to create an industry standard?
2. Are Gogoro's competitors right to view the proposal as too great an operational risk?
3. Is there any difference between a licensing fee and a royalty fee?
4. Do you think Gogoro's products would be successful in markets such as India or Indonesia?
(Edward Jones, Taipei Times)
Publication Notes
TODAY'S WORDS
今日單字
1. universal standard phr.
統一標準 (tong3 yi1 biao1 zhun3)
2. licensing fee phr.
權利金 (quan2 li4 jin1)
3. mature adj.
成熟 (cheng2 shou2)
4. royalty fee phr.
授權金 (shou4 quan3 jin1)
5. operational risk phr.
營運風險 (ying2 yun4 feng1 xian3)
Comments will be moderated. Keep comments relevant to the article. Remarks containing abusive and obscene language, personal attacks of any kind or promotion will be removed and the user banned. Final decision will be at the discretion of the Taipei Times.