Taichung adds two more official graffiti areas 台中街頭塗鴉區再增二處
Aside from the current designated graffiti areas located near Taichung Station, the Taichung City Government's Cultural Affairs Bureau has added two more graffiti areas so that graffiti enthusiasts have more space to spray to their heart's content. The newly added areas will be available until June of next year. The bureau urges people to make good use of the legal graffiti areas to make the city more attractive.
The graffiti areas currently available to the public are concentrated around the train station in the southern part of the city, including the wall on the east side along section four of Fuhsing Road, the southern and northern walls along Le Yeh Road, as well as the cement wall along Chunglun Street at section one of Jianguo Road. The four legal graffiti zones will remain available to the public until the end of the year.
The bureau says that in order to provide people who enjoy spraying graffiti with more space, they decided to increase the number of graffiti areas to include the cement walls along Chiti Road in Dali District (across from Li Shin Junior High School) and Hanhsi East Road in Taiping District, as well as the flood wall along Chingwu Road.
One wall of Graffiti 43648, a graffiti art village, in Hsiushui Borough in Greater Taichung's Chingshui District on April 25. 這張四月二十五日攝於台中清水區秀水里的照片,是Graffiti 43648藝術村的一面牆。
Photo: Ou Su-mei, Liberty Times
照片:自由時報記者歐素美
Bureau director Susan Yeh says that the city government first designed legal zones for graffiti in 2009 as an outlet for graffiti enthusiasts to express themselves freely. She says that the bureau hopes graffiti as an art form can become part of the city's public art.
The bureau says that since the designated graffiti areas opened, they have attracted many graffiti artists and the overall reaction has been quite good. The bureau says it will make unscheduled inspections of the areas, and if they find any inappropriate drawings they will paint over them to avoid people getting the wrong impression about the graffiti areas or allowing the areas to lose their original positive significance.
(Liberty Times, Translated by Kyle Jeffcoat)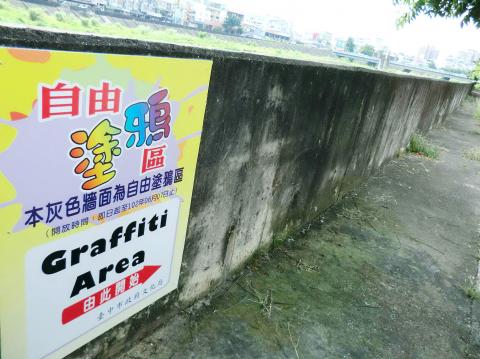 One of two new graffiti areas set up by the Taichung City Government's Cultural Affairs Bureau. 台中市政府文化局新開放的二處自由塗鴉區之一。
Photo courtesy of the Taichung City Government's Cultural Affairs Bureau
照片由台中市文化局提供
為讓喜愛塗鴉的民眾有更多揮灑創意的空間,文化局在現有集中於台中火車站附近的合法塗鴉區之外,再增二處街頭塗鴉區,開放期限到明年六月,也呼籲民眾善加利用公告合法的自由塗鴉區,讓城市變得更美麗。
文化局目前已開放的塗鴉區多集中在南區火車站附近,包括復興路四段東側圍籬、樂業路南側與北側圍籬及建國北路一段近崇倫街的水泥圍牆等,共有四處合法塗鴉區,預計開放到今年底。
文化局指出,為讓喜愛塗鴉的民眾有更多發揮空間,新增的塗鴉區擴及大里區甲堤路水泥圍籬(近立新國中對面)及太平區旱溪東路一段與精武路交接處防洪牆,作為塗鴉示範區。
文化局長葉樹姍指出,市政府從二00九年起設計合法開放的空間,讓塗鴉客盡情展現、揮灑創意,就是希望讓塗鴉文化能以藝術化的方式呈現,更能成為城市公共藝術的一部分。
文化局指出,事實上,塗鴉示範區開放以後,確實吸引不少塗鴉客前往創作,普遍反應良好,該局也會不定期巡視,若發現有不雅文圖,均會塗刷掉,以免造成外界對塗鴉區的誤解,也喪失塗鴉區設立的美意,新增兩處塗鴉區開放期限到明年六月七日止。
(自由時報記者蘇孟娟)
Publication Notes
TODAY'S WORDS
今日單字
1. concentrate v.
集中 (ji2 zhong1)
例: Most of the city's minorities are concentrated in one small part of the city.
(城市的少數族群多半集中在城市的小部分地區。)
2. cement n.
水泥 (shui3 ni2)
例: The sidewalk is made of cement.
(人行道是水泥做的。)
3. reaction n.
反應 (fan3 ying4)
例: What was her reaction when you told her the news?
(你跟她講這個消息,她有何反應?)
Comments will be moderated. Keep comments relevant to the article. Remarks containing abusive and obscene language, personal attacks of any kind or promotion will be removed and the user banned. Final decision will be at the discretion of the Taipei Times.