Lai names Hsiao as running mate
READY TO RUN: Hsiao resigned as US envoy to focus on their campaign, which a political scientist said could create a powerful effect on anti-China, pro-US issues
Vice President William Lai (賴清德), the Democratic Progressive Party's (DPP) presidential candidate, yesterday named former representative to the US Hsiao Bi-khim (蕭美琴) as his running mate in January's election.
The announcement was not a surprise, as Hsiao had long been speculated to be Lai's top choice for the job.
Calling herself a "cat warrior" — a play on the assertive "wolf warrior diplomacy" style of Chinese officials — Hsiao, 52, yesterday told a news conference that she was ready to "fully commit" herself to the presidential campaign.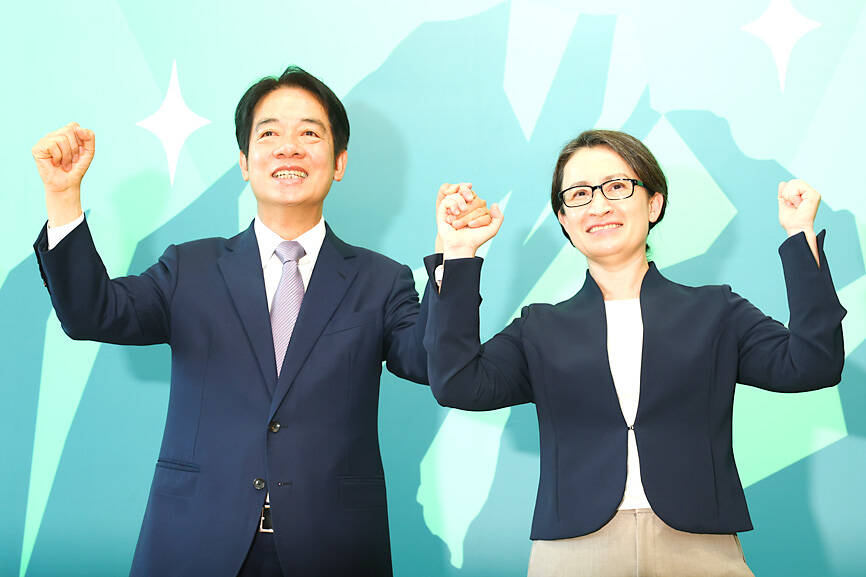 Vice President William Lai, the Democratic Progressive Party's presidential candidate, left, smiles with his running mate, former representative to the US Hsiao Bi-kim, during a news conference in Taipei yesterday.
Photo: CNA
Hsiao, born to a Taiwanese father and an American mother, said she shared values with Lai including defending Taiwan's freedom and democracy.
"I believe we have lots of common convictions — we are both willing to take on responsibility for Taiwan," she said.
Lai said he chose Hsiao because of her "top-notch performance" as Taiwan's top representative to the US since 2020.
"Bi-khim's homecoming is meant to safeguard Taiwan," Lai said.
During her three-year-tenure, Hsiao made Taiwan-US ties the "best ever in history," he said.
He also praised Hsiao for "her willingness to make sacrifices whenever the DPP needed her most" — including by running as a lawmaker and spending 10 years in Hualien County, a traditional stronghold of the Chinese Nationalist Party (KMT) — and for remaining humble.
He said he asked Hsiao to be his running mate during his stopover in the US on his way to visit then-diplomatic ally Honduras in January last year, long before he officially won his party's nomination in April.
Hsiao said she thought Lai was joking last year, but the role has since taken on added importance given the changing international landscape.
"I will take advantage of all the experience [I have] accumulated in my previous posts and do even more for Taiwan, and for Taiwan's people," she said.
Lai added that the pair were "completely prepared to withstand all challenges, both domestically and from China."
"[We] will lead the country steadily and firmly follow the right path. Please give us a chance," he said.
Adding Hsiao to the ticket represents the party's efforts to "resist China," said Chang Chun-hao (張峻豪), a political scientist at Tunghai University.
They "can create a powerful effect in anti-China and pro-US issues," he said. "Hsiao not only represents Taiwanese ideology, but she also has a pro-US role."
Rupert Hammond-Chambers, president of the US-Taiwan Business Council, who has known Hsiao since the 1990s, said she was a "formidable politician," and would add much-needed diplomatic and security heft to Lai's ticket.
Lai and Hsiao are expected to register their candidacy at the Central Election Commission today. The deadline is Friday.
As of yesterday, the KMT remained in a stalemate with the smaller Taiwan People's Party about which of their candidates should run as president and vice president after initially agreeing to form an alliance.
Lai, writing on Facebook earlier yesterday, pointed to the "turmoil" in the opposition camp.
"In contrast, the team I lead is definitely a fully prepared and tested one," he said.
Additional reporting by staff writer
Comments will be moderated. Keep comments relevant to the article. Remarks containing abusive and obscene language, personal attacks of any kind or promotion will be removed and the user banned. Final decision will be at the discretion of the Taipei Times.