President warns peace not guaranteed
COERCION: China's hybrid tactics are designed to deplete Taiwanese's confidence in democracy and their resolve to defend the nation, Tsai Ing-wen said
The world "cannot take peace for granted" amid mounting challenges to the international order posed by authoritarian states, President Tsai Ing-wen (蔡英文) said in a speech highlighting Taiwan's efforts to defend itself against China.
Tsai was speaking at the Taipei Security Dialogue hosted by the Institute for National Defense and Security Research in Taipei.
The outbreak of major conflicts and the COVID-19 pandemic have destabilized the global economy and threatened the world order, she said.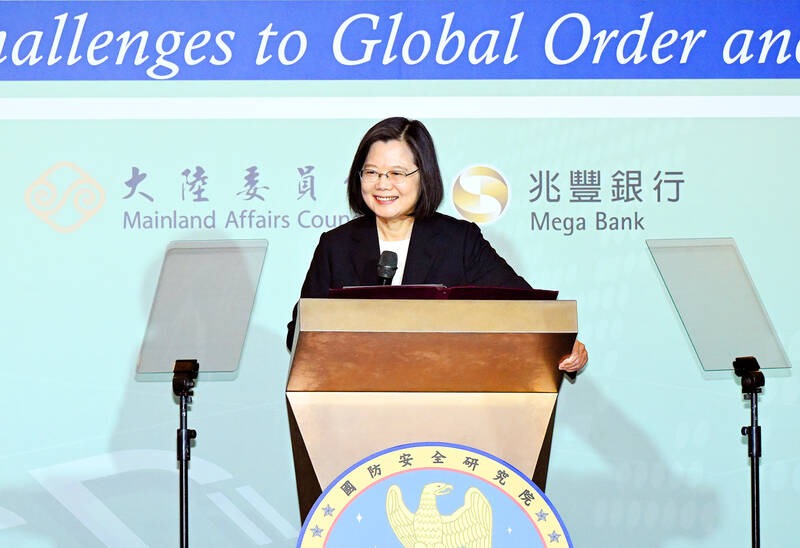 President Tsai Ing-wen speaks at the Taipei Security Dialogue yesterday.
Photo: Liao Chen-hui, Taipei Times
Academics from Australia, the Czech Republic, France, Germany, India, Japan, Singapore, Turkey, the UK, the US and elsewhere attended the conference on countering the challenge Beijing poses to the global order and democracies.
Democratic nations must "stand fast in our defense of freedom and democracy" at a time of instability, Tsai said, an apparent reference to the Russian invasion of Ukraine and the Israel-Hamas war.
The most pressing threat to free and democratic nations comes from authoritarian regimes, including Beijing's "escalating gray-zone activities [that] have created serious instability" in the Indo-Pacific region, she said.
Taiwan is particularly targeted by China's gray-zone tactics, including "increasingly frequent incursions into our ADIZ [air defense identification zone] and military exercises in our vicinity," she said.
The nation also faces "economic coercion and persistent cyberattacks," Tsai said.
"Taken as a whole, these hybrid tactics are designed to deplete Taiwanese people's confidence in our democracy and to undermine our resolve to defend ourselves," she said. "The people of Taiwan are determined to protect our own hard-earned freedoms. Our priority therefore is to enhance our self-defense capability and social resilience."
Taiwan has reinstated one-year compulsory military service, furnished conscripts with more realistic training and reorganized its force structure to meet the challenges of modern warfare, Tsai said, highlighting her administration's defense policies.
The nation's defense budget has increased in the past eight years to achieve a year-on-year growth rate of 7.7 percent, she said, adding that Taiwan is on track to spend 2.5 percent of GDP on its military next year.
In September, Taiwan launched a prototype from its indigenous defense submarine program, reaching a milestone in the nation's domestic naval production program, she said, adding that many had deemed the project to be too ambitious.
"These achievements are a testament to our unwavering resolve to defend our country," Tsai said.
The nation also has to counter non-conventional threats, including cognitive warfare, which uses misinformation and disinformation to "exploit and drive polarization in free and democratic societies," she said.
Taiwan's response is to "equip our people with the knowledge to refute and report ... misleading information to strike a balance to maintaining the free flow of information while denying information manipulation," Tsai said.
"As a responsible member of the international community, Taiwan will continue working to maintain regional peace and stability while expanding and deepening [collaboration] with other stakeholders," she said.
"With democracies around the world facing their greatest test in a generation, it is crucial that we come together in deterring adventurism and aggression in the region," she said, calling for more international support for Taiwan.
Comments will be moderated. Keep comments relevant to the article. Remarks containing abusive and obscene language, personal attacks of any kind or promotion will be removed and the user banned. Final decision will be at the discretion of the Taipei Times.