Courts to trial AI to draft rulings
VIRTUAL CLERK: Judges have said they are satisfied with preliminary results from the AI program, trained using rulings and precedents filed from 1996 to 2021
An artificial intelligence (AI) program to assist with drafting court rulings, jointly developed by the Judicial Yuan and Chunghwa Telecom (中華電信), would begin a trial run as soon as late next month, after preliminary reviews, sources said yesterday.
Overtime at courts was common due to a great deal of paperwork that has to be processed, which prompted increased efforts to digitize court processes, from allowing remote court attendance to developing AI programs to decrease clerks' workloads, the Judicial Yuan said.
Criminal court judges had to process 56.1 cases per month in 2013, which had risen to 59.67 per month last year, the source said on condition of anonymity.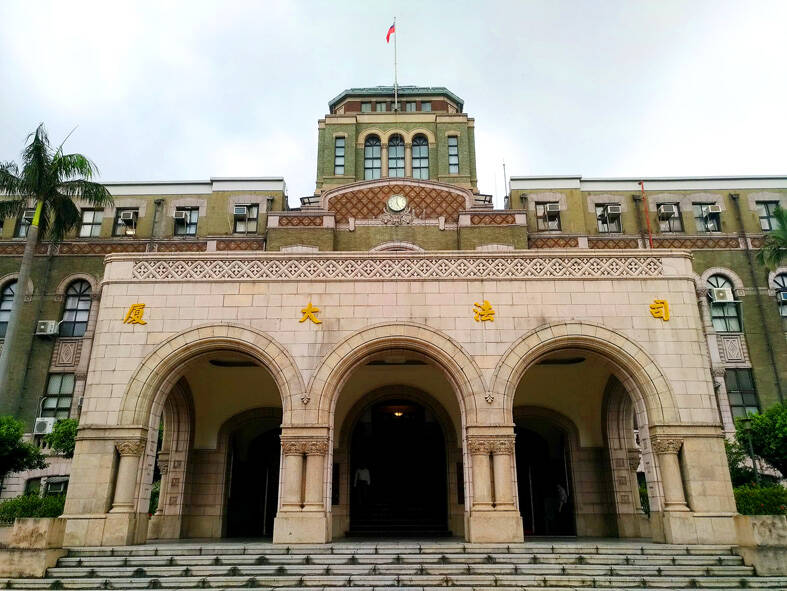 The main entrance to the Judicial Yuan building in Taipei is pictured in an undated photograph.
Photo: Wu Cheng-feng, Taipei Times
One-quarter of them were driving under the influence (DUI) cases, the source said.
The AI program uses the MT5 large language model, the source said.
It was fed rulings, precedents and legal terminology from rulings from 1996 to 2021, and was trained to produce legal documents in the format used in Taiwan, they said.
Judges had been happy with the preliminary results, they added.
The system is to assist the courts by generating ruling notices for DUI cases, or aiding and abetting in fraud cases, as they are considered single-offense cases, the source said.
A judge would specify whether a defendant was found guilty or not guilty, whether they confessed or denied the charges, legal acts applicable to the case, whether corpus delicti — the principle that no one should be convicted of a crime without sufficient evidence that the crime actually occurred — is met, and select the option for the AI to proceed with a draft, which would include citation of procedural law or legal articles, the source said.
The output would include the opening, the body of the ruling, the verdict, the facts, the reasons for the ruling and the legal citations, they said.
The program is to take precedence into account to gauge the sentence, the source said.
A judge would review the draft and, if satisfied, could immediately enter it into the system as the ruling, greatly decreasing the time spent on draft writing, they said.
The Judicial Yuan on Tuesday is to select the courts at which the system is to be trialed, the source added.
Comments will be moderated. Keep comments relevant to the article. Remarks containing abusive and obscene language, personal attacks of any kind or promotion will be removed and the user banned. Final decision will be at the discretion of the Taipei Times.