VP William Lai welcomed in New York
LOW-KEY VISIT: The 'Times' said that Lai was 'likely to present a more muted persona' in the US, as he seeks to assure Taiwanese 'that he can be a steady pair of hands'
Vice President William Lai (賴清德) was welcomed by overseas Taiwanese upon his arrival in New York on Saturday evening for a stopover en route to Paraguay.
While still on the tarmac at John F. Kennedy International Airport, Lai was greeted by American Institute in Taiwan (AIT) Managing Director Ingrid Larson, as well as Representative to the US Hsiao Bi-khim (蕭美琴).
"Welcome to NYC, Vice President @chingtelai, as you transit en route to Paraguay! I'm glad AIT/W Managing Director Larson can host you and your delegation while I am at my sister's wedding," AIT Chair Laura Rosenberger wrote on X, formerly known as Twitter.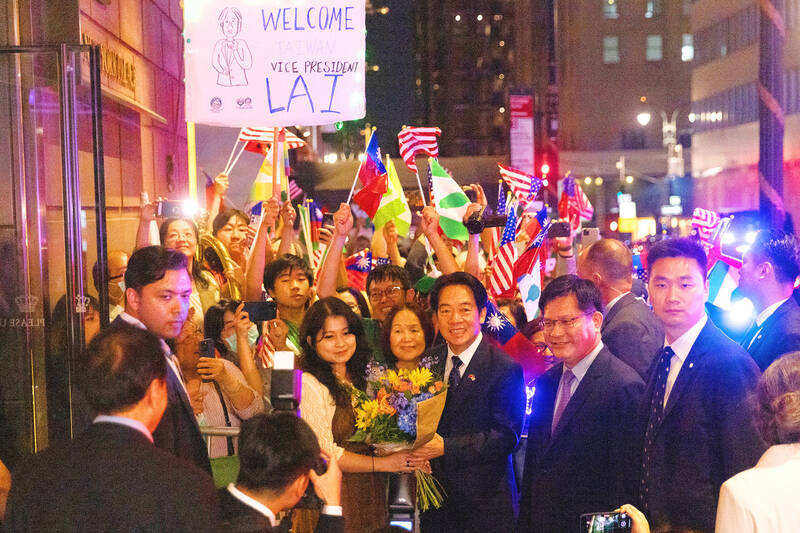 Vice President William Lai, center right, poses for a photograph outside the Lotte New York Palace hotel in New York's Manhattan neighborhood on Saturday.
Photo: Reuters
"I look forward to seeing you in San Francisco!" she added, referring to Lai's stopover in the US on his way back to Taiwan on Wednesday.
After arriving by motorcade at the Lotte New York Palace hotel on Madison Avenue at about 10pm, Lai briefly greeted and shook hands with supporters waving Republic of China flags before making his way into the hotel.
With Taiwan's presidential election just five months away, the visit by Lai, who is the Democratic Progressive Party's presidential nominee, has garnered attention.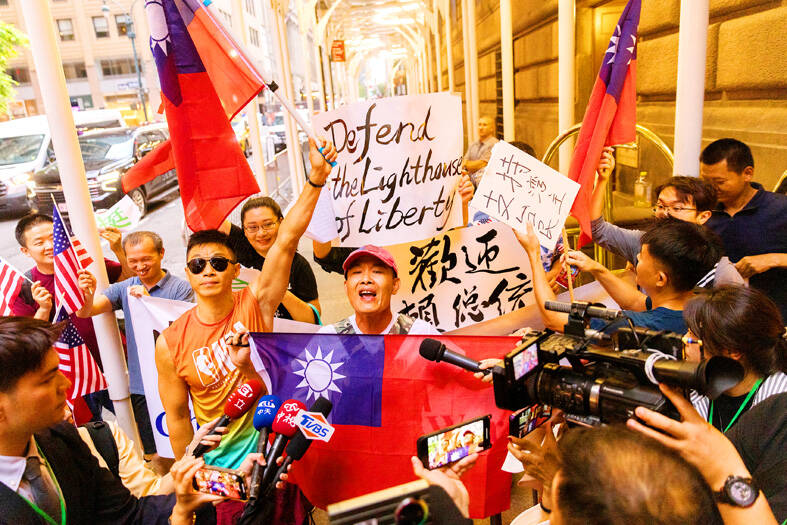 Supporters holds signs and Republic of China flags to welcome Vice President William Lai as he arrives at Lotte New York Palace hotel in New York on Saturday.
Photo: Reuters
Before his arrival, the street across from the hotel was filled with Taiwanese and some members of the Chinese expatriate community who support Taiwan.
During their more than two-hour wait, the supporters chanted slogans such as "Taiwan, go for it," "Fight for freedom" and "Keep Taiwan free."
Among those present were Taiwanese compatriots from Washington, Boston and Pittsburgh, including Lai Chia-te (賴嘉德), who said that democracy and freedom are Taiwan's most cherished values, emphasizing the importance of preserving Taiwan's freedom and the people's hopes.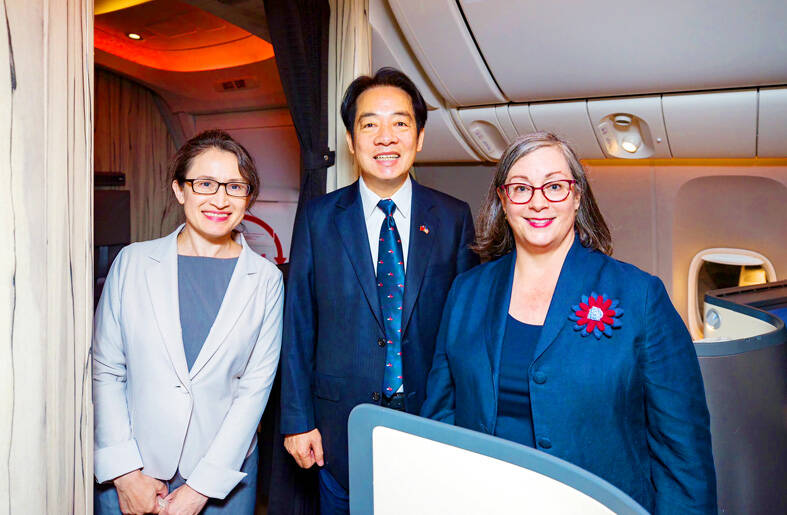 Vice President William Lai, center, poses with Representative to the US Hsiao Bi-khim, left, and American Institute in Taiwan Managing Director Ingrid Larson upon his arrival in the US in a handout picture released yesterday.
Photo courtesy of Taiwan's Presidential Office
An invitation sent to the overseas Taiwanese community by the Taipei Economic and Cultural Office in New York said that the vice president was scheduled to attend a luncheon with members of the community on Sunday at The Glasshouse, a private event space in New York.
A person familiar with the trip's planning said that William Lai would not meet with US lawmakers, adding that he would keep his visit "low key," in line with Taipei and Washington's shared position to "jointly manage risks when facing an authoritarian region at this sensitive time."
The vice president and his delegation are expected to fly to Paraguay on a chartered flight at about 10pm tonight to attend tomorrow's inauguration of Paraguayan president-elect Santiago Pena.
The New York Times yesterday reported that William Lai "is likely to present a more muted persona when he visits the United States."
"As Mr Lai vies to succeed President Tsai Ing-wen (蔡英文), who has a determinedly buttoned-down manner, he is also seeking to assure Taiwanese voters, and probably Washington, that he can be a steady pair of hands," it said.
"Mr Lai has sought to douse anxieties that he would pursue drastic changes in Taiwan's status if elected. He has said that his comments about being a 'pragmatic worker for Taiwanese independence' just meant that he wanted to more fully exercise Taiwan's current sovereignty," it added.
Meanwhile, the Chinese Ministry of Foreign Affairs yesterday condemned the brief US visit by William Lai, saying that he was a separatist and "troublemaker through and through," adding that Beijing would take strong steps to protect its sovereignty.
In Taipei, Presidential Office spokeswoman Lin Yu-chan (林聿禪) said that China is using the visit as an excuse "to create regional anxiety and trouble."
Taiwanese officials last week said that China is likely to launch military drills this week near Taiwan, using Lai's US stopovers as a pretext to intimidate voters ahead of next year's election and make them "fear war."
The Chinese People's Liberation Army's Eastern Theater Command, which is responsible for the area around Taiwan, yesterday posted on its WeChat account a short video of fighter jets practicing dog fights at an undisclosed location, saying that its forces had recently been engaged in "high-intensity flight training."
Comments will be moderated. Keep comments relevant to the article. Remarks containing abusive and obscene language, personal attacks of any kind or promotion will be removed and the user banned. Final decision will be at the discretion of the Taipei Times.