Beijing should learn from Tiananmen Massacre: MAC
Beijing should learn from the Tiananmen Square Massacre, and realize that brute force has severe consequences, the Mainland Affairs Council (MAC) said yesterday.
Beijing should renounce the use of coercive means against Taiwan and respect the insistence of Taiwanese on sovereignty and dignity to lessen the distance between autocracies and democracies, and foster mutual trust, the MAC said in a statement issued ahead of the 34th anniversary of the massacre in China.
On June 4, 1989, the Chinese government ordered its military into Tiananmen Square, Beijing, to forcibly end weeks of student-led demonstrations.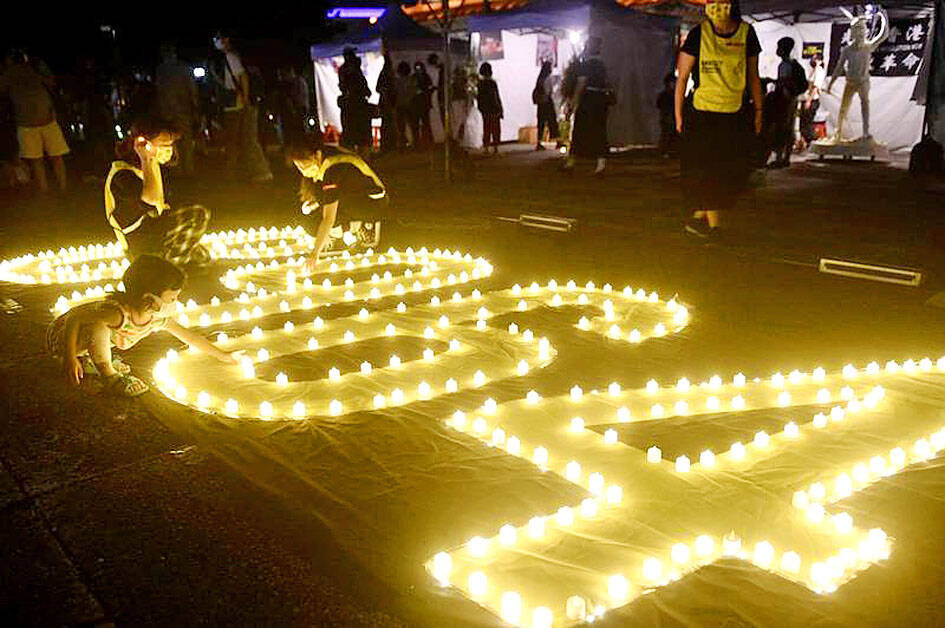 People in Taipei last year arrange candles to read "6" and "4," commemorating the June 4, 1989, Tiananmen Square Massacre.
Photo: Chung Li-hua, Taipei Times
Estimated deaths from the crackdown vary from several hundred to several thousand, but China has never released an official death toll.
Beijing is still unable to "face its historical past" regarding the Tiananmen Square Massacre, the MAC said, urging it to face its "historical errors," make public all records of the incident and enact reforms to safeguard the rights to free speech, religion and assembly.
Peace is the "only option" to resolve cross-strait issues, and maintaining the "status quo" is the greatest common denominator, as well as a shared responsibility for both sides of the Taiwan Strait, it said.
A MAC-commissioned poll released on Thursday showed that 84.2 percent of respondents in Taiwan supported President Tsai Ing-wen's (蔡英文) stance on cross-strait affairs, including her statement that "it is the mutual responsibility of both sides of the Strait, as well as a global consensus that the Taiwan Strait problem be resolved peacefully."
The poll showed that 91.7 percent of respondents were opposed to China's military posturing, economic bullying and swaying Taiwanese diplomatic allies from Taiwan, while 90.4 percent were opposed to China's efforts to divide Taiwan through its "united front" rhetoric.
As for the government's gradual resumption of cross-strait ties, 84.2 percent of respondents were in support, and 87.2 percent agreed that the governments on both sides of the Strait should authorize negotiations between agencies before their borders are fully reopened to each other, the poll showed.
The poll showed that 85.3 percent of respondents supported stricter government regulations and the prevention of Chinese "united front" rhetoric, while 76.5 percent supported stepping up border controls for Chinese entering Taiwan.
The survey, conducted by Taiwan Real Survey Co on May 25 through Sunday last week, polled people aged 20 or older by telephone. It collected 1,077 valid samples, claiming a margin of error of 2.99 percentage points.
Comments will be moderated. Keep comments relevant to the article. Remarks containing abusive and obscene language, personal attacks of any kind or promotion will be removed and the user banned. Final decision will be at the discretion of the Taipei Times.