Data security loophole to prompt resilience probe
The Ministry of Digital Affairs is to conduct a "resilience inspection" among government agencies that have authorization to access personal data after a data security loophole in the Ministry of Finance's e-invoice platform was identified by a "white-hat hacker," Minister of Digital Affairs Audrey Tang (唐鳳) said yesterday.
Tang was asked to brief lawmakers on the legislature's Transportation Committee what the government would do to enhance information security among government agencies in light of the discovery, as well as a series of data security breaches in the private sector.
If exploited, the loophole would affect about 20 percent of businesses on the e-invoice platform that did not register using business certificate IDs issued by the Ministry of Economic Affairs, Ministry of Finance Fiscal Information Agency Director-General Chang Wen-hsi (張文熙) told the committee.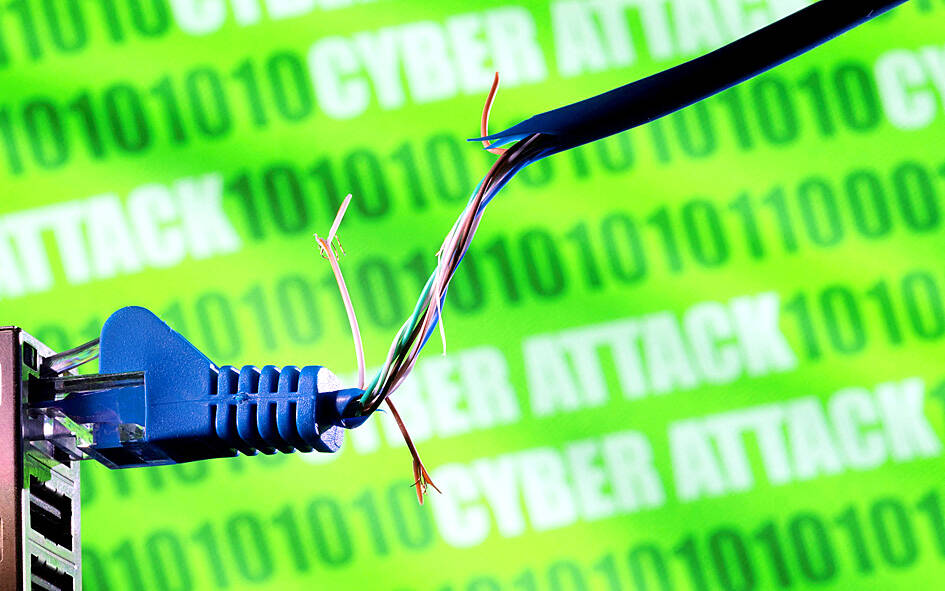 A broken ethernet cable is seen in front of binary code and the words "cyber attack" in an illustration taken on March 8 last year.
Photo: Reuters
"We are conducting a comprehensive inspection of these accounts. They would be required to change their passwords if the ones they have are vulnerable to data breaches," Chang said.
The Ministry of Digital Affairs is also to inspect whether passwords set by government agencies are susceptible to malicious attacks, which was not previously a factor in data security inspections, Tang said.
A "zero trust" policy is to be implemented which requires government agencies to have a multilayered mechanism to protect information, she said, adding that the system must not be guarded by just one set of passwords.
"We will begin within one to two months a resilience inspection of common technical components used by government agencies that have authorization to access personal data. We will submit to the committee a report on the types of data security risks facing different agencies in three months," Tang said.
A resilience inspection is similar to a fire safety inspection, where the management of a building might be asked to use fireproof materials at certain locations to prevent fire, she said.
SHOPEE SANCTION
In other developments, the Ministry of Digital Affairs is to issue an administrative sanction before the end of this month to Singapore-based e-commerce platform Shopee (蝦皮) following repeated personal data leaks, it said.
A report on a personal data leak at Eslite Bookstore would be published this week and an administrative sanction issued next week, Tang said.
While information security firms retained by Eslite Bookstore did not find problems with the company's database, the ministry is examining whether the leak occurred at logistics operators or third-party payment platform operators working with the bookstore, she said.
The alleged data leak at the the nation's largest bookstore was made public after Here I Stand Project deputy secretary-general Cynthia Yang (楊欣慈) on May 14 said she received a telephone call, with the caller claiming to be from Eslite's marketing department and wanting to know what Yang thought about If China Attacks (阿共打來怎麼辦), a book she purchased online in February.
The caller told Yang they were seeking feedback from readers because the book has "sensitive and inappropriate" content, and said that Taiwan would never win a war against a military as powerful as China's and should not expect the US to come to the rescue.
Comments will be moderated. Keep comments relevant to the article. Remarks containing abusive and obscene language, personal attacks of any kind or promotion will be removed and the user banned. Final decision will be at the discretion of the Taipei Times.