Taipei decries China encirclement drill
WATCHING CLOSELY: The military released a short video showing soldiers performing preparedness exercises, and saying that Taiwan remains 'steadfast, rational and serious'
The Mainland Affairs Council (MAC) yesterday condemned and lodged a protest against Chinese military drills around Taiwan, saying that the country would not yield to threats.
Beijing yesterday announced three days of military exercises around Taiwan, the day after President Tsai Ing-wen (蔡英文) returned to Taipei from Los Angeles, where she met with US House of Representatives Speaker Kevin McCarthy.
The "combat readiness patrol" and "united sword" operations would be conducted around Taiwan for three days as a "serious" warning against pro-Taiwanese independence forces and to safeguard China's territorial integrity, the Chinese People's Liberation Army's (PLA) Eastern Theater Command said in a statement.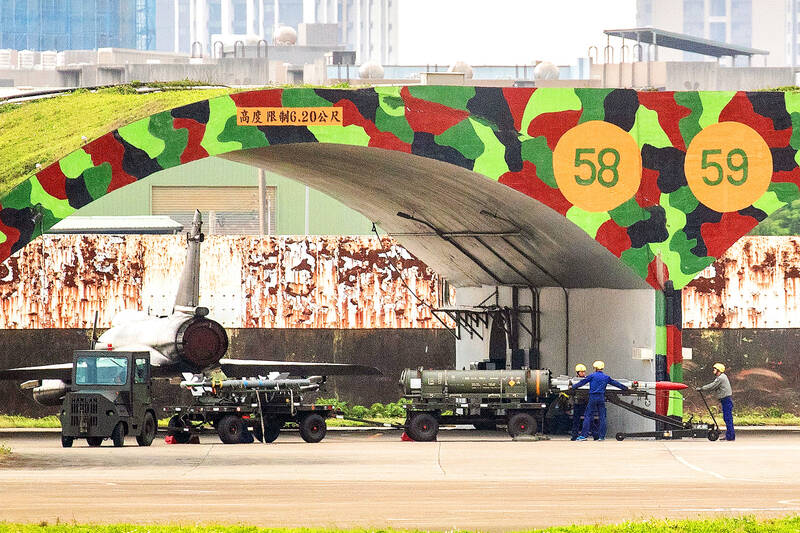 Air force personnel load missiles to arm a Mirage 2000 fighter jet at Hsinchu Air Force Base yesterday.
Photo: Ritchie B. Tongo, EPA-EFE
"The task force will simultaneously organize patrols and advances around Taiwan island, shaping an all-round encirclement and deterrence posture," a report from China's state broadcaster China Central Television said.
The report went on to detail the type of weaponry China was using, including "long-range rocket artillery, naval destroyers, missile boats, air force fighters, bombers, jammers and refuelers."
The drills also follow the departure from Beijing of French President Emmanuel Macron and European Commission President Ursula von der Leyen, who were in China to urge Chinese President Xi Jinping (習近平) to help bring an end to the war in Ukraine.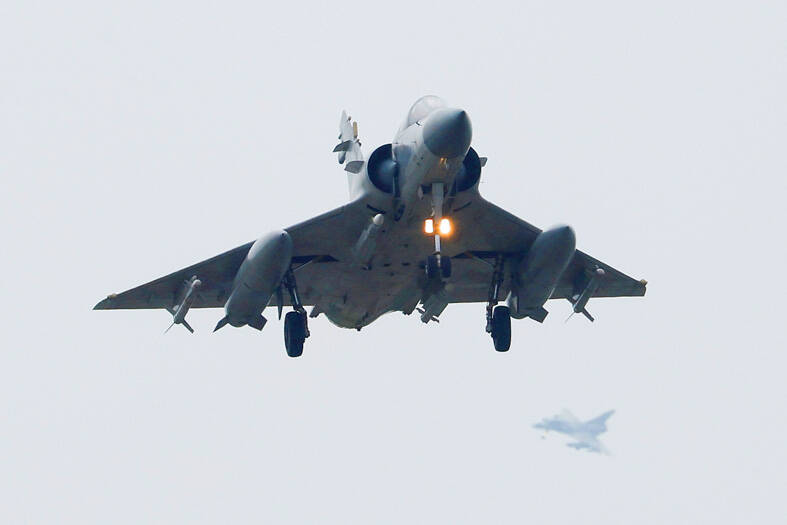 A Taiwanese air force Mirage 2000-5 jet prepares to land while another flies over Hsinchu Air Force Base yesterday.
Photo: Carlos Garcia Rawlins, Reuters
China deployed warships, missiles and fighter jets around Taiwan in August last year in its largest show of force in years, following a trip to Taiwan by then-US House speaker Nancy Pelosi.
Taiwan's armed forces are monitoring the situation, and would remain on high alert, while making every effort to defend the country's sovereignty and national security, the Ministry of National Defense said yesterday.
China has "used President Tsai's visit and transits in the United States as an excuse to conduct military exercises, which has seriously undermined peace, stability and security in the region," it said.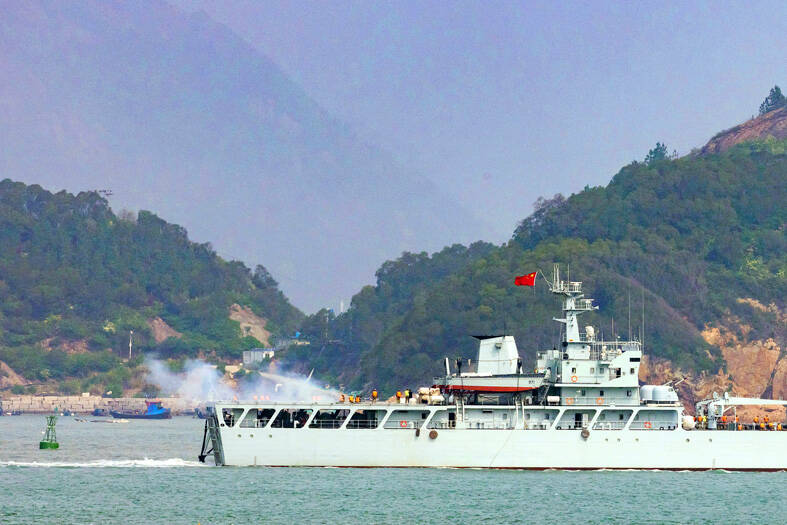 A Chinese warship fires toward the shore during a military drill off Fuzhou, China, near Taiwan's Lienchiang County yesterday.
Photo: Reuters
The ministry also released a video showing soldiers loading anti-aircraft missile launchers, fighter jets taking off and other military preparedness exercises.
The footage included surveillance of China's Shandong aircraft carrier, which sailed through waters south of Taiwan earlier this week.
The 75-second clip, which included English subtitles, ended with a caption reading: "We seek neither escalation nor conflict, but we remain steadfast, rational, and serious to react and defend our territory and sovereignty."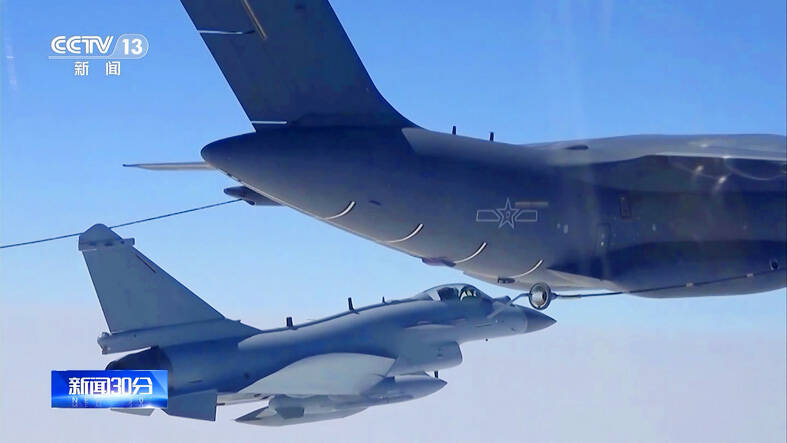 A Chinese fighter jet performs a mid-air refueling maneuver at an unspecified location yesterday.
Photo: China Central Television via AP
The MAC said it would not bow to Beijing's military threats that have once again disturbed the peace and stability of the region.
Tsai has routinely transited through the US on visits to Taiwan's diplomatic allies and conducted face-to-face talks with the leaders of friendly governments to facilitate peace across the Taiwan Strait, it said.
China should learn to deal with these kinds of normal interactions and practice self-restraint, which could help avoid miscalculations or further damaging its relationship with Taipei, it said.
No amount of threatening behavior from China can change that the two sides of the Strait are not subordinate to each other, nor would it shake the resolve of Taiwanese to keep it that way, the council said.
Taipei continues to steadfastly defend the sovereignty and the democratic constitutional order by bolstering the nation's resiliency and deepening its cooperation with like-minded democratic states in the fight to oppose authoritarian expansionism, it added.
The Democratic Progressive Party said that Beijing's behavior was a deliberate act of escalation directed at preventing peace and stability in the region.
The military threats would not intimidate Taiwan, but only showcase Beijing's expansionism to the international community and foster solidarity among Taiwanese, it said.
The Chinese Nationalist Party (KMT) said that both sides of the Strait should take steps to reduce tensions and make a greater effort to promote peace and stability.
The party is opposed to any action that negatively affects the cross-strait relationship, peace across the Strait or the stability of the region, it said, adding that the KMT would remain a firm proponent for defending the nation and protecting Taiwanese freedom and democracy.
The defense ministry said that 71 Chinese military aircraft and nine naval ships were detected in areas around Taiwan as of 4pm yesterday, including 45 warplanes that crossed the median line of the Taiwan Strait or flew into the southwestern part of Taiwan's air defense identification zone.
Among the Chinese military planes were Chengdu J-10 fighter jets, and Shenyang J-11 and Shenyang J-16 fighters that crossed the northern, central and southern parts of the median line, it said.
The ministry said it scrambled combat air and naval patrols and deployed defense missile systems to track the Chinese military aircraft.
In addition to the PLA drills, China's Fujian Maritime Safety Administration has also announced that it was holding live-fire exercises in waters near the Luoyuan Bay area in China's Fujian Province on Tuesday, Thursday and yesterday, as well as tomorrow and Thursday next week from 8am to noon.
Comments will be moderated. Keep comments relevant to the article. Remarks containing abusive and obscene language, personal attacks of any kind or promotion will be removed and the user banned. Final decision will be at the discretion of the Taipei Times.