Taiwan trip not a China issue: German official
VISITING FRIENDS: British lawmaker Bob Stewart said that he would relay to the UK parliament the need to assist Taiwan as much as possible with its defense
Visiting German Minister of Education and Research Bettina Stark-Watzinger yesterday said that "professional exchanges" were the focus of her trip to Taiwan, not China.
Amid criticism from Beijing, the minister told reporters in Taipei that her visit was in line with Berlin's China policy, adding that she expected it to be "transparent and professional with no surprises."
Stark-Watzinger said she had consulted German Chancellor Olaf Scholz and the nation's foreign minister before her visit.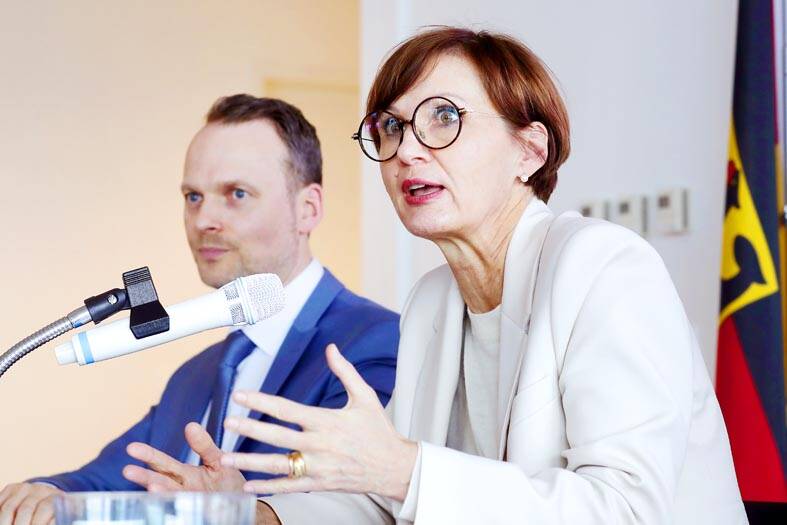 German Minister of Education and Research Bettina Stark-Watzinger, right, and Bundestag member Kai Gehring, attend a press conference at the German Institute Taipei yesterday.
Photo: AP
"Our focus is professional exchanges and the issue of China is not the topic here," she said.
The first German federal minister to visit Taipei since 1997 said that while such trips could become "routine," the decision on whether to travel to Taiwan would be for individual ministers to decide.
Germany and Taiwan face similar challenges with regard to a brain drain in the semiconductor field, she said, adding that regular exchanges with a partner that shares the same values of democracy and the rule of law are a must.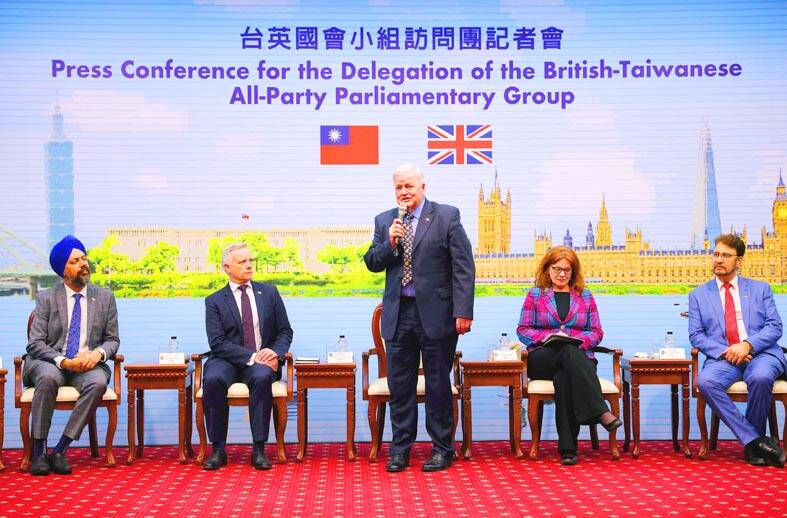 Bob Stewart, center, cochair of the British-Taiwanese All-Party Parliamentary Group, speaks next to a delegation of British lawmakers led by him on a visit to Taiwan, at a news conference at the Ministry of Foreign Affairs in Taipei yesterday.
Photo: Annabelle Chih, Reuters
Stark-Watzinger's 14-member delegation earlier yesterday met with Minister of Education Pan Wen-chung (潘文忠) to exchange views on Chinese-language education and academic semiconductor institutions.
The two discussed cooperation in Chinese-language education, including inviting German officials to Taiwan for language training and subsidizing Taiwanese teachers' stay in Germany, the Ministry of Education said.
On Tuesday, Chinese Ministry of Foreign Affairs spokesman Wang Wenbin (汪文斌) expressed Beijing's "strong disapproval" of Stark-Watzinger's "reprehensible" act of visiting Taipei.
"We call on the German side to respect the 'one China' principle, immediately stop interacting and sending the wrong signals to the 'Taiwan independence' separatist forces," Wang said.
German Minister of Finance Christian Lindner yesterday wrote on Twitter that the creeping loss of democracy and freedom worldwide must not be the price for cooperating with China.
That is why Stark-Watzinger's engagement on the issue deserves respect, he wrote, with a link to an announcement about the opening of the Friedrich Naumann Foundation for Freedom's hub in Taipei.
Separately yesterday, visiting British lawmaker Bob Stewart said that the UK should provide Taiwan with as much help as possible to defend itself.
Speaking at a news conference in Taipei, the cochair of the British-Taiwanese All-Party Parliamentary Group confirmed that issues related to the UK providing Taiwan with equipment for its indigenous defense submarine program were covered when they met with National Security Council Secretary-General Wellington Koo (顧立雄).
"It came up, in part," Stewart said.
Stewart would not reveal details of the conversation, but said the message the delegation would take back to the British parliament is that "we should assist Taiwan in its defense as much as possible."
Reuters published a report on Monday last week saying that the value of licenses the British government granted to companies for the export of submarine-
related components and technology to Taiwan totaled a record £167 million (US$205 million) during the first nine months of last year, more than the previous six years combined.
Asked about the report, Stewart said he "fully supports the idea."
He did not elaborate, saying he is not part of the government.
In his opening remarks, Stewart praised Taiwan for its democratic development.
"What you have achieved in this country over 30 years is nothing more than miraculous, 30 years and you are now rated higher in democratic values than a country like my own which has had 800 years and still we can't get it right," he said.
The six-member British parliamentary group he is leading arrived in Taiwan on Sunday for a six-day visit.
Additional reporting by Reuters
Comments will be moderated. Keep comments relevant to the article. Remarks containing abusive and obscene language, personal attacks of any kind or promotion will be removed and the user banned. Final decision will be at the discretion of the Taipei Times.