Russia dancing to China's tune: MOFA
EXPANSIONISM: The ministry condemned Moscow's support of Beijing's authoritarian government and its false statements to belittle and damage Taiwan's sovereignty
The Ministry of Foreign Affairs (MOFA) yesterday condemned Beijing and Moscow for a joint statement that called Taiwan an "inalienable" part of China, accusing Russia of "dancing to China's tune."
Russian President Vladimir Putin hosted Chinese President Xi Jinping (習近平) for two days of talks this week, with the leaders signing a joint statement pledging to deepen their strategic partnership — and affirming Russia's support for China on Taiwan.
The ministry "solemnly protests and strongly condemns [China's] authoritarian expansionist government for continuing to issue false statements in the international arena to belittle and damage our country's sovereignty," it said in a statement.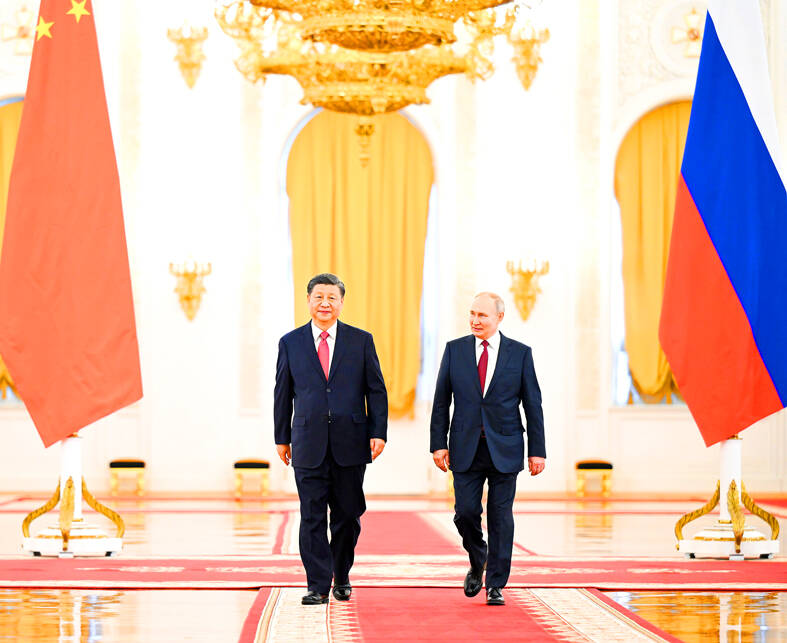 Russian President Vladimir Putin, right, holds a welcome ceremony for Chinese President Xi Jinping at the St George's Hall at the Kremlin in Moscow on Tuesday.
Photo: EPA-EFE / Xinhua / Xie Huanchi
It also condemned "Russia's attempt to sing and dance to China's tune for its conspiracy of aggression and expansion."
In the joint statement, Russia reaffirmed its adherence to Beijing's "one China" principle, terming Taiwan "an inalienable part of Chinese territory," Xinhua news agency reported.
Russia "opposes any form of 'Taiwan independence,' and firmly supports China's measures to safeguard its sovereignty and territorial integrity," Xinhua quoted the statement as saying.
Xi left Moscow yesterday after a summit with Putin that the two leaders hailed as a "new era" in their relationship, Russian news agencies reported.
The nations, eager to curb Western power, expressed concerns about NATO expansion in Asia, and agreed to deepen a partnership that has grown closer since Putin ordered the invasion of Ukraine.
Putin said he was open to talks on Ukraine and praised Beijing's 12-point position paper on the conflict, which includes a call for dialogue and respect for all countries' territorial sovereignty.
Ukrainian President Volodymyr Zelenskiy said Kyiv has invited China to talks, and is waiting for an answer from Beijing.
"We offered China to become a partner in the implementation of the peace formula. We passed over our formula across all channels. We invite you to dialogue. We are waiting for your answer," Zelenskiy told a news conference.
However, the US said it does not see China as capable of being an impartial mediator.
"I don't think you can reasonably look at China as impartial in any way," US National Security Council spokesman John Kirby told reporters on Tuesday.
China has refrained from criticizing the Russian invasion of Ukraine and has continued to buy Russian oil even as the West piles sanctions on Moscow's energy industry, Kirby said.
China also "keeps parroting the Russian propaganda," saying that the US and other countries in the West are to blame for the war for giving such strong support to Ukraine over the years that Russia felt threatened and justified in invading, he added.
Kirby said the two were linked not so much by an alliance, but rather "a marriage of convenience, because that's what I think it is."
Separately, US Secretary of State Antony Blinken said Xi's Moscow visit "suggests that China feels no responsibility to hold the president accountable for the atrocities committed in Ukraine."
"And instead of even condemning, it would rather provide diplomatic cover for Russia to continue to commit those great crimes," he added.
Comments will be moderated. Keep comments relevant to the article. Remarks containing abusive and obscene language, personal attacks of any kind or promotion will be removed and the user banned. Final decision will be at the discretion of the Taipei Times.