Taiwan to develop its own ChatGPT
CONCERN: The nation would create a traditional Chinese-language version to prevent AI systems trained to provide biased information dominating, Wu Tsung-tsong said
Taiwan is to develop its own version of chat generative pretrained transformer (ChatGPT) to prevent an artificial intelligence (AI) system trained to offer biased information from China or authoritarian regimes from dominating the industry, Minister of Science and Technology Wu Tsung-tsong (吳政忠) said yesterday.
San Francisco-based OpenAI Laboratory has garnered 100 million users worldwide within two months of launching the chatbot. Chinese search engine Baidu Inc (百度) has announced that it is to launch a similar app in two months.
The council is budgeting NT$34.9 billion (US$1.15 billion) to set up eight major technology platforms: AI, semiconductor and quantum technology, space and satellite communications, cybersecurity, precision healthcare technology, net zero emissions technology, national defense technology, as well as the humanities and social sciences, Wu said.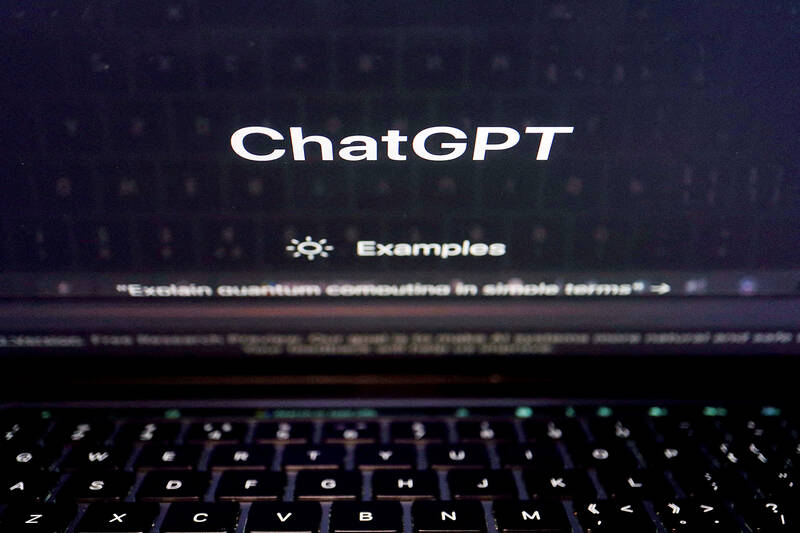 A keyboard is seen reflected on a computer screen displaying the website of ChatGPT, an AI chatbot from OpenAI, in this illustration picture taken Feb. 8, 2023.
Photo: Reuters
Most of the funding — NT$11.9 billion — would be used to develop net zero emissions technology, followed by NT$8.3 billion to develop semiconductor technology, he said.
ChatGPT communicates in English, while a similar system developed by Baidu is expected to communicate in simplified Chinese, Wu said, adding that as competition between democratic nations and authoritarian regimes intensifies, Taiwan, as democratic nation, could contribute by developing a system that communicates in traditional Chinese.
"ChatGPT generally uses public information to generate responses, but the system can be tweaked manually so that it can generate specific responses to certain questions," he said. "Taiwan would create its own version of ChatGPT to avoid AI systems trained to provide biased information from dominating the industry."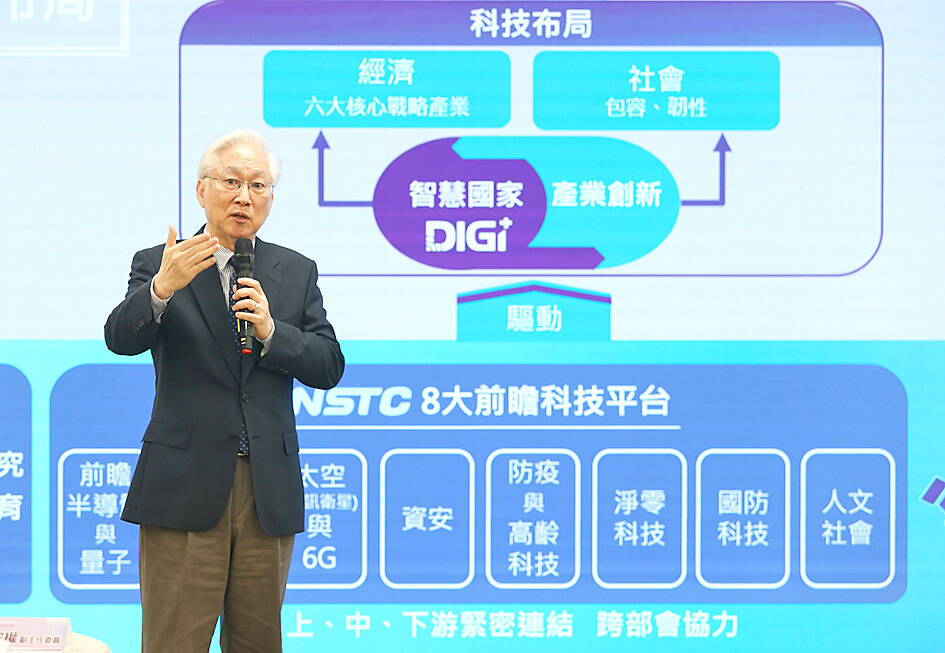 Minister of Science and Technology Wu Tsung-tsong speaks at a news conference in Taipei yesterday.
Photo: CNA
Taiwan can compete in AI by investing more in talent, Wu said, adding that it has never sought to surpass other nations in terms of funding research and development in any emerging technology.
Meanwhile, Wu said that Taiwan would continue training talent and bringing in overseas funding if it is necessary to maintain its leading position in the semiconductor industry, which is expected to be a core technology worldwide in the next 20 years.
"Through the training of talent in other countries, we hope it will draw talent and start-up companies to establish operational bases in Taiwan and join the industries in which Taiwan is a leader," he said.
The council is to establish an information security technology research center to advance research of cybersecurity issues, Wu said.
The Taiwan Space Agency and the Industrial Technology Research Institute are to develop a low-orbit satellite system, he said.
"Scientists have completed the preliminary designs of the launch pads for two experimental satellites owned by the Taiwan Space Agency, with 80 percent of the components being made in Taiwan," Wu said, adding that a more detailed design is to be delivered by the end of this year.
He also confirmed Taiwan-US science and technology collaboration meetings are to be held in May.
The meetings were scheduled to be held in November last year in Taiwan, but they were postponed due to the US midterm elections.
The US delegation that was scheduled to arrive in Taiwan last year included officials and representatives from the White House, the US Department of State, the National Science Foundation, the National Institute of Health, the National Institute of Standards and Technology and the National Oceanic and Atmospheric Administration, the council said.
Members of the US delegation would exchange views and sign cooperation agreements on major issues with Taiwanese officials and scientists during the meetings, it said.
The National Science and Technology Council and the US National Science Foundation are to hold a technology cooperation annual meeting, it added.
The delegation would visit the Hsinchu Science Park, Taiwan Space Agency, Taiwan Semiconductor Research Institute, National Center for High-Performance Computing and the Shalun Smart Green Energy Science City in Tainan, the council said.
Comments will be moderated. Keep comments relevant to the article. Remarks containing abusive and obscene language, personal attacks of any kind or promotion will be removed and the user banned. Final decision will be at the discretion of the Taipei Times.