Japan displaces China as top Taiwan fruit importer
Japan has replaced China as the world's top importer of Taiwanese fruit, taking in 46.2 percent of the nation's fruit exports, Council of Agriculture data showed.
Taiwan has over the past two years seen a shift in its target export markets, moving away from China and toward the US and Japan.
Produce exports to Japan grew by US$850 million, or 11 percent, council data showed.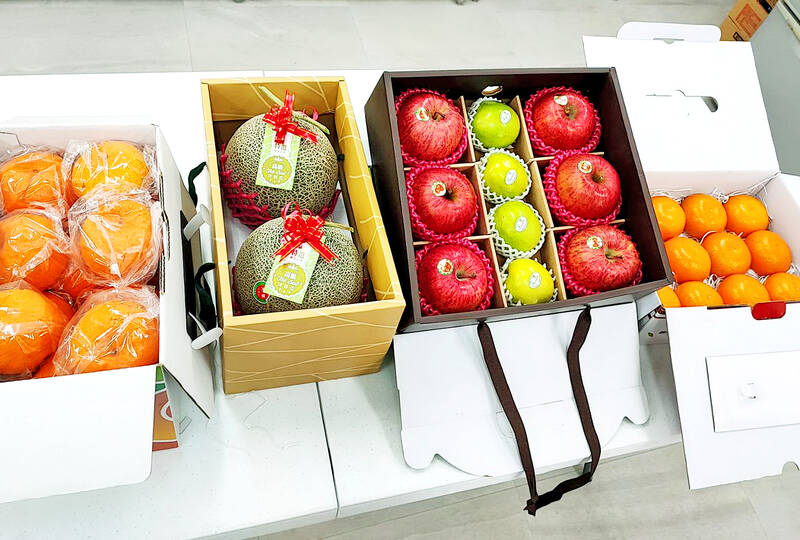 Fruit gift boxes prepared by Tainan Agricultural Products Marketing Co are pictured on Tuesday last week.
Photo: Wu Chun-feng, Taipei Times
China had traditionally imported more than 80 percent of Taiwan's produce.
To capitalize on the export shift, the council is planning new distribution methods in Japan, such as installing vending machines that sell Taiwanese fruit, a council employee said yesterday.
As most Japanese supermarkets close at 8pm, many have vending machines on their premises for people who cannot get to the store before closing time, and these venues could be opportunities for Taiwanese goods, the source said.
With China's near-total suspension of imports of Taiwanese produce, alcohol and seafood, Taiwan is focusing more on Japan for export development.
Pineapple exports to Japan last year were valued at US$24.05 million, up 5.8 percent from 2021, while Japan imported 93 tonnes of pomeloes and other fruits from Taiwan, nearly doubling previous amounts, the council said.
Tea exports to Japan also grew to 600 tonnes, up 26 percent year-on-year, while soybean oil increased to 10,238 tonnes last year, with a value of US$15.61 million, council data showed.
The council's International Division said it recently signed an agreement with the Japanese produce chain Wismettac Foods to annually import 3,500 tonnes of fresh pineapples, 100 tonnes of frozen pineapples and 1,500 tonnes of bananas.
Agricultural imports from the US last year reached US$4.65 billion, council data showed.
About US$1.71 billion of soybeans and other oil seeds were sourced from the US, marking a shift away from Russian supply.
Taiwan also imported US$2.1 billion worth of chicken meat from the US last year, a 31.2 percent increase from 2021, it added.
Comments will be moderated. Keep comments relevant to the article. Remarks containing abusive and obscene language, personal attacks of any kind or promotion will be removed and the user banned. Final decision will be at the discretion of the Taipei Times.