Tsai reinstates one-year conscription
'DIFFICULT, BUT INEVITABLE': The president said that universities would develop ways to make curricula more flexible so conscripts can finish service while studying
Conscription is to be restored to one year for all men born after Jan. 1, 2005, starting in 2024, President Tsai Ing-wen (蔡英文) said yesterday as part of an updated national defense plan.
"The decision is a difficult one, but as the head of the military and for the continued survival of Taiwan, this is an inevitable responsibility," Tsai said.
As well as returning the mandatory service period to one year, the government is enacting other changes affecting the nation's military composition, affirming that the volunteer force is to be the nation's main military arm and establishing a standing defense force mainly comprised of those serving their mandatory service.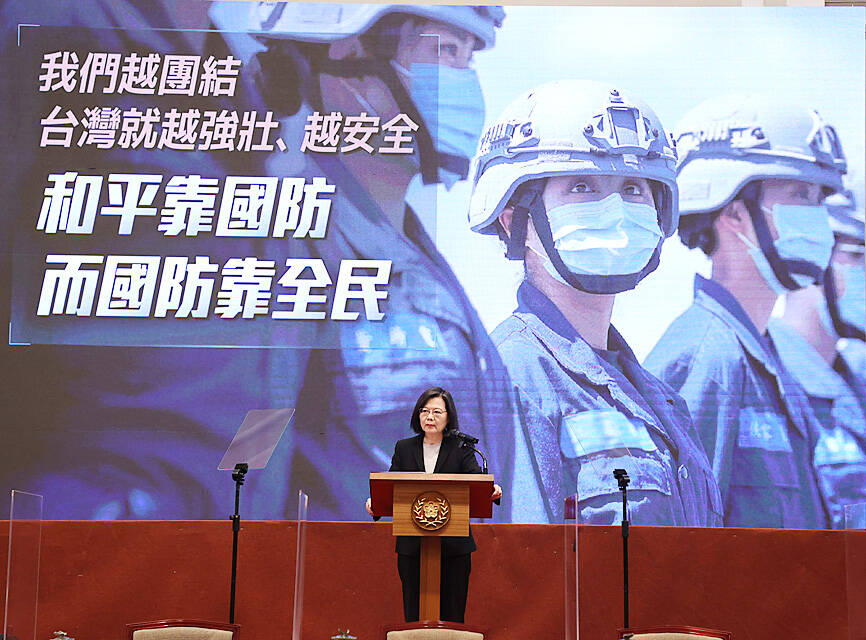 President Tsai Ing-wen speaks at a news conference at the Presidential Office in Taipei yesterday at which she announced new conscription policies.
Photo: CNA
The government is also looking to bolster its reservist system and would consider implementing a militia system, Tsai said.
The starting salary for conscripts would be increased to NT$26,307 from NT$6,510 to ensure they earn enough to cover their basic daily expenses, she said.
However, the disposable income portion of the salary would be NT$20,320 per month, with the army to provide NT$5,987 to cover meals and insurance, she said.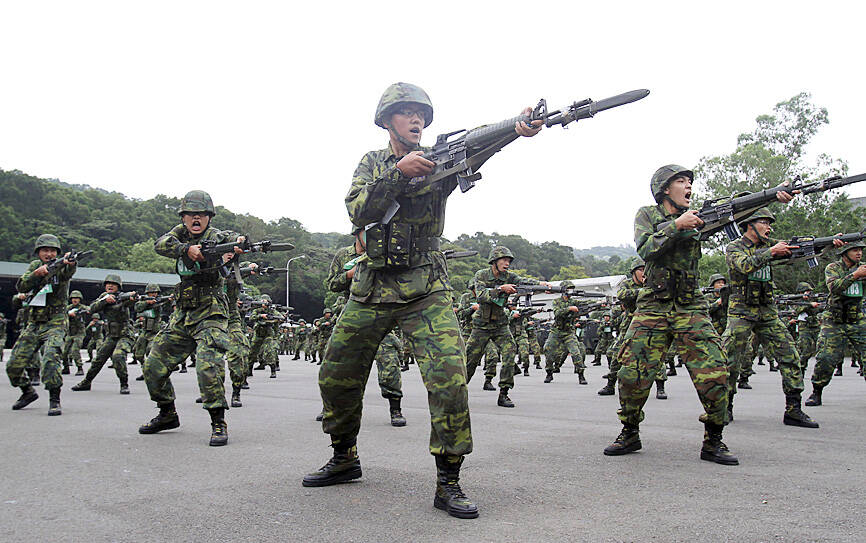 New recruits practice with bayonets at a military training center in Hsinchu County on April 22, 2013.
Photo: Chiang Ying-ying, AP
The announcement was made after Tsai held a round of meetings at the Presidential Office in Taipei with high-level officials to discuss Taiwan's economic and national security, following months of discussions in the wake of the Russian invasion of Ukraine.
Ukraine is still fighting after more than 300 days, and its resolve to defend itself is an example for everyone who loves and cherishes freedom, Tsai said.
With the Chinese threat looming, Taiwan must prepare for war, and ensure that it can fight to prevent war or end it if one begins, she said.
Many people have stereotypical views of mandatory service based on their own experience, but the training regimen has undergone drastic changes, Tsai added.
To ensure conscripts undergo appropriate training and do not waste time during the longer service period, they would undergo more intense and longer boot camp training to boost their combat preparedness, the president said.
Boot camp training is to be extended to eight weeks from five, and is to include physical fitness and exercise, as well as weapons and combat training.
Standard courses would focus on discipline, equipment maintenance, basic training and stress training, while physical training would include basic fitness, grenade throwing and a 500m obstacle course.
Physical training is to incorporate science-based learning for health management and muscle-building.
The arms training section would increase the number of shots fired from 104 to 160 to ensure that recruits know the differences between weapons and how firing position affects accuracy.
Combat training is to focus on combat techniques, field medicine and what to do in the event of a biological or nuclear disaster, while the training regimen for recruits is to include marches, camp setting and other skills.
The Ministry of Education is in talks with local universities and colleges to develop ways to make the higher-education curriculum more flexible so that conscripts can complete their required one year of service while studying, Tsai said.
That would allow them to avoid postponing plans to enter the job market due to the longer military service requirement, she said.
Since 1949, when the Republic of China government retreated to Taiwan, Taiwanese men have been required to serve two or three years in the military.
After 2000, conscription was gradually reduced to one year by 2008.
Under former president Ma Ying-jeou (馬英九) of the Chinese Nationalist Party (KMT), who was in office from 2008 to 2016, the government turned the nation's military into a mainly volunteer force, with conscripts, serving in support roles, only required to undergo four months of military training since 2013.
During the four months, conscripts undergo five weeks of boot camp followed by 11 weeks of specialized training with field units.
Additional reporting by Chen Yun
Comments will be moderated. Keep comments relevant to the article. Remarks containing abusive and obscene language, personal attacks of any kind or promotion will be removed and the user banned. Final decision will be at the discretion of the Taipei Times.