Ex-Chinese leader Jiang Zemin dies
Former Chinese leader Jiang Zemin (江澤民) died yesterday, state media reported, hailing him as a great communist revolutionary who helped quell democracy protests in 1989.
He was 96.
Jiang took power in the aftermath of the Tiananmen Square Massacre, in which the military used deadly force to end demonstrations and led China toward its emergence as a global economic powerhouse.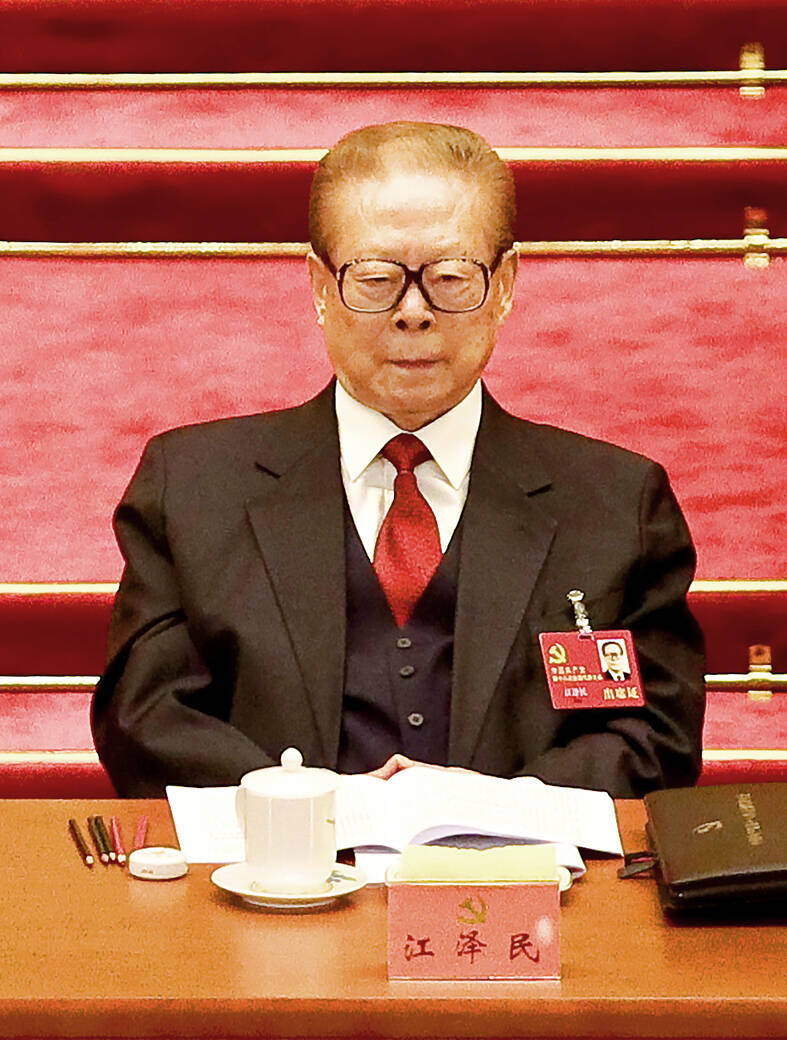 Former Chinese leader Jiang Zemin attends the Chinese Communist Party's Congress in Beijing on Nov. 8. Jiang passed away yesterday.
Photo: EPA-EFE
The major bodies of the Chinese Communist Party (CCP) announced his death through a letter that expressed "profound grief."
"Jiang Zemin passed away due to leukemia and multiple organ failure in Shanghai at 12:13pm on Nov. 30, 2022, at the age of 96, it was announced on Wednesday," Xinhua news agency said.
His death came after all medical treatments had failed, it added, citing the letter.
"Comrade Jiang Zemin was an outstanding leader ... a great Marxist, a great proletarian revolutionary, statesman, military strategist and diplomat, a long-tested communist fighter, and an outstanding leader of the great cause of socialism with Chinese characteristics," it said.
Jiang's death comes amid a flare-up of protests against COVID-19 lockdowns that have morphed into calls for more political freedoms — the most widespread since the 1989 rallies.
When Jiang replaced Deng Xiaoping (鄧小平) in 1989, China was still in the early stages of economic modernization. By the time he retired as leader in 2003, China was a member of the WTO, Beijing had secured the 2008 Olympics and the country was well on its way to superpower status.
Analysts say Jiang and his "Shanghai Gang" faction continued to exert influence over Chinese politics long after he left the top job, including in the selection of Xi Jinping (習近平) as president in 2012.
CCTV said that flags would be flown at half-mast at Chinese government buildings until his funeral, for which a date is not set.
Comments will be moderated. Keep comments relevant to the article. Remarks containing abusive and obscene language, personal attacks of any kind or promotion will be removed and the user banned. Final decision will be at the discretion of the Taipei Times.