Hikers held for lighting campfire on Hehuanshan
Police on Saturday arrested nine hikers suspected of starting a campfire and cutting shrubs on Hehuanshan (合歡山) in Nantou County.
The hikers, three Taiwanese and six foreigners, were released later in the day after their statements were taken, an officer from the Seventh Special Police Corps said on Sunday.
The case has been handed over to the Nantou District Prosecutors' Office for further investigation into possible contraventions of the Forestry Act (森林法), the officer said.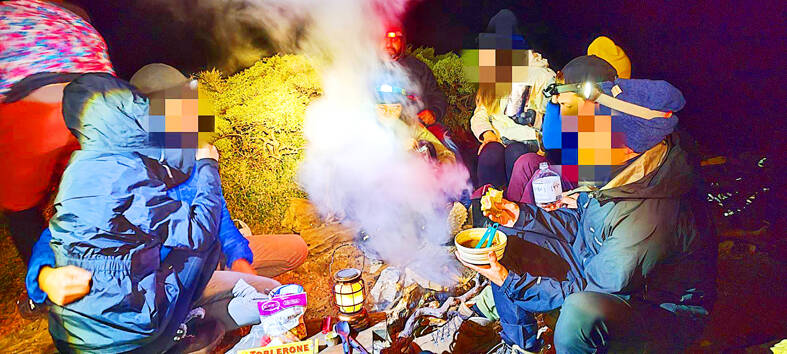 Hikers sit around what appears to be a campfire on the East Peak of Hehuanshan on Saturday.
Photo courtesy of a member of the public
Police on Saturday evening received a report that a group of hikers had started a campfire in an area on the East Peak of Hehuanshan, a popular spot among hikers bordering Nantou and Hualien counties.
The caller also said there were signs that branches of dwarf rhododendron shrubs, or Lapland rosebay, had been cut near the campsite, the officer said, adding that damaging the shrubs in any manner is illegal.
Police arriving at the site found the hikers camped around a fire, the office said.
The hikers told police that they had climbed the East Peak to watch the sunrise and collected branches to light a fire because of the cold weather, but denied cutting the shrubs.
After checking the scene and questioning the hikers, police concluded that the group contravened the act by lighting a fire on the East Peak.
In light of the case, police reminded the public that lighting a fire and cutting down or damaging vegetation are forbidden in forests and protected areas.
Offenders could face prison terms or fines, police added.
Lighting a fire in forest areas without permission could result in a fine of NT$120,000 to NT$600,000 (US$3,845 to US$19,225) under the act, the Taroko National Park Headquarters said.
Alpine azaleas are also protected by the act and people who cut off branches from the shrubs could face six months to five years in prison and a fine of NT$300,000 to NT$6 million, it said.
Pitching a tent or lighting a fire outside designated areas are forbidden, according to the National Parks Act (國家公園法), the headquarters said.
Offenders could face a fine of NT$1,500 for each infraction, while those who bring pets to a national park could face a fine of NT$600, it added.
Comments will be moderated. Keep comments relevant to the article. Remarks containing abusive and obscene language, personal attacks of any kind or promotion will be removed and the user banned. Final decision will be at the discretion of the Taipei Times.