US senator slams China for destabilizing Taiwan Strait
DEFENSIVE POSITION: Regional allies must be made aware that that the US is committed to defending Taiwan while not provoking China, a US senator said
US Senator Ed Markey on Thursday criticized China for destabilizing the Taiwan Strait and called on the US government to take actions that would put Taiwan in the strongest defensive position possible.
The US must take actions that have substantial benefits for Taiwan's defense, and avoid measures that put Taiwan at risk, Markey said in a prerecorded video played at a seminar at the Center for Strategic and International Studies, a Washington think tank.
With China supporting Russia's war in Ukraine and continuing to adopt aggressive policies toward Taiwan, it is not a simple challenge to deal with the Chinese threat, he said.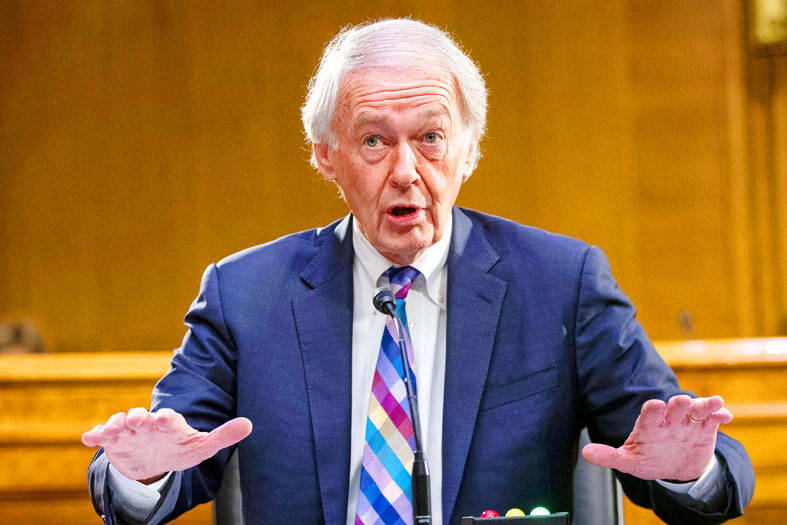 US Senator Ed Markey speaks at a Senate Foreign Relations committee hearing in Washington on April 26.
Photo: AP
Although the US and China are not locked in a new cold war, the US must still carefully observe China's intentions, he said.
It should also demonstrate unity with allies and partners, and still cooperate with China when necessary, Markey said, adding that the US must avoid unnecessary provocations in dealing with China.
Communication channels must be open to avoid "fatal miscalculations," he said.
The world must be made aware that it is China — not Taiwan or the US — that is trying to change the "status quo" in the Taiwan Strait, Markey said, citing Beijing's overreaction to a visit to Taiwan by US House of Representatives Speaker Nancy Pelosi in August, despite similar visits having been made in the past.
To avoid China unilaterally changing the "status quo," the US must ensure Taiwan is in the best position possible to defend itself and also make regional allies aware that the US is committed to Taiwan's defense, but would do everything in its power to avoid a conflict, he said.
However, the US must also avoid actions that put Taiwan at risk without providing any substantial benefit, he said.
Markey said the proposed "Taiwan fellowship act," which passed the US Senate in a bipartisan vote on June 8 last year, would enhance the connection between the people of both nations, and support Taiwan's self-defense and security interests.
The purpose of the act, according to the US Congress Web site, is to strengthen the US-Taiwan strategic partnership through assigning US officials to spend time in Taiwan to learn Mandarin, and improve their knowledge of the politics, history and culture of Taiwan and the Indo-Pacific region.
The act also seeks "to better position the United States to advance its economic, security, and human rights interests and values in the Indo-Pacific region."
Comments will be moderated. Keep comments relevant to the article. Remarks containing abusive and obscene language, personal attacks of any kind or promotion will be removed and the user banned. Final decision will be at the discretion of the Taipei Times.