Tsai touts Taiwan's 'crucial' Asia role
SOUTHBOUND POLICY UPDATE: The strategy to forge closer ties with Southeast Asia is to get a 'digital' add-on based on the nation's high-tech prowess, the president said
Taiwan is looking to play a "crucial" role in the development of the Indo-Pacific region in the post-COVID-19 era, President Tsai Ing-wen (蔡英文) said yesterday at the opening of the two-day Yushan Forum in Taipei.
Taiwan can be "a crucial actor" by assisting in regional and global economic recovery, and contributing to efforts to restructure supply chains, Tsai said.
"While Taiwan stands on the front line of authoritarian expansion, our resilient economy and industrial supply chain remain a vital part of the regional ecosystem," she said.
President Tsai Ing-wen speaks at the annual Yushan Forum in Taipei yesterday.
Photo: Ann Wang, REUTERS
Tsai pledged to place more emphasis on the government's New Southbound Policy, an initiative her administration launched in 2016 aimed at expanding economic, cultural and political ties with Southeast Asia, South Asia, Australia and New Zealand.
The policy is to be Taiwan's "pivotal regional policy for Asia" as it works to "bolster our security and economic ties with partners across the region," Tsai said.
The government would integrate Taiwan's capacity in high-tech industries with the policy to promote "a digital New Southbound initiative," she said.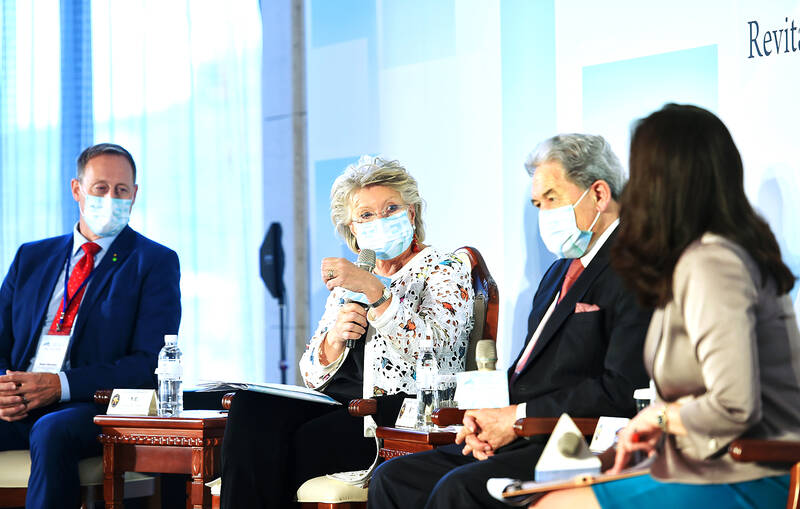 Ministry of Foreign Affairs spokeswoman Joanne Ou, right, yesterday leads a discussion at the Yushan Forum in Taipei with former Canadian foreign and defense minister Peter MacKay, left, former European commissioner for justice, fundamental rights and citizenship Viviane Reding, center, and former New Zealand deputy prime minister Winston Peters, second right
Photo: Fang Pin-chao, Taipei Times
Taiwan's enterprises have significantly increased their investment in the 18 countries included in the policy over the past six years, with investment from Taiwan in those countries reaching US$2.2 billion from January to July, Tsai said.
In the first quarter of this year, profits from investments in those 18 countries by listed Taiwanese companies surpassed profits from investment in China by the same companies for the first time, she said.
Former Japanese prime minister Taro Aso said in pre-recorded remarks that he felt a sense of responsibility to further strengthen the relationship between Taiwan and Japan after the passing of former Japanese prime minister Shinzo Abe.
Aso also condemned Russia for "military aggression" against Ukraine, saying that attempts to unilaterally change the "status quo" by force are "not permitted anywhere in the world."
Japanese lawmaker Keiji Furuya said that like-minded countries should work together to prevent a crisis in the Taiwan Strait, while expressing concern over China's growing military pressure on Taiwan.
"A contingency in Taiwan means a contingency for Japan and a contingency for countries that share common values of freedom, democracy, the rule of law and basic human rights," said Furuya, who is chairman of the Japan-ROC Diet Members' Consultative Council, a 270-member group dedicated to promoting ties between Japan and Taiwan.
Furuya also announced that the second Taiwan-US-Japan strategic forum for lawmakers would be held next month, following the first edition in July last year.
Speaking virtually during a forum luncheon, former Australian minister for foreign affairs Julie Bishop called on all countries to forge closer ties with Taiwan, describing the nation as a force for good and stability in a rapidly changing world.
Bishop, who was her country's top diplomat from 2013 to 2018, lauded Taiwan for playing an important role in supporting many Pacific nations that have deep ties with Australia, referring to Taiwan's diplomatic allies in the region: the Marshall Islands, Nauru, Palau and Tuvalu.
"I know there remains great affection and appreciation for the people of Taiwan among those Pacific island nations," said Bishop, who has been the chancellor of Australian National University since January 2020.
However, with the rise of Chinese influence in many Pacific nations through Beijing's Belt and Road Initiative, Bishop said there has been a "contest of ideas."
Bishop said that multilateralism "fails the world," with Russia and China being permanent members of the UN Security Council, giving them veto rights.
She called on like-minded partners to work in "smaller groupings" to protect common interests.
She proposed that smaller members of the global community such as Taiwan and Australia develop policies to influence other nations and institutions through a supportive multilateral system.
The sixth edition of the Yushan Forum features speeches and panel discussions by former government officials, lawmakers, academics, business leaders and representatives of civic groups from 12 countries, said the event's organizer, the Taiwan-Asia Exchange Foundation.
Also attending the forum are Rose Gottemoeller, a former NATO deputy secretary-general and US undersecretary of state for arms control and international security, and Palauan President Surangel Whipps Jr, among others.
Comments will be moderated. Keep comments relevant to the article. Remarks containing abusive and obscene language, personal attacks of any kind or promotion will be removed and the user banned. Final decision will be at the discretion of the Taipei Times.