Taiwan's security critical to ensuring freedom: Tsai
CONCORDIA SUMMIT: Democracies and the rules-based world order are facing the greatest challenges since the Cold War, the president told the gathering
Securing Taiwan's democracy is imperative to ensuring freedom and human rights, President Tsai Ing-wen (蔡英文) told the Concordia Summit in a prerecorded video on Monday.
Tsai was asked by the nonprofit organization Concordia to address the summit, which takes place on the sidelines of the annual UN General Assembly in New York City.
Tsai said the summit is taking place at a consequential time, as democracies and the rules-based international order are being challenged by the COVID-19 pandemic, and attempts by authoritarian regimes to corrode democratic institutions and tarnish human rights and civic space.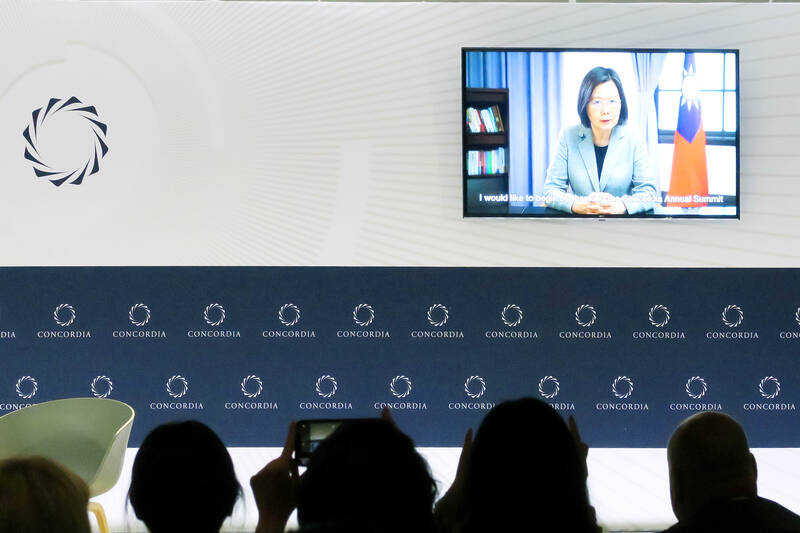 President Tsai Ing-wen addresses the Concordia Summit in New York City on Monday in a prerecorded video message.
Photo: CNA
"At this moment, democracies and the rules-based world order are facing the greatest challenges since the Cold War," she said.
Tsai touted Taiwan's role in donating masks and medical equipment to other countries at the beginning of the pandemic, while also sharing information about the virus, despite not being a member of the UN.
"With the inclusion of Taiwan in the UN system, I am confident that we can work even more closely to face future challenges and safeguard the rules-based international order," she said.
Securing Taiwan's democracy is imperative in securing freedom and human rights for the world's collective future, Tsai said, adding that Taiwan should bolster its partnerships with international bodies such as the G7 and ASEAN, as well as maintain strong relations with its diplomatic allies.
"By working together, we are resisting what authoritarian regimes do best — divide and conquer — and foiling their expansionist goals," she said.
"By standing united in our shared values and beliefs, I am confident that we can achieve what we set out to accomplish," she added.
Separately yesterday, Tsai attended the opening of an annual cybersecurity show in Taipei to tout her government's efforts to build a comprehensive information security defense system.
The theme of Cybersec 2022 — "Digital Transformation, Cybersecurity Upgrades" — matches the government's direction in developing digital policies, Tsai told the event at the Taipei Nangang Exhibition Center.
The Ministry of Digital Affairs was established last month, while the National Institute of Cyber Security is to begin operations at the end of this year, Tsai said.
The government is accelerating its efforts to build a comprehensive joint system for cybersecurity protection, she added.
To that end, the Financial Supervisory Commission has revised regulations to encourage listed companies in Taiwan to establish a dedicated cybersecurity unit and appoint a chief cybersecurity officer, she said.
By the end of this year, 113 listed companies are expected have such a unit in place, she added.
Meanwhile, 80 high-tech firms have joined the Taiwan Cyber Security Alliance, a group that facilitates the exchange of cybersecurity information, she said.
Taiwan has also established SEMI E187, a specification for fab equipment, to boost semiconductor information security, she added.
Comments will be moderated. Keep comments relevant to the article. Remarks containing abusive and obscene language, personal attacks of any kind or promotion will be removed and the user banned. Final decision will be at the discretion of the Taipei Times.