Action urged after FBI arrests scientists
ESPIONAGE FEARS: Thirty-three Taiwanese have so far joined the Thousand Talents Program and the government will be closely monitoring their activities, the MAC said
The government needs to draw up countermeasures against China's 31 incentives, which allow Taiwanese to participate in Beijing's Thousand Talents Program, academics said, after the US arrested several Chinese-American scientists participating in the program over espionage allegations.
The program, also known as the Recruitment Program of Global Experts, was launched in 2008 to attract overseas talent to boost development in China's key technologies, the high-tech industry and emerging technologies.
Beijing has so far recruited 8,000 experts and academics through the program.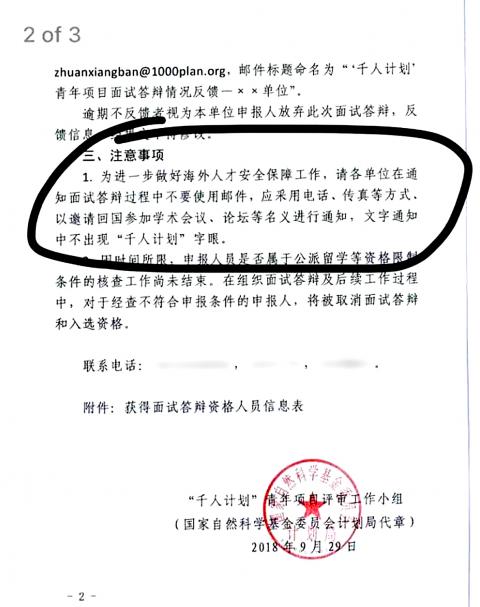 Text advising against using the phrase "Thousand Talents Program" when inviting people to forums and academic conferences is circled on a leaflet issued by China's National Natural Science Foundation.
Photo: CNA
Most of them are ethnic Chinese who receive generous wages and financial benefits, but 33 of them are Taiwanese, government data showed.
The FBI has determined the program to be a key target for investigation, as the US believes that it is closely linked to the Chinese People's Liberation Army (PLA), foreign media have reported.
The scientists arrested on suspicion of spying include General Electric Co engineer Zheng Xiaoqing (鄭小清), former Virginia Tech academic Zhang Yiheng (張以恆) and climate scientist Wang Chunzai (王春在).
Foreign governments' concerns over espionage have prompted Beijing to censor the initiative and bar the use of the term "Thousand Talents Program."
China's inclusion of the program into its incentives aims to give Taiwanese experts the illusion that they will have better career opportunities in China, Tamkang University Center of Advanced Technology executive director Su Tzu-yun (蘇紫雲) said yesterday.
However, once the technologies they take to China are copied, they are no longer deemed as valuable assets, Su said.
He urged the government to establish a mechanism to track and monitor Taiwanese who have joined the program, and to introduce stricter regulations for people who specialize in sensitive high-tech traveling to China.
As tensions rise between the US and China, anyone associated with Beijing — whether through business or academia — risks being blacklisted by Washington and losing cooperation opportunities in the US, Taipei Medical University's Center for General Education deputy dean Chang Kuo-cheng (張國城) said.
The Mainland Affairs Council (MAC) said that full-time faculty members at public and private universities are required to obtain the government's approval before they can join Beijing's program.
People who take up a post in China through the program would be dealt with in the same manner as those who assume a position in the Chinese Communist Party or the PLA, and could see their household registration in Taiwan revoked, the council said.
None of the Taiwanese who have joined the program has a full-time post at an educational institution in Taiwan, which means they do not need government approval, the council said, but added that it would continue to monitor them.
The program played a role in former National Central University (NCU) professor Chen Kun-shan's (陳錕山) defection to China in 2014.
Chen, a remote-sensing specialist, participated in research projects initiated by the National Chungshan Institute of Science and Technology, the Ministry of National Defense's Communication Development Office and the National Security Bureau.
Chen took part in 102 research projects with a combined funding of NT$520 million (US$16.82 million), Ministry of Science and Technology data show.
Chen was leading a NT$250 million project for the Council of Agriculture when he defected.
NCU had to pay more than NT$100 million in compensation due to reasons caused by his sudden departure.
Intelligence officials said that Chen delivered classified information to China.
Comments will be moderated. Keep comments relevant to the article. Remarks containing abusive and obscene language, personal attacks of any kind or promotion will be removed and the user banned. Final decision will be at the discretion of the Taipei Times.