Lawmaker denies agenda opposing Lai
'TAINAN FAVORITE': Chen Ting-fei of the DPP said that the Tainan mayor was not being targeted by Yu Shyi-kun, but rather that Yu's comments were misunderstood
Democratic Progressive Party (DPP) Legislator Chen Ting-fei (陳亭妃) yesterday denied allegations that a DPP faction she is affiliated with was seeking to prevent Tainan Mayor William Lai (賴清德) from succeeding Premier Lin Chuan (林全), but said she would welcome a Cabinet helmed by Lai should there be a reshuffle.
Chen said that a faction linked to former premier Yu Shyi-kun, as well as party members who follow President Tsai Ing-wen (蔡英文), were not working to prevent Lai from becoming premier.
"It is purely a rumor and totally groundless," Chen said. "We have never been informed of any such information and the Presidential Office has repeatedly denied it."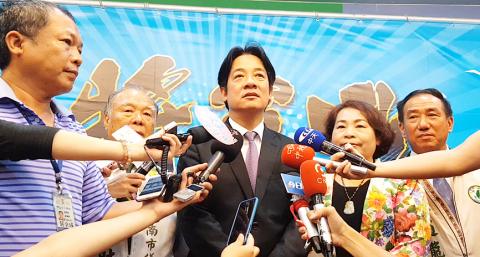 Tainan Mayor William Lai, center, speaks to reporters in Tainan yesterday.
Photo: Wang Han-ping, Taipei Times
Media outlets have reported that a major Cabinet reshuffle is expected next month, with Lai tipped to replace Lin as premier to form a new Cabinet ahead of next year's nine-in-one elections.
Yu sought to prevent a Lai Cabinet, despite the mayor's popularity, reports said.
Chen said the reports might have been derived from a misunderstanding of comments Yu made on the New Taipei City mayoral election, saying that the highest-polling candidate should be nominated.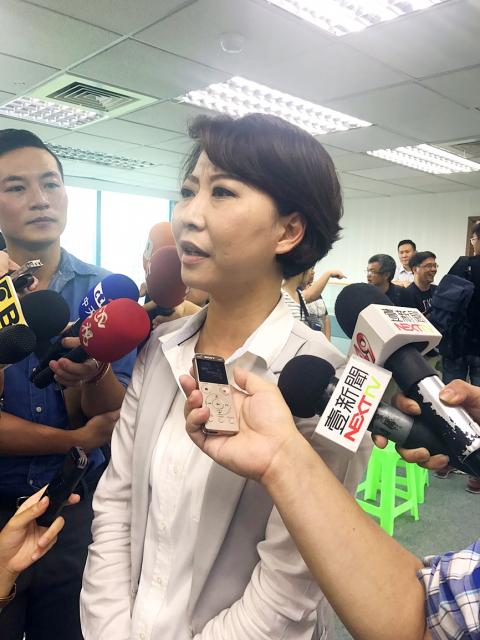 Democratic Progressive Party Legislator Chen Ting-fei speaks to reporters in Taipei yesterday.
Photo: Su Fang-he, Taipei Times
Yu on Thursday last week said he had no intention of running in New Taipei City and had asked the DPP to nominate Lai.
With Lai considered the best DPP candidate to challenge the Chinese Nationalist Party's (KMT) rule in the municipality, Yu's comments were reasonable election strategy, not a scheme to prevent him from becoming the next premier, Chen said.
"There is nothing scheming about Yu's comments and he remains thoroughly consistent," she said.
"The speculation that Lai would succeed Lin was purely coincidental," she said. "To interpret coincidence as an attempt to obstruct Lai is far-fetched."
Chen, who represents Tainan, said she would support Lai to head the Cabinet, because it would be an honor for Tainan residents.
Much attention has been given to Lai, as he is a likely candidate to succeed Tsai as the DPP's presidential candidate in 2024, but his New Tide faction has not always been in agreement with Tsai's and Yu's factions over pension reform and legislation to allow same-sex marriage.
Lai is apparently not keen to run for mayor of New Taipei City and has supported DPP Legislator Wu Ping-jui's (吳秉叡) bid, but he remains a likely candidate, as opinion polls have shown that he was the only DPP politician who could compete with New Taipei City Deputy Mayor Hou You-yi (侯友宜) of the KMT, who is expected to run for the post next year.
Comments will be moderated. Keep comments relevant to the article. Remarks containing abusive and obscene language, personal attacks of any kind or promotion will be removed and the user banned. Final decision will be at the discretion of the Taipei Times.