Retirees' 18% rate to be phased out
'FEEBLE GOOSE': To ensure a sustainable system, the retirement age needs to be 55 and the income replacement ratio lowered from 80% to 60%, Chen Chien-jen said
The government is to phase out the 18 percent preferential savings rate for retired public-sector employees over a period of six years, Vice President Chen Chien-jen (陳建仁) said yesterday.
In a radio interview, Chen said that the government plans to lower the 18 percent interest rate in stages over six years.
For people taking monthly retirement payments, the rate will be adjusted to 9 percent in the first two years after retirement, then to 6 percent in years three and four and 3 percent in years five and six. There would be no preferential interest rate after that, he said.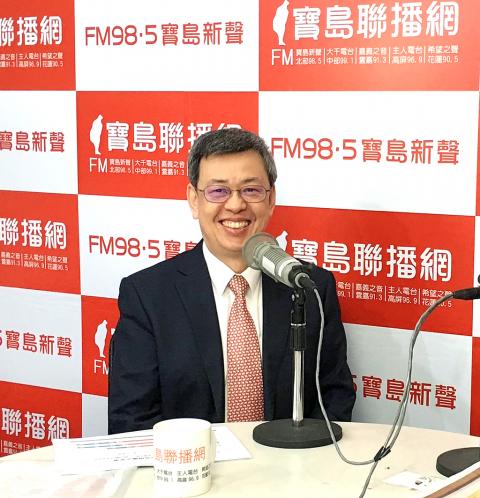 Vice President Chen Chien-jen, who serves as convener of the Presidential Office's National Pension Reform Committee, yesterday smiles during an interview on Super FM98.5 radio in Taipei.
Photo: courtesy of Super FM98.5
However, to care for less-well-off retirees, the 18 percent preferential rate would remain for people below a salary floor, which is to be set at either NT$25,000 or NT$32,000 (US$791 or US$1,013) a month, pending further discussions, he said.
Pensioners who take a lump sum would be entitled to higher interest rates, Chen said, without specifying the rate.
The 18 percent preferential interest rate for retired military officials, civil servants and public-school teachers was introduced in 1960 when the average income for the three professions was lower than most other careers.
The government originally planned to scrap the preferential rate, but has decided to take a milder approach, Chen said.
"A pension [fund] is like a feeble goose, which has to lay eggs larger than it can handle every day. There will be no more eggs when it cannot stand anymore and dies," Chen said. "However, a healthy goose that only has to lay normal-sized eggs can continue [to survive] and give birth to goslings."
Under the pension system, the pension of a person who begins work at 25 and retires at 55 is only enough to cover 10 years of pension payments, Chen said.
By the age of 65, the person would be receiving pension payments covered by others' contributions, he said.
With a retirement age of 50, due to the nation's average life expectancy, women can expect to receive pension payments for 33 years and men for 27 years.
To ensure a sustainable pension system, the retirement age needs to be set at 55 and the income replacement ratio lowered from 80 percent to 60 percent, with the pension contributions of employees and the government raised from 12 percent to 18 percent, Chen said.
Meanwhile, amid accusations that the government has not been transparent in its organization of a national conference on pension reform, which is to be held on Sunday at the Presidential Office Building, Chen said the Presidential Office is always "fair and honest."
Calling on opponents of the government's pension reform plans to express their opinions at the conference peacefully, Chen said opponents have mobilized protesters in a "warlike fashion," which is inappropriate conduct in a democratic society.
Although invited to attend the conference, the Chinese Nationalist Party (KMT), the New Party and the Taiwan Solidarity Union have yet to nominate representatives, Chen said, encouraging the parties to participate.
Comments will be moderated. Keep comments relevant to the article. Remarks containing abusive and obscene language, personal attacks of any kind or promotion will be removed and the user banned. Final decision will be at the discretion of the Taipei Times.