Government Web site shows PLA propaganda
Parents and politicians on Tuesday were infuriated when they found a government-sponsored educational Web site to promote national defense concepts showing a video of China's People's Liberation Army (PLA) on parade, along with about 40 World War II movies that were produced by the Chinese government.
The controversy also riled opposition legislators at the legislature's Foreign Affairs and National Defense Committee meeting yesterday, who accused top military officials of negligence for helping Chinese propaganda materials reach Taiwanese.
The Web site that broadcast the videos is among the programs managed by the National Defense Education Center, a collaboration between the Ministry of National Defense and the Ministry of Education, and is based at Hsinchu Senior Girls' High School in Hsinchu City.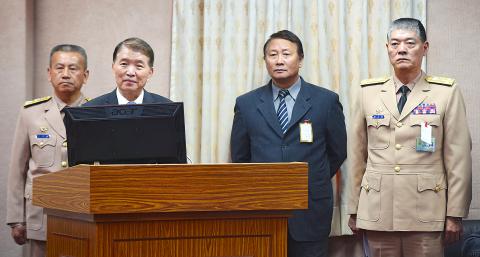 Minister of National Defense Kao Kuang-chi, second left, attends an interpellation session yesterday in the legislature in Taipei.
Photo: Liu Hsin-de, Taipei Times
Democratic Progressive Party (DPP) Taichung City councilors Chen Shih-kai (陳世凱) and Hsieh Chih-chung (謝志忠) on Tuesday said it was egregious that the Ministry of Education is apparently unable to distinguish between our own military and enemy troops.
"If our students' education on national defense has to depend on China to supply the materials, then our national security is in trouble," Hsieh said.
Their sentiments were echoed by DPP Legislator Hsu Tain-tsair (許添財), who questioned Minister of National Defense Kao Kuang-chi (高廣圻) at the legislature over the matter.
"Our nation is facing a perilous situation with the threat of force from China. However, we are also facing real dangers of subversion from within, and cooperation with the enemy by Taiwanese who are bought off to work for China. This Web site is helping China to promote their military might and to destroy our national identity," Hsu said.
He demanded that Kao and his military officials make a full investigation, since the Web site and the education center are part of a defense ministry program.
After the issue was raised on Tuesday, the Chinese video materials in question were removed, and officials at the education ministry promised to beef up the Web site's internal monitoring and checks mechanism.
School principal Lu Shu-mei (呂淑美) said that the videos were uploaded by an assistant at the National Defense Education Center, which provides materials for teachers.
"Maybe the assistant believed those videos would help teachers to better understand China's military threat against Taiwan, so she decided to put them online for viewing. We understand it could cause controversy, due to people's different interpretations, so the videos have been taken off," Lu said.
However, National Federation of Teachers Unions president Chang Hsu-cheng (張旭政) suspected a hidden agenda by the Ministry of Education.
"China's military parade with PLA troops on display to mark victory over Japan in World War II demonstrated only China's viewpoint. It is totally different from the Taiwanese historical view," he said.
"We see the adjustment of the high-school curriculum guidelines was led by pro-China academics. So I suspect this is also the case — that a few officials' political concepts and ideology now have full influence over the education ministry," he said.
Comments will be moderated. Keep comments relevant to the article. Remarks containing abusive and obscene language, personal attacks of any kind or promotion will be removed and the user banned. Final decision will be at the discretion of the Taipei Times.