The world after a successful Chinese invasion of Taiwan
From the proliferation of nuclear weapons to a loss of faith in democracy, six security experts analyze the impact a successful Chinese invasion of Taiwan would have on their countries and the globe
Nuclear weapons would proliferate. Global trade would end. The semiconductor industry would be destroyed or come under the control of an expansionist and authoritarian regime. Democracies would face a crisis of legitimacy and the alliance system developed and led by the US since World War II would be shattered. These are some of the predictions made in a report by six national security specialists if the People's Republic of China (PRC) attacked Taiwan and Taipei fell. It makes for grim reading.
The World After Taiwan's Fall says that such an event "would likely be far-reaching and deeply negative, perhaps even catastrophic" to not only Taiwan, but the Asia-Pacific region and the globe. It argues that the US and its allies have not sufficiently appreciated the strategic implications that such a Chinese victory in a war over Taiwan would generate. And they haven't planned for this possibility.
"Put bluntly," editors David Santoro and Ralph Cossa write in the introduction, "today neither the US government nor allied governments (let alone the respective publics) have sufficiently assessed the strategic implications of a successful PRC invasion of Taiwan. There is still a lack of urgency about the severity and gravity of this problem and the impact for them, the region and the world, should the island of Taiwan fall into Chinese hands."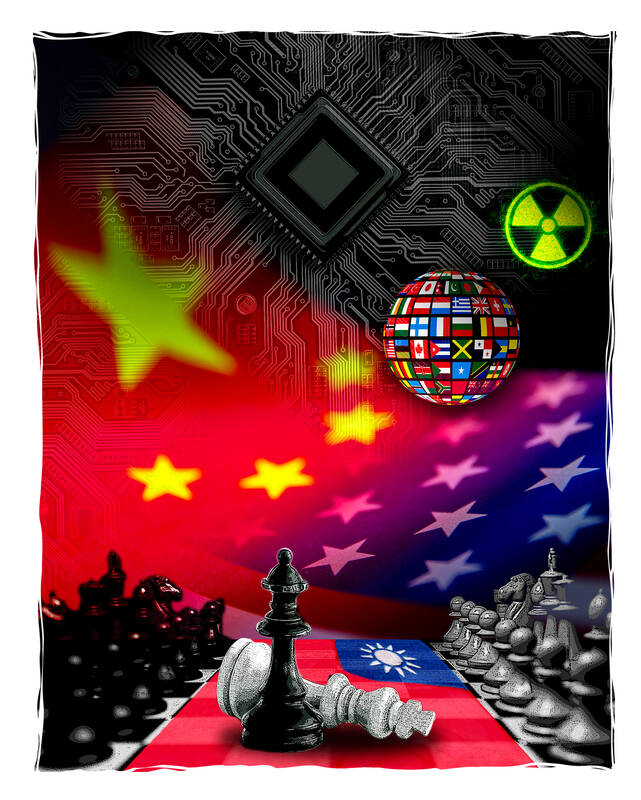 Illustration: Angela Chen
TWO SCENARIOS
The contributors from the US, Japan, South Korea, Australia, India and the EU were asked to analyze two scenarios: China attacks Taiwan and the US doesn't interfere, and the country falls. The second sees Washington coming to Taipei's defense, but it still falls to Beijing. They then have to imagine the consequences of China's successful invasion of Taiwan. Curiously, no Taiwanese experts are represented in the study.
The editors say that the study's primary objective is to raise greater awareness of the threats, while its goal is to urge the US and its allies to act in a coordinated manner for possible conflict across the Taiwan Strait, while signaling to Beijing the possible consequences of such an action.
All the contributors emphasize that it's impossible to predict how the war would unfold. But they are unified on a broad range of consequences that would ensue if China were to take Taiwan. On this page, we discuss some of the major points expressed by the analysts from Japan, South Korea, the EU, Australia and India. My interview with the US contributor, Ian Easton, can be found here.
JAPAN — SECURITY, SEMICONDUCTORS AND DEMOCRACY
Matake Kamiya says that a successful attack on Taiwan by China would shatter the security system of the US, having an equally detrimental effect on the world's liberal democracies and their ability to provide each other with security guarantees.
"[A successful Chinese invasion of Taiwan] would change Japan's security environment fundamentally. Any discussion for Japan of Taiwan's fall should have this fact as its starting point," writes Kamiya, a professor of international relations at the National Defense Academy of Japan.
Kamiya writes that most Japanese security experts he interviewed believe that the US can prevail against China if it attacked Taiwan — if, that is, it sends serious reinforcements. If Taiwan is taken, these experts reason, the US did not provide meaningful support, so "the confidence of regional countries in the US willingness to commit to regional security will collapse."
Kamiya says that both imagined scenarios would for Japan amount to the same outcome, except in two areas. In scenario one, confidence in a US security alliance would plummet; scenario two could witness Japan and other allies of the US shifting towards China's sphere of influence in an emerging bipolar Asia-Pacific.
However, under scenario two, China could attack Japan and the 50,000 US troops stationed there, which would further undermine trust in a Japanese-US security alliance. It may be the case, he adds, that the US would take Japan's security more seriously, believing that if it doesn't, Tokyo will side with China in an emerging Asia-Pacific conflagration.
Kamiya also discusses Taiwan's existence as a democracy and close partner of Japan, which constrains China's activities in the Pacific, and limits China's access to US military bases in Guam and Hawaii — critical to maintaining peace and stability in the Western Pacific. Additionally, so long as China's military is directed towards Taiwan, military power directed towards Japan remains limited. That would change after an invasion.
Chinese military activities will become more active than they are today in the Taiwan Strait, the East China Sea, the Western Pacific and the South China Sea, where 90 percent of Japan's crude and 60 percent of its natural gas are transported through. Japan's current defense posture doesn't anticipate a Chinese attack from the Pacific side, demonstrated quite clearly by the fact there are no Self-Defense Force bases or camps on the Izu Islands or the Bonin Islands.
With regards to semiconductor technology, the economic impact will not only be serious for Japan, but for the world as a whole. Thirty-three percent of the semiconductors used in Japan are imported from Taiwan. Tokyo also depends heavily on Taiwan for high-performance logic semiconductors that cannot be manufactured in Japan, while Taiwan currently accounts for 92 percent of the most advanced semiconductor manufacturing in the world.
"The negative impact on Japan's economy is expected to be substantial, if not critical," he writes.
Finally, Kamiya says that a failure of the US and Japan to defend democratic Taiwan will also impress on the international community that liberal democracy is in retreat in East Asia and autocracy is on the rise.
"The cost of the fall of Taiwan is prohibitively high for Japan," Kamiya writes.
AUSTRALIA — 'CHINA DREAM MADE MANIFEST'
The failure of the US and its allies to come to Taiwan's defense would generate a highly permissive environment for Beijing, writes Malcolm Davis, a senior analyst at the Australian Strategic Policy Institute. Taiwan is a means for China to supplant the US as the dominant strategic power in the Indo-Pacific, and failing to come to Taiwan's defense would seriously undermine the perception that the US would come to the defense of other allies in the region.
Even worse, Taiwan's loss after US military intervention would be a catastrophic blow to the interests of the US and probably represent the end of a free and open Indo-Pacific, as US influence in the region wanes in favor of China's expansionism.
"Beijing's grand strategic objective would be to promote a community of common destiny, led by China, in which its neighbors accept a 'Chinese Century' and a hegemonic new Middle Kingdom. It would be the China Dream made manifest," Davis writes.
Davis says that a successful invasion and occupation of Taiwan would force Australia to reconsider whether the US could live up to its security commitments to Canberra — even if their current security commitments survive.
"At the most fundamental level," Davis writes, "Australian and American interests are intertwined and linked at the military-strategic level, with Australian reliance on US extended nuclear deterrence security guarantees as a foundation for Australia's defense policy for decades."
A failure of the US to intervene in support of Taiwan would raise questions in Australia about the efficacy of US extended nuclear deterrence, not just for Australia, but for other key allies such as Japan and South Korea, particularly if an inability to intervene was in part seen to be driven by implicit or explicit Chinese threats of nuclear weapons use, in a manner similar to Russia's use of nuclear threats against NATO during the Ukraine war.
Under these circumstances, Davis raises the possibility of a "nuclear sharing" agreement, which could see Australia developing alternative deterrence arrangements with India, South Korea and Japan to slow Chinese expansionism.
Ultimately, Davis writes, Australia shouldn't wait until an invasion occurs, because hoping that Beijing accepts the current status quo across the Taiwan Strait indefinitely is an unlikely scenario. There needs to be a serious discussion among the US and its allies about the threat of a cross-strait invasion before 2030.
"Hope is not a strategy," Davis writes.
SOUTH KOREA — EMBOLDENED NORTH
Kim Du-yeon, an adjunct senior fellow with the Indo-Pacific Security Program at the Center for a New American Security, says that four key factors determine how South Korea would react to the loss of Taiwan: a moderate or conservative government in power, US-South Korea relations, China-South Korea relations and the actions of North Korea. Like previous contributors, Kim says both outcomes would be negative in terms of how Seoul perceives US security commitments and its interest in obtaining a nuclear deterrent.
Kim writes that the majority of the South Korean public and policy establishment aren't paying attention to events taking place across the Taiwan Strait. However, Russia's invasion of Ukraine has made the South Korean public aware that conflicts in a different region are linked to their daily life, which has forced democratic countries to sharpen their support for liberal democratic values against emboldened authoritarian states. That being said, the South Korean public would probably oppose its military's involvement in a Taiwan crisis.
Kim says that China's successful takeover of Taiwan could result in two outcomes. The first sees China become an aggressive and coercive hegemon in the region. Although some experts that Kim interviewed believe that South Korean goods could still pass through the Taiwan Strait, confrontation in the waters of Northeast Asia would likely occur, leading to significant concerns over freedom of navigation and intelligence-gathering efforts.
Kim writes that the second outcome sees China engage in a charm offensive, or "smile diplomacy." China would engage Japan, South Korea and Southeast Asian countries to prevent international isolation and sanctions. Allies and partners of the US could accommodate China either out of fear of retribution or survival.
Regardless of either two outcomes, many in South Korea would believe that Washington could no longer be trusted to live up to its security guarantees. A conservative government in Seoul could begin serious discussions on ways to develop nuclear weapons. An isolationist government in Washington could add weight to Seoul's decision to go nuclear.
A third consideration involves North Korea. Kim says Taiwan's fall would likely embolden North Korea to be more aggressive, both politically and militarily — especially if the US committed its 25,000 troops based in South Korea to a Taiwan contingency — regardless of the aforementioned two actions.
Kim says that South Korean officials need to have frank conversations with the US about what their role in a Taiwan conflict would be ("strategic clarity"), particularly in the context of a changing liberal democratic international order. Government officials must also engage in frank discussion with the South Korean public about what their country's role would be if China successfully invaded Taiwan.
THE EU — 'BALANCING ACT'
The potential consequences of conflict over Taiwan "may have a direct impact on European security and prosperity," and lead to a "redefinition of the international order ... [and] a fundamental attack on the international legal order that the EU has committed to uphold," writes Bruno Tertrais, deputy director of the Foundation for Strategic Research and a geopolitical advisor at the Institut Montaigne.
Although European relations with Taiwan have become increasingly important, Tertrais writes, that doesn't mean that Europeans would want to be caught in crossfire between the US and China. Instead, they would seek to perform a balancing act between the two superpowers to avoid a bipolar system in which the EU is expected to pick sides.
In the economic realm, Tertrais says that every European capital would suffer from a war over Taiwan as the global economy would "nosedive."
In a section titled "Stop Dreaming, Start Limiting Dependencies," Tertrais says Brussels needs to start preparing for a Taiwan invasion, which starts with limiting any kind of dependencies on China, including in the technological, economic and financial realms.
It remains to be seen whether the EU would be unified in imposing sanctions against China, though it must send a much stronger deterrence message to Beijing if it were preparing to invade Taiwan than the one sent to Moscow as it massed Russian troops along Ukraine's border — a message that failed spectacularly.
INDIA — UNRELIABLE PARTNER
Whereas the contributors from Japan, South Korea and Australia say that the US as a regional security guarantor would be called into question after Taiwan's fall, the contributor from India, Jabin Jacob, already sees the US as an unreliable security partner, which would play a key role in how New Delhi would respond.
"It remains somewhat of a default position in India that the US cannot be relied on and that in the case of any outbreak in hostilities with China, India would be on its own," writes Jacob, associate professor at the Shiv Nadar University and an adjunct research fellow at the National Maritime Foundation.
Jacob says that India "remains dismissive of feelers or requests from the Taiwanese side" to receive more international recognition, and the bilateral relationship does not have weight or depth to allow India to take risks to commit to Taiwan as an international actor.
Consequently, a successful invasion of Taiwan by China would change little in the burgeoning bilateral relationship, though it would have implications on a range of other issues.
Jacob finds it significant that the ruling Bharatiya Janata Party (BJP) has never reached a consensus on Chinese threats, even though Beijing has been New Delhi's primary security challenge for many years. BJP voters, he adds, have always considered Pakistan and Indian Muslims as more immediate concerns. China doesn't fire up the average Indian voter, which means military reforms to improve Indian military capabilities "have lagged dangerously."
"Simply put," Jacob writes, "the 'reclaiming' of Taiwan by China will likely not generate the necessary pressures within the Indian political establishment to focus on the threat posed by China."
India would view Taiwan's fall as directly linked to the diplomatic and military failures of the US, because Washington failed to meet its obligations under the Taiwan Relations Act. India would be concerned about the long-term reliability of other US partners like Japan, Australia and South Korea in political projects like the Quadrilateral Security Dialogue (Quad) and other concerns such as its substantial trade in the South China Sea.
Further, efforts to diplomatically and economically integrate South Asia with India will be undermined, especially its national security. India's ability to manage Beijing will be shaken considerably and likely increase the likelihood of flareups along the Line of Actual Control between China and India.
"India, far from being a 'leading power,' will likely become a 'receding power' — worried constantly about threats to its territory from an ascendant China," Jacob writes.
Comments will be moderated. Keep comments relevant to the article. Remarks containing abusive and obscene language, personal attacks of any kind or promotion will be removed and the user banned. Final decision will be at the discretion of the Taipei Times.