Review: Anne Frank: a diary with meaning
The Butterfly Effect Theatre's stellar cast breathes new life into this classic play of hardship, endurance and hope
To close out Butterfly Effect Theatre's season, director Brook Hall has a clear winner with Wendy Kesselman's 1997 adaptation of The Diary of Anne Frank.
In the brief space of two hours, Kesselman's powerful script condenses the narrow world that eight Jews in hiding (the Frank and Van Daan families and a dentist) endure for two years. We experience the full range of tension, emotion, sacrifice and resilience that living long-term in close quarters demands. We also sympathize with them, firstly as fellow human beings and secondly as Jewish refugees as they endure this hardship.
Hall has a competent cast with DC Rapier playing the strong patriarchal Otto Frank, who keeps all on an even keel regardless of circumstances. At the outset, he lays down the "daytime rules of absolute quiet" — no shoes, or noise, not even a flushing of the toilet, lest anyone in the workplace below hear suspicious sounds. Sarah Brooks plays his wife Edith, the harried mother who strives to provide support while also reining in the exuberant Anne.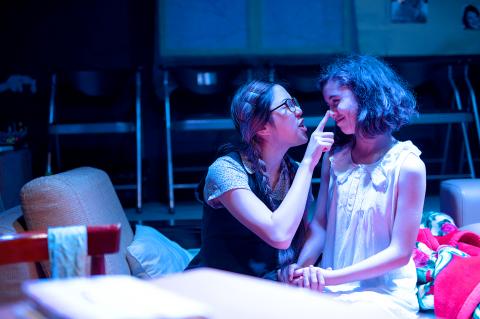 Margo, play by Sandra Li, left, teases Anne, played by Camryn Rowe, in a scene from Butterfly Effect Theater's production of The Diary of Anne Frank.
Photo courtesy of Lee Hsin-che
Individual wants must be sacrificed, yet at times selfishness appears. Deni Carson plays a contrasting Petronella, the stereotypical "Jewish Princess" who married down to Herman Van Daan, played by Barry Hall. Tensions boil and arguments erupt when he sells her precious fur coat for needed supply money. Daniel Chang (張靈) is their sensitive son Peter who parries the prying Anne. He also gives Anne her first kiss.
Camryn Rowe excels in the pivotal role of the inquisitive and sensitive Anne. Full of vibrant energy and varied emotion, she engagingly bounces around the set to the delight and annoyance of all as she gives gifts or accidentally spills a drink on Petronella's fur coat. Sandra Li (李友珊) on the other hand handles the heavy challenge of Anne's restrained and dutiful sister Margot.
Finally, David Zen (曾達文) delights as a hypochondriac dentist who hates cats, yet must share the flat with one. Viola Wang (王敏姿) and Jason Little serve as the helpful Dutch friends who bring in news and much-desired goods from the outside world.
Kudos as well to Anton Botes whose sound effects and positive music score balance the play's heavy ending while Yang Chih-yi (楊之儀) delivers on the encompassing multi-level, multi-room set in which all must be crammed.
An upcoming tour is scheduled next year for Taipei, on April 13 to April 15 and Tainan on May 19 and May 20.
Comments will be moderated. Keep comments relevant to the article. Remarks containing abusive and obscene language, personal attacks of any kind or promotion will be removed and the user banned. Final decision will be at the discretion of the Taipei Times.