The Lab Space holds its season finale
The theater troupe revises Frederick Knott's play about a blind woman's fight against a bunch of drug dealers in Greenwich Village
After enjoying Lab Space's string of engaging shows, The Santaland Diaries, Tuesdays with Morrie, Sylvia and A Perfect Ganesh, theater patrons will not want to miss the season ending finale, Wait Until Dark by Frederick Knott.
"It's a classic thriller," says director Brook Hall, "something Taiwan audiences have never seen the likes of."
The set takes us back to a 1960s Greenwich Village, New York, apartment; a simpler, more direct age without mobile phones and the Internet.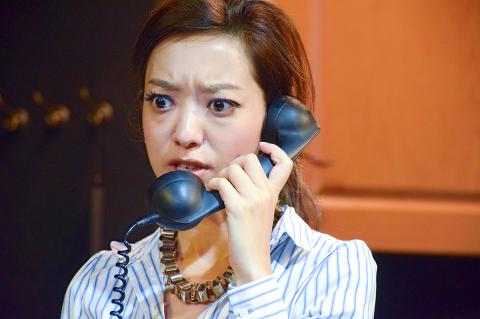 Esther Veronin plays Susy, a blind woman who must foil some drug dealers in Wait Until Dark.
Photo courtesy of the Lab Space
Susy Hendrix, recently blind, is coping with navigating around an apartment and life without sight. Unbeknownst to her, Sam, her photographer husband, has inadvertently brought death and danger there by volunteering to hold a doll secretly stuffed with heroin. A thuggish trio, led by the ruthless Roat, have followed this valuable package. Luring Sam away with a bogus photography assignment, they break into the apartment to find the doll.
Unsuccessful, the trio returns, this time posing in a variety of roles to dupe Susy into surrendering the doll. However, Gloria, the precocious young girl who helps Susy, has taken it, thinking it is for her. What ensues is a cat-and-mouse game between Susy and the con men with increasingly high stakes.
Though blind, Susy must see through the con, deflect the ruse and save her life. Developing inner strength, she realizes she can level the playing field by darkening the apartment to make all blind; this leads to a harrowing finale. (Audrey Hepburn got an Oscar nomination for this role in the film version).
Hall has put together an experienced cast that includes Esther Veronin (Susy), Stewart Glen (Roat), Dan O'Shea (Mike), John Brownlie (Carlino).
Publication Notes
Theater Notes
WHAT: Wait Until Dark
WHEN: Dec. 4, Dec. 5, Dec. 11 to Dec. 13 and Dec. 18 and Dec. 19 at 8pm; Dec. 6 and Dec. 20 at 2:30pm
WHERE: The LAB Space (實演場), 3F, 9, Beitou Rd Sec 1, Taipei City (台北市北投路一段9號3樓)
ADMISSION: NT$600, available through www.accupass.com/go/dark or at the door
Comments will be moderated. Keep comments relevant to the article. Remarks containing abusive and obscene language, personal attacks of any kind or promotion will be removed and the user banned. Final decision will be at the discretion of the Taipei Times.