Taipei Air Raid: a forgotten tragedy
Seventy years after the US bombed Taipei City, various organizations and scholars are working to spread awareness of this oft-ignored piece of history
The sight of US fighter planes sweeping over Taipei during the latter part of World War II was nothing new to Chen Wan-yi (陳萬益). Chen and his family had been forcefully evacuated by the Japanese colonial government to a location between what is now New Taipei City's Banciao (板橋) and Tucheng (土城) districts several months before the end of the war, but Chen could still see what was happening above his home city.
Starting from late 1944, he said, US planes would fly by twice a day, 20 or 30 of them at a time.
But on the morning of May 31, 1945, when Chen was 14 years old, something was different.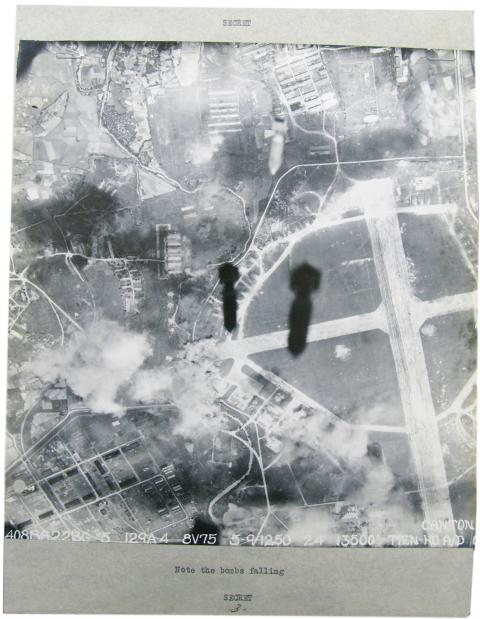 Bombs fall from US Air Force planes during the Taipei Air Raid, a bombing expedition that killed as many as 3,000 people.
Photo courtesy of Center for GIS, RCHSS, Academia Sinica
"The entire sky had turned white," Chen said, referring to the more than 100 B-24 Liberator heavy bombers that had arrived to wreak havoc on Taipei.
Chen was too far away to hear or see the bombs or the explosions, but he said he could hear Japanese anti-aircraft guns returning fire.
"I wasn't scared," he said. "Japan never reported anything about losing battles in the news to keep us calm. Historically, Japan had won most of its wars — so we weren't too worried. Of course, I was afraid that I might get hit and die. But in my heart, I wasn't afraid. We knew that Japanese soldiers were brave warriors."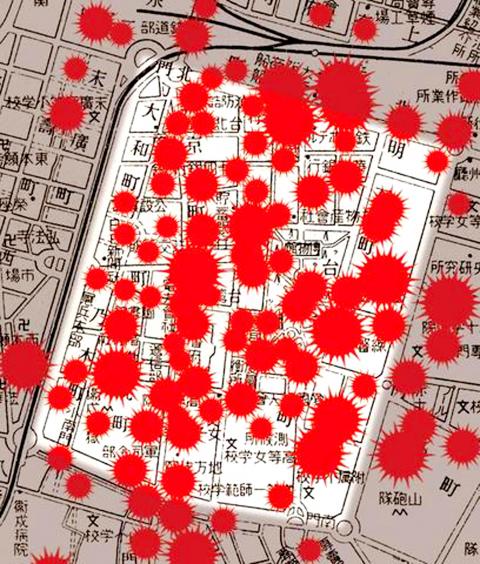 Location of the bombs that landed during the Taipei Air Raid.
Photo courtesy of The Wikimedia Commons
CITY IN RUINS
Chen didn't know how serious the incident — which has come to be known as the Taipei Air Raid (台北大空襲) — was until he listened to the news the next day.
About two months later, World War II ended, and with it 50 years of Japanese rule over Taiwan. Chen returned to Taipei in September 1945 and recalls seeing large, neck-deep bomb craters around what is now Chongqing South Road (重慶南路) and Hengyang Road (衡陽路), across from what is today known as the 228 Peace Memorial Park (二二八和平紀念公園). The Governor-General's Office (today's Presidential Office) was also damaged — and wouldn't be rebuilt until 1948. Chen's family home, behind Taipei Train Station, however, was left unscathed.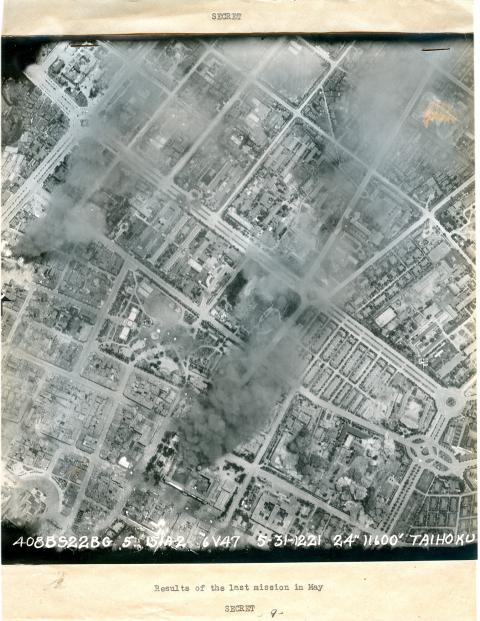 An aerial photograph taken on May 31, 1945, shows the results of the US bombing of Taipei.
Photo courtesy of Center for GIS, RCHSS, Academia Sinica
Chen never gave a direct answer when asked how he felt about the Japanese. But his position toward the US during the war was clear: "We believed that they were the bad guys."
The Taipei Air Raid reached its 70th anniversary on last Sunday. While the most devastating, it wasn't the only US bombing of Taiwan. The first US attack took place on Nov. 25, 1943, when 30 US planes destroyed the Hsinchu air strip.
Regular bombings of various cities began in late 1944 and continued until the war ended. Official documents from the colonial Taiwan Governor-General's Office show that US strikes between Oct. 12, 1944 and Aug. 10, 1945 killed a total of 5,582 people and wounded almost 9,000. A total of 45,340 buildings were destroyed or damaged.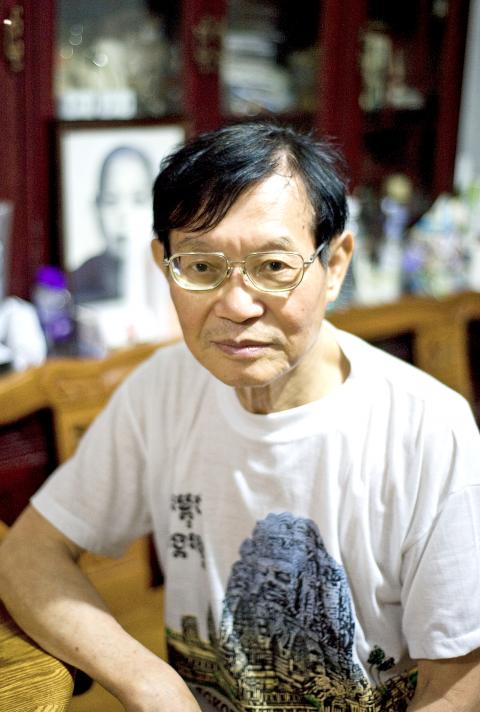 Chen Wan-yi, 84, was a junior high student during the Taipei Air Raid. Having already been evacuated, he didn't see the actual bombings but he could see the planes approaching.
Photo: Han Cheung, Taipei Times
These numbers are controversial — most sources claim that more than 3,000 people died in the Taipei Air Raid alone, while Japanese records indicate that 1,768 people died from airstrikes in Taihoku Prefecture (encompassing today's Taipei City, New Taipei City, Keelung and Yilan County) over the course of 10 months.
WHITE-WASHING HISTORY
Deleted from history books and not taught in schools, this event only returned to public consciousness in recent decades.
For example, the official Taiwan History (台灣史), published by the Historic Research Committee of Taiwan Province in 1977, meticulously chronicles events in Taiwan up until the beginning of the war — then suddenly skips to the Japanese surrender and the arrival of the Chinese Nationalist Party (KMT). There is no mention of life in Taiwan during World War II.
Chronicle of Taiwan (台灣全記錄), published in 1990, doesn't elaborate but includes the Taipei Air Raid in its 1945 events timeline. By 1999, the event was considered important enough to be listed in Top 100 Events in Taiwan's History (台灣史上100件大事).
In 2007, the first book pertaining specifically to the Taipei Air Raid was published by the Taipei City Government's Department of Cultural Affairs to accompany an exhibition at the 228 Memorial Museum.
Why was this period of history swept under the rug for so long?
Hung Chih-wen (洪致文), professor of geography at National Taiwan Normal University who has conducted research and given talks on the topic, said the KMT didn't want to emphasize this period of history because the US was an ally both during and after the war.
"Taiwan's situation is strange," Hung said. "We celebrate our victory against the Japanese, and we now see ourselves as the winning side. But then, we also have the history of being bombed."
IDENTIFYING WITH CHINA
Hsu Wen-tang (許文堂), secretary-general of the Taiwan Association of University Professors (TAUP) and the organizer behind a series of commemorative events and exhibitions, said highlighting the bombings would have gone against KMT ideals after they took power.
"They wanted to educate the population in Taiwan to identify with China," Hsu said. "If you are Chinese, then you were fighting against the Japanese. If so, then why would Taiwan get bombed by the Americans?"
And since the government didn't talk about it, the people stopped talking about it as well.
"The older generation kept the memory of this period in their hearts, and purposely avoided discussing it," Hung said.
Yet, as a curious child growing up in the 1970s, Hung always felt that something was wrong.
"In our era, learning about history was like having schizophrenia," he said. "What we learned at school and what we heard our elders talking about was totally different."
Hung grew up in Dadaocheng (大稻埕), an area of western Taipei that suffered much damage from the bombings.
"When I was a child, I found it strange that some of the roads only had old-style houses on one side," he said. "And the style of our school building was different from one side to the other."
Hung didn't learn about the bombings until 2009 when Academia Sinica's Center for GIS released aerial photos of the bombing obtained from the US Air Force Historical Research Agency.
While this explained what happened to his school building, Hung felt that the discrepancy along the main avenues was too orderly — as if it were planned.
"I realized the demolition of houses wasn't necessarily because of bombing," he said. During the period of frequent airstrikes, the Japanese government would raze buildings in high-density areas to create empty spaces to prevent fires from spreading in case of a direct hit.
According to Hung, 708,292 square meters of houses in Taipei were demolished for this purpose. Some were converted into wider roads, others into parks and other open spaces.
Hung later published his findings in an academic paper.
"This move has greatly affected the city today," Hung said. "There are a lot of large lots from that time that are still there today."
Hung said this preparation against airstrikes wasn't limited to buildings. Many residents were evacuated as well, as in Chen's case. Hung's own family was evacuated to Tamsui.
"By May 31, there weren't as many people in Taipei anymore," he said.
EXHIBITIONS, EVENTS
Meanwhile, Hsu and TAUP plan on bringing their exhibition, which will be on display at the 228 Memorial Museum until June 14, all over the country. The exhibition consists of historic photos printed on a horizontal strip that stretches across four walls, along with a few historical documents.
Hsu said the organization "hurriedly" put the exhibition together after noticing that the government's events to commemorate the 70th anniversary of Japan's defeat didn't cover what happened in Taiwan during the war.
"Taiwanese people didn't choose to become Japanese citizens," he said. "It's just the truth of history."
Hsu added that the exhibit is completely funded by TAUP, so production funding was limited. TAUP chose 144 photos from the US National Archives for the exhibition in Taipei. After June 14, the exhibit will be moved to Aletheia University in Tamsui, and will remain there from July 1 to Aug. 30.
Hsu hopes to eventually take the exhibit throughout the country, modifying the contents of each edition to reflect the destruction in the city of exhibition.
"Hopefully, one day we can turn this exhibit into a book," Hsu said.
Comments will be moderated. Keep comments relevant to the article. Remarks containing abusive and obscene language, personal attacks of any kind or promotion will be removed and the user banned. Final decision will be at the discretion of the Taipei Times.