Art exhibition listings
Inspired by the subtle changes that occur in nature throughout the four seasons, photographer Cynthia Ma (馬瑄) renders the simplest subjects such as mosquitoes and lotuses into transcendental beings. Ma's influences come from two very different artists — Swiss German surrealist Paul Klee and American celebrity photographer Annie Leibovitz. While there are traces of Klee-esque elements in her photography — notably exaggerated colors, shapes and lines, Ma also treats each subject, whether an insect or leaf, as having a compelling story to tell. Her solo show, A Question from the Lotus (為荷一問), is currently on display at Jinglu Art gallery in Taipei.
■ Jinglu Art (靜慮藝術) 16-1, Alley 203, Longjiang St, Taipei City (台北市龍江路305巷16-1號), tel: (02) 2517-9723. Open Tuesdays to Sundays from 2pm to 7pm
■ Until April 5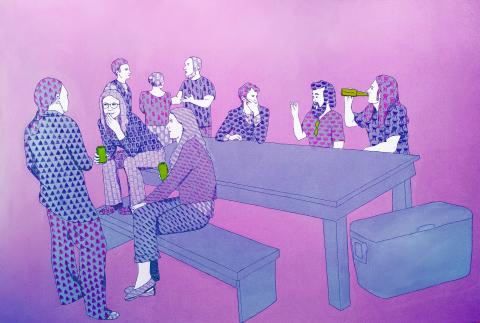 Rine Boyer, Evening BBQ (2015).
Photo courtesy of Bluerider Art
What do telescopes, typewriters and cassette tapes have in common? If you're thinking prints that hipsters like, then you are right. Reclaimed (那個年代) is a solo exhibition by American artist Rine Boyer which explores the hidden nuances and subtexts of hipster culture. Her monochrome subjects, all of whom are covered from head to toe in vintage prints, appear far from indifferent. There's interaction between them, whether verbal or body language. Beer bottles abound. Boyer manages to capture the paradox of hipster culture — shunning modern norms but conforming to it, feeling nostalgic for a simpler past but appropriating it. The exhibition is another out-of-the-box one for Bluerider Art.
■ Bluerider Art (藍騎士藝術空間), 9F, 25-1, Renai Rd Sec 4, Taipei City (台北市仁愛路四段25-1號9樓), tel: (02) 2752-2238. Open Tuesdays to Saturdays from 9am to 6pm
■ Until April 11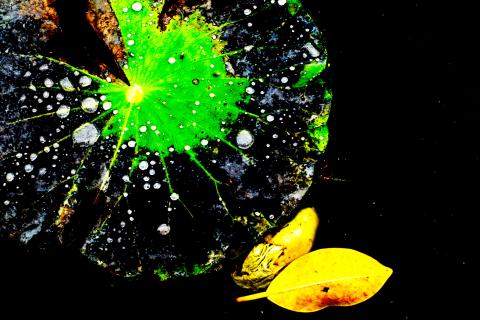 Cynthia Ma, The Firmament (2015).
Photo courtesy of Jinglu Art
Jia Art Gallery is currently showcasing An Instant is Eternity (剎那即永恆), a retrospective exhibition consisting of the works of the late artist Richard Lin (林壽宇). The Taichung-born, Hong Kong-raised, London-educated Lin was most renowned for his abstract, minimalist paintings — think red and yellow lines dashing across white backgrounds, or just canvases covered in plain white paint. Inspired by Buddhist virtues such as stillness and silence, there's a reverential sort of simplicity in his geometric shapes and lines.
■ Jia Art Gallery (家畫廊), 1F-1, 30, Zhongshan N Rd Sec 3, Taipei City (台北市中山北路三段30號1樓之1), tel: (02) 2591-4302. Open daily from 10am to 6pm
■ Until April 19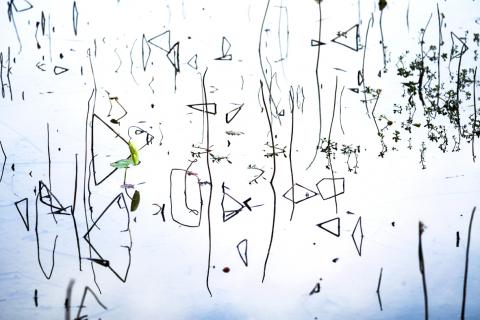 Cynthia Ma, Last Forever(2015).
Photo courtesy of Jinglu Art
The Kuandu Museum of Fine Arts has two equally innovative exhibitions currently on display. Maintaining — Body: Movement Topology & Tracks in the City (維‧身:身體拓樸x城市軌跡) is a collaboration between Scarecrow Contemporary Dance Company from Taiwan, and French choreographers Annie Vigier and Franck Apertet who are known for choreographing Topologie's 10-day dance performance throughout the streets of Queens in New York City. They invited artists to observe their dances and record their observations through paintings, photography, installations and various other mediums. The resulting dance-art exhibition explores the interplay between people's movement and behavioral patterns, as well as the infrastructure which are set up to ensure that daily life in big cities run smoothly. Despite its academic-sounding name, it's an intriguing exhibition which pushes the limits of what we may call "conventional" art.
E Chen (陳逸堅) is an idiosyncratic artist whose sculptures of shelving cabinets resting atop upturned tents and cactus spilling out of crates, always manages to draw smiles. Base Piece (雕塑基座) is a solo exhibition by Chen partly inspired by the works of Anthony Caro from the UK. Caro, who was known for his industrial-style abstract sculptures, believed that sculptures divided rather than occupied space. In line with "dividing" space, Chen goes back to the basics in this collection, showcasing his old sculptures from the early 90s which were all built from a solid base. As the gallery notes state, "bases will always be endowed with certain validity and charm akin to pictures in frames."
■ Kuandu Museum of Fine Arts (關渡美術館), 1 Xueyuan Rd, Taipei City (台北市學園路1號), tel: (02) 2896-1000 ext 2432. Open Tuesdays to Sundays from 10am to 5pm. Life performances for the Maintaining_Body exhibition are every Saturday at 2:30 pm and 4pm
■ Both exhibitions run until May 3
Suen Kin-wah (孫建華) and Suen Wai-sing (孫惠勝) are a delightful elderly couple who have a joint exhibition entitled Delightful Garden and Wonderland (幸福花園與搞怪世界) in Taipei MOCA. The Suens, who are more than 70 years old, have greatly divergent yet complementary artistic styles. Suen Kin-wah documents what he sees on his iPad with the whimsical precision of artists like Matisse or Picasso. Suen Wai-sing, on the other hand, who comes from a background of weaving, paints her impressions of beautiful scenery onto canvases. For this particular exhibition, they've come together as a team to create folk art-esque paintings of farm scenes from a bygone rural era.
■ Museum of Contemporary Art, Taipei (台北當代藝術館, MOCA), 39 Chang-an W Rd, Taipei City (台北市長安西路39號), tel: (02) 2552-3720. Open Tuesdays to Sundays from 10am to 6pm. General admission: NT$50
■ Until May 10
Comments will be moderated. Keep comments relevant to the article. Remarks containing abusive and obscene language, personal attacks of any kind or promotion will be removed and the user banned. Final decision will be at the discretion of the Taipei Times.