Esperantists talk the talk in Pingtung
The annual Esperanto Festival, organized by students of the language from Pingtung Community College, will be held tomorrow
French expat Cyril Vergnaud lives in Pingtung and speaks French, Chinese, Hoklo (more commonly known as Taiwanese) and English. He also speaks Esperanto.
Tomorrow, Vergnaud and students of Esperanto from Pingtung Community College will hold the Esperanto Festival (屏北社大世界語學員), an annual event that is open to the public. There will be a NT$100 door charge to cover drinks, snacks and a gift bag for everyone who attends, he said.
Esperanto is a language devised to enable communication among the world's different language speakers. Vergnaud told the Taipei Times by e-mail that he became interested in learning the language purely by chance.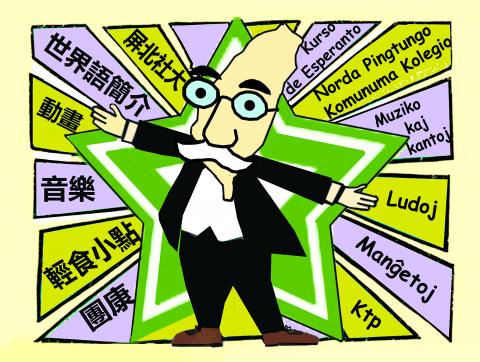 The poster for this year's annual Esperanto Festival, which will be held tomorrow at Pingtung Junior High School in Pingtung City.
Photo courtesy of Pingtung Esperanto Festival
"I first met two Esperantists who live and work in Pingtung," he said. "One guy, Reza Kheir-khah, is from Iran and a woman New Zealand, Simone Roberts, is also in our group here. While I had never studied Esperanto before, I soon learned from Reza and Simone that it's easy to learn. So I decided to give it a shot. One thing led to another and we've got this annual festival."
"What I discovered was more than just a language," he said. "I became a member of a very interesting international community. I fell in love with the philosophy of Esperanto, as much as I did with the language," he said.
Last year around 80 people attended the festival, Vergnaud said, many of whom were expats living in southern Taiwan and other countries such as Canada, Thailand, Spain and Japan, among other nations.
"In Taiwan, most Esperantists are Taiwanese," he said. "But because we use this language a lot to travel, foreign travelers often visit us here in Pingtung."
Publication Notes
Performance Notes
What: Esperanto Festival (屏北社大世界語學員) Where: Pingtung Junior High School (屏東縣立至正國中), 300 Gongyu St, Pingtung City (屏東市公裕街300號) When: Tomorrow from 2pm to 5pm Details: For more information in English, contact: (09) 8608-9924 Admission: NT$100
Comments will be moderated. Keep comments relevant to the article. Remarks containing abusive and obscene language, personal attacks of any kind or promotion will be removed and the user banned. Final decision will be at the discretion of the Taipei Times.