The comfort women speak
An art exhibition in Taipei presents testimonies of six women forced into Japan's military brothels during World War II
Jan Ruff O'Herne, a 90-year-old Dutch woman who spent her childhood in Indonesia, is a survivor of one of the quieter atrocities of World War II.
"The first night we didn't know what we were there for. We thought that perhaps we would work there. We were so scared ... The next night we realized we were in a brothel for the sexual pleasure of the Japanese officers ... We were dragged back and it started again. To think that this is going to happen every night. I can never describe the fear every day when it starts to get dark. Fear, all over your body. There is nothing you can do about it," says O'Herne on film.
Her interview is part of an art exhibition titled Comfort Women Wanted, which is currently on display at Bopiliao Old Street (剝皮寮歷史街區) and outdoor venues across Taipei.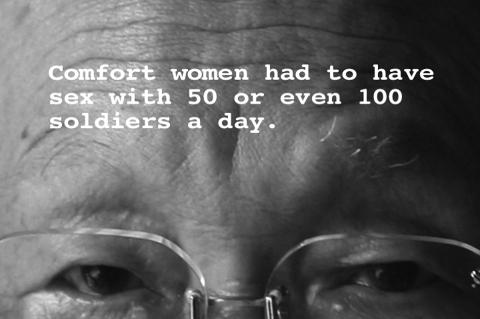 This film still shows a woman who survived forced prostitution during World War II.
Photo courtesy of Lee Chang-jin
Created by Korean-born, New York-based Lee Chang-jin, Comfort Women Wanted is a five-year art project that aims to bring to light the lesser-known story of an estimated 200,000 comfort women — a euphemism for prostitutes enslaved to service members of the Imperial Japanese Army during World War II.
In 2007, O'Herne and other victims went to the US House of Representatives, requesting that the US demand the Japanese government's acknowledgment of the sexual enslavement of comfort women. Lee had observed the proceedings with surprise.
"One of the women said they used to get raped by 50 soldiers a day. It was very shocking for me to hear, and I thought I should find out what really happened," Lee says.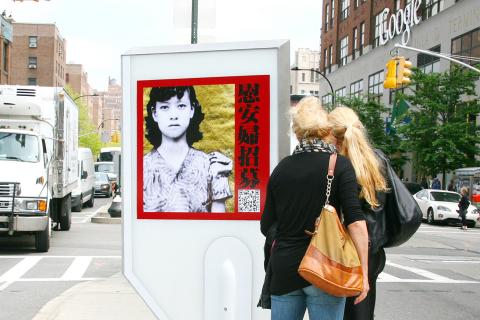 Lee Chang-jin's Comfort Women Wanted posters are pictured in Manhattan, where the artist held her exhibition earlier this year.
Photo courtesy of Lee Chang-jin
HISTORY UNVEILED
O'Herne's story and that of many others are exposed in Comfort Women Wanted.
The large-scale exhibition includes two video installations that bear the images and voices of a former Japanese soldier and six surviving comfort women. One victim is Chen Lien-hua (陳蓮花) from Taiwan, who at age of 19 was lured into prostitution by the false promise of a job abroad that could help support her poor family.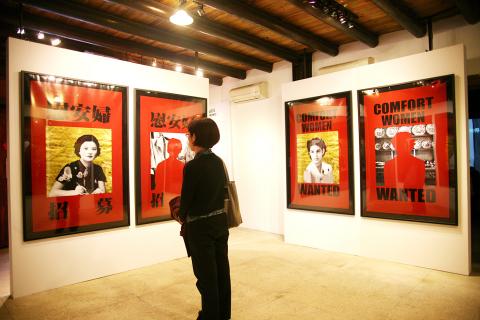 A woman views posters based on actual recruitment ads for comfort women that were placed in newspapers during World War II.
Photo courtesy of Lee Chang-jin
According to the information compiled by the Taipei Women's Rescue Foundation (婦女救援基金會), which has worked with survivors in Taiwan since 1992, women were sometimes directly recruited to be comfort women, but were more often the victims of deception or coercion.
"They were usually tricked and lied to, believing that they were to work as nursing assistants overseas. Some were recruited by the district offices. You couldn't say no to the recruitment. It was mandatory," says Kang Shu-hua (康淑華), executive director of the foundation, which organized the Comfort Women Wanted exhibition.
In Taiwan, over 2,000 women are believed to have become involuntary participants in the comfort woman system during the war.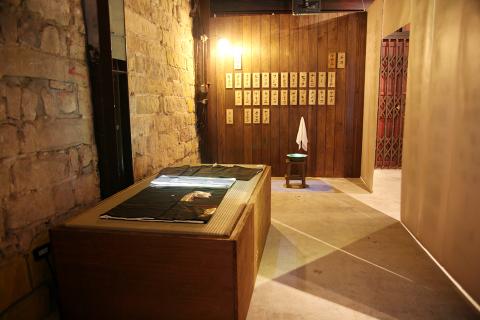 This recreation of a comfort station is on view at Comfort Women Wanted.
Photo courtesy of Lee Chang-jin
Most of those enslaved came from Korea, as well as other Japanese-occupied territories including China, Indonesia and the Philippines. Though there are no definitive records, the common belief is that more than 200,000 women in total were forced into sexual slavery and that as many as 70 percent of them didn't survive the ordeal.
It wasn't until the early 1990s that the survivors began to come forth. Gradually, a global human rights action took shape, with victims calling for legal reparations and a formal apology from the Japanese government, which has yet to unequivocally acknowledge that forced prostitution occurred.
Largely forgotten, this dark chapter of World War II resurfaced on the front page of the New York Times in 2007 when the House of Representatives was handling Resolution 121 — a call on Japan to apologize to comfort women.
The report caught Lee's attention; since then, the artist has traveled to seven Asian countries to interview more than 20 survivors of the brothels.
"I wanted to know them personally ... I was worried at first: Were they angry and bitter because of the trauma they went through? But it is amazing to me to find out what loving and caring grandmas they are. One thing I find inspiring is their courage to speak out. These are, after all, very difficult personal experiences," the artist told the Taipei Times.
COMFORT WOMEN WANTED
The exhibition title is taken from the actual text of ads placed in newspapers during the war, with which the Imperial Japanese Army attempted to recruit volunteers.
In an effort to generate public discussion, Lee converts original newspaper ads into a series of posters and other displays currently on view at several MRT stations in Taipei and outside the Eslite Bookstore near National Taiwan University.
Meanwhile, the indoor exhibition at Bopiliao features a reconstructed "comfort station," where women were raped by 10 to 100 soldiers a day, according to Lee's gallery statement.
Rebuilt based on historical records, the room is simply furnished with a tatami bed, a washbowl and plaques with the Japanese name given to the comfort woman kept there.
Video footage of comfort stations in China and Indonesia, including Dai Salon (大一沙龍) in Shanghai — Japan's first comfort station, established in 1932 — is projected onto different objects in the room.
Outside, welcome banners for soldiers are hung from ceiling to floor.
In the adjoining room, there are two different videos playing on loop, featuring interview excerpts and black-and-white images of the interviewees. One film is dedicated to six comfort women survivors from different countries. The survivors, speaking in their native languages, recount tales of abduction, extreme violence and death.
Korean survivor Lee Oak-seon, in particular, remembers vividly how she was kidnapped on the street and sent to China at the age of 16. Many Korean girls, some as young as 11, faced similar fates; those who dared to disobey were tortured and killed at comfort stations.
Projected on an opposite wall, the second video work presents a short interview with a former soldier of the Imperial Japanese Army named Yasuji Kaneko. In an admirably frank manner, Kaneko speaks of the 10 to 15-minute encounters with the women held captive at the military camp.
With this exhibition, Lee chooses to tell a story that goes beyond that of perpetrators and victims. Artistically understated and devoid of angry denunciation, Lee's work invites viewers to come close and experience the emotions of the survivors who, after decades of living in silence and shame, are able to come to terms with the past and speak out about not only their suffering but longings and hopes.
Kaneko ends his interview, "We should never have a war like that again ... I am already 88 years old. I'm just watching for death. I hope that people will not do what we did."
HISTORY REMEMBERED
The issue of comfort women is virtually unknown in the West and remains "taboo and controversial in Asia," as Lee points out. The survivors are now in their 80s and 90s, and their testimonies will soon be gone forever.
According to Kang of the Taipei Women's Rescue Foundation, among the 58 former comfort women the foundation has found in Taiwan and worked with since 1992, only five are still alive.
"From 1992 to 2012, we held workshops every two to three months designed to help heal [the survivors'] wounds. Last year we were forced to close down the workshop because they were no longer physically fit to come," she says.
Kang adds that the foundation has continued to work with groups and organizations in other countries to demand that the Japanese government formally apologize to and compensate comfort women. Currently, the existence of the comfort women system is still absent from Japanese textbooks.
Meanwhile, attempts like Lee's exhibition are made to raise awareness of the comfort women issue as a war crime, and as a case of the organized violence against women that we continue to see around the world.
"It is ironic to think that while we ask Japan to acknowledge [the existence of comfort women], we didn't incorporate this history into [our] high school curriculum till last year," Kang says. "To younger generations, the story of comfort women is the distant past. So we believe it is important to talk about the issue within a contemporary context as women remain victims of human trafficking and organized crimes."
To Lee, her artwork is a way keep history alive so that we don't make the same mistake again.
"It is not about nation against nation. It is a human issue ... It is like the Holocaust is not about hating the Germans, or black slavery about hating white Americans. We all have to learn from [comfort women's] history as well," she says.
■ Comfort Women Wanted runs until Feb. 16 at Bopiliao Old Street (剝皮寮歷史街區), which is located on the intersection of Guangzhou Street (廣州街) and Kangding Road (康定路), Taipei, tel: (02) 2336-2798. Open Tuesdays to Sundays from 10am to 5:30pm
Comments will be moderated. Keep comments relevant to the article. Remarks containing abusive and obscene language, personal attacks of any kind or promotion will be removed and the user banned. Final decision will be at the discretion of the Taipei Times.