Pride and prejudice
This year's Pride Parade has stirred up old quarrels within Taiwan's LGBT community
Tens of thousands of lesbians, gays, bisexuals, transgenders and queers, intersex individuals and their supporters will march side by side tomorrow in the annual Taiwan LGBT Pride Parade, turning downtown Taipei into a venue for a big, boisterous carnival, while fostering awareness and solidarity.
But to some, the parade is already off on a sour start. In the run-up to the annual event, the LGBT community has seen the resurgence of internal conflicts that have always existed, but which have rarely been discussed in public.
Controversies first arose last month, when parade organizer Taiwan LGBT Pride Community (台灣同志遊行聯盟) announced this year's theme: Make LGBT Visible 2.0 (看見同性戀2.0). While the English title appears problem-free, the literal translation of the theme is "seeing homosexuality" (看見同性戀), directly suggesting the exclusion of bisexual, transgender, intersex and other non-homosexual groups.
A scenes of love and celebration from last year's Taiwan LGBT Pride Parade.
Photo: Lo Pei-der, Taipei Times
Speaking in their defense, organizers explained it was never their intention to overlook other groups. Rather, they wanted to adopt the same theme that the very first edition of the event had used in order to draw attention to how little has changed over the past decade regarding the way mainstream society views and treats the LGBT community.
Also, the decision by organizers to use the term "homosexuality" (同性戀) instead of "comrade," or tongzhi (同志), is to highlight the stigma that still attached to the word homosexuality and the different sexualities and desires it connotes.
"We started to use tongzhi because it is more agreeable and less provocative, and it is much easier to say I am a tongzhi. But 10 years has passed, and being a tongzhi hasn't brought much change," explains David Lee (李明照), a convener for this year's parade.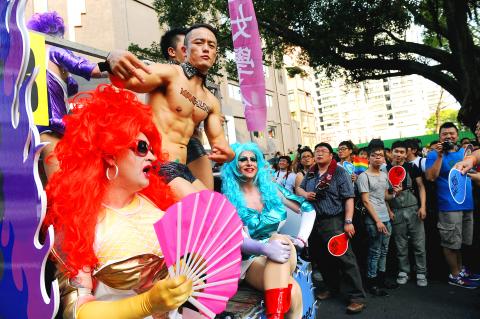 A scenes of love and celebration from last year's Taiwan LGBT Pride Parade.
Photo: Lo Pei-der, Taipei Times
Many are not convinced.
"I feel that there is a communication problem between the parade organizers and trans and bisexual groups. While they say they are not ignoring us, we think if they can invite representatives of different groups to their discussions, there will be less misunderstanding," says Chen Wei-jhen (陳薇真), founder of Transgender Punk Activist (跨性別倡議站).
Admitting their fault, Lee says as an organization formed by volunteers, the Taiwan LGBT Pride Community has struggled to attend to and meet the needs of different groups. Moreover, in the eyes of the convener, the controversy has brought unexpected benefits.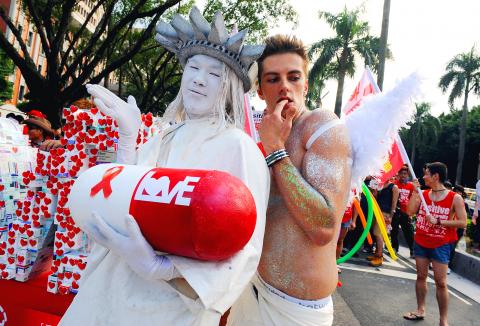 A scenes of love and celebration from last year's Taiwan LGBT Pride Parade.
Photo: Lo Pei-der, Taipei Times
"It reminds us to see and recognize each other, bringing attention to the diversity and differences in what is thought to be a united community. People start asking questions like 'who are we' and 'how do we speak of our own subjectivity,'" he says.
Seeing the differences
As the convener-in-chief of Bi the Way (拜坊), the country's first and only bisexual group, Gondolin (剛朵琳), whose real name is Yang Tsung-yu (楊宗育), echoes Lee's sentiment, pointing out that this year's theme has generated the most heated debate seen on the bulletin board system PTT in years.
While many people have complained about the focus on homosexuals, the complaints have led to productive discussion: "The homosexual-centered thinking prompts us to explore what non-homosexuals can do," Gondolin notes.
One thing the bisexual community can do is to encourage people of different sexual orientations and gender identities to raise their voices, seek their own people and identify and understand the problems, difficulties and issues they face, the leader of Bi the Way says.
According to Gondolin, the bisexual group is relatively inclusive and accessible to sexual and gender minorities who don't fit into the homosexual circle since people can "be themselves" and share experiences whether homosexual or non-homosexual. Before having their own networks, transgender and intersex people often visited bisexuals' PTT board. Meanwhile, activities held by Bi the Way outside Taipei where LGBT support and resources are often scarce are also attended by trans, Gondolin says.
Gondolin names herself as an example. She is a trans-lesbian. She says she is biologically male but thinks she is a female who loves mostly women. Additionally, she identifies herself as bisexual because she desires masculine-looking women, and thus doesn't fit into either the homosexual or heterosexual category.
"When people hear my story, they feel that whatever they do or whoever they are, they won't be too far out for us to understand," she says.
"Our position is that when people say who they are, they must have reasons. So instead of questioning and denying their identities, you should listen to what they say and accept them the way they want."
In reality, Gondolin always feels out of place in the lesbian community.
"They think I am weird, which is understandable," she says.
Transgender activist Chen notes that more communication between different groups is needed to clear up misunderstandings and confusion. For example, male-to-female (MTF) transgender people are often not welcomed in the lesbian community because they are deemed "biologically male." Some gay women also feel female to male (FTM) trans are "too manly." In gay circles, MTF is too "feminine," while FTM is like "a gay man without a penis."
Though ignorant remarks like "bisexuals are closeted gays" are occasionally heard, Gondolin says the biggest problem bisexuals face is not discrimination but disregard of their chosen identity.
"I have a female friend who is openly bisexual and had always dated women. But one day when she switched to a boyfriend, all her lesbian friends were shocked… Sometimes homosexual people just assume that everybody is gay," she says. "Unlike transgender people who need to tackle issues such as sex reassignment surgery, we don't have a clear, concrete thing to fight against. The things we encounter are more obscure, hard to see and to recognize."
Situations have improved over the past several years, Gondolin says, as more LGBT clubs on campus are no longer limited to homosexual issues and interests and are open to all identities. LGBT organizations such as Taiwan Tongzhi Hotline Association (台灣同志諮詢熱線協會) also set up branches to attend to different sexual and gender groups.
Minority of the minority
Chen says the transgender community is independent of gay and lesbian groups, having its own network and culture. Many of them don't take part in tongzhi activities. There are on average some 20 transgender persons joining the LGBT parade each year.
"More transgender people should stand up and speak for themselves. Otherwise the mainstream tongzhi community will become the spokespeople for our movement. They mean well, but they are not trans," Chen points out.
Abbygail Wu (吳伊婷), chairperson of Intersex, Transgender and Transsexual People Care Association (性別不明關懷協會), agrees, adding that part of the reason why transgender people are less visible in the LGBT movement is because it is the homosexual community that started and continues to lead the movement. It is also because transgender people are less willing to come out and make themselves heard.
Wu believes the discrimination against transgender people in school, at work and within families make them too scared to "express themselves even in a safe place like the parade."
"Unlike homosexuals who can conceal their sexual orientation, the gender identity and expressions of trans people are discernible. Conflict and discrimination often come before we are ready to deal with them," Wu points out.
"But if you don't come out due to pressure, others won't understand you, and the misunderstandings and biases deepen. Then you feel more afraid to come out and become the minority of the minority. It is a vicious circle," she adds.
For many bisexuals, being seen is also the key to combating ignorance, Gondolin says.
"Others forget us, but not on purpose. It is their habit of not seeing. If you want people to remember you, you need to stand in front of them all the time," the convener-in-chief notes.
Stand out and be seen
Hiker Chiu (丘愛芝), founder of Organization Intersex International Chinese (OII-Chinese), made her/his first public appearance as an intersex person at the pride parade in 2010. Before that, gender activists — let along members of the general public — rarely noticed the existence of intersex people.
According to Chiu, the intersex movement is relatively new even in the international LGBTI circle. S/he says intersex issues first came to the public's attention in the US in the early 1990s. The International Lesbian, Gay, Bisexual, Trans and Intersex Association, one of the world's biggest LGBTI organizations, started to hold international forums on intersex issues a couple of years ago in the hope of gaining a better understanding of the community. The association didn't add intersex to its name until 2008.
"Intersex people used to be placed under the transgender category, and that is about all they knew about us… It is weird for us to be categorized trans because our life experiences are very different from theirs," Chiu says.
The parade offers a platform for different voices and helps them gain recognition, s/he adds.
"I chose to come out at the pride parade because to me it is a familiar, safe place, and I knew people there would accept me. Now it is my job to make them understand who I am," Chiu says.
This year's procession will set off from the square in front of the Taipei City Hall at 2pm. The route follows Renai Road (仁愛路), Anhe Road (安和路), Dunhua South Road (敦化南路), Zhongxiao East Road (忠孝東路), Yixian Road (逸仙路), Songshou Road (松壽路) and Shifu Road (市府路).
The parade ends with speeches and performances from activist and minority rights groups, as well as celebrities including Hong Kong's gay stars and musicians Anthony Wong (黃耀明) and Denise Ho (何韻詩) and Taiwan's singer Achau (阿超).
Organizers say the easiest way to get to the meeting point is to walk from the Taipei City Hall MRT Station (市政府捷運站). They encourage participants to meet in front of the Taipei City Hall at 1pm. The procession is scheduled to return to the square at around 4:30pm. For more details, visit: twpride.org.
Comments will be moderated. Keep comments relevant to the article. Remarks containing abusive and obscene language, personal attacks of any kind or promotion will be removed and the user banned. Final decision will be at the discretion of the Taipei Times.