Just another love story with a twist
'The Matrimony' is long on atmosphere and short on real human passions
In his third feature film, Chinese director Teng Huatao (滕華濤) turns to horror, a genre that has been mostly overlooked by contemporary Chinese cinema. Set in 1930s Shanghai, The Matrimony starts on a melodramatic note when radio hostess Manli (Fan Bingbing) dies in a car accident in front of her cinematographer boyfriend Junchu (Leon Lai), who had been about to propose to her. In his anguish, Junchu shuts himself off from everyone, including Sansan (Rene Liu), the woman his mother forces him to marry after Manli's death.
fil
Tortured by her unrequited love for Junchu, Sansan wanders their mansion, which is filled with strange whispers and shadows at night. One night, Manli's spirit appears out of nowhere and proposes a deal. The ghost will possess Sansan's body and visit Junchu, who at this point is in the hospital with a life-threatening illness.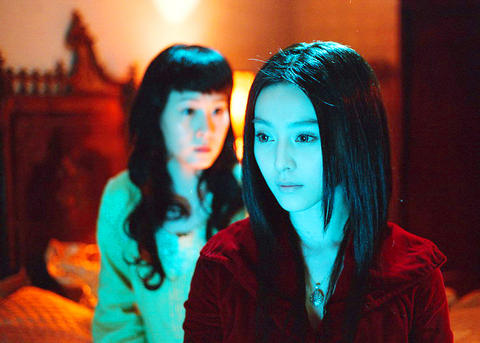 Sansan agrees, and after further possessions comes to resemble Manli more and more. She grows closer to her husband, who seems to be learning how to move on with life. Manli is furious. Consumed with jealousy, she is determined to get her lover back at any cost.
World-class cinematographer Mark Lee Pingbing (李屏賓), who has worked with first-rate directors like Hou Hsiao-hsien (侯孝賢) and Wong Kar-wai (王家衛), paints The Matrimony with a cold, bluish palette for an eerie, mysterious mood. Thrill-seekers looking for a good scare will be disappointed, however, as this movie is not designed to terrify viewers so much as it is to use horror as a vehicle for what would otherwise be just another hackneyed triangular love story.
Apart from a narrative twist that only reveals itself at the end, the storyline is straightforward and offers few surprises. Some viewers will no doubt see the film as simply the fulfillment of a man's wish to be desired by two beautiful women, one seductive and the other virtuous and subservient. More charitably, the movie could also be seen as a reflection on how love can bring out the worst in people. Though depicted as a tender, caring lover, Junchu is also weak-willed and selfish. Both traits are revealed early in the story when he acquiesces to his arranged marriage, then treats his new wife with indifference while he pines for Manli. Sansan is the incarnation of virtue and selfless love, but she also compromises herself by making a deal with a ghost in order to win Junchu's affections.
It is Manli's desire to possess her lover that gives the film its psychologically chilling moments. Her ghost is the archetypal goddess of revenge whose insanity destroys all in the name of love.
The Matrimony boasts a star-studded cast from Taiwan, Hong Kong and China, but suffers from a mediocre script and lackluster performances. In the end, it's just another love story interspersed with a few scary scenes and special effects.
The Matrimony is prettily shot and has a big-name cast, but it fails to come to grips with the human emotions it purports to explore.
PHOTOS: COURTESY OF SWALLOW WINGS
Publication Notes
Film Notes
The Matrinony (心中有鬼)
Directed By: Teng Huatao(滕華濤)
Starring: Rene Liu(劉若英)as Sansan;Fan Bingbing(范冰冰)as Manli;Leon Lai(黎明)as Shen Junchu
Language: In Chinese with English subtitles
Taiwanese Release: Today
Comments will be moderated. Keep comments relevant to the article. Remarks containing abusive and obscene language, personal attacks of any kind or promotion will be removed and the user banned. Final decision will be at the discretion of the Taipei Times.