Inn among a sea of clouds
Nestling in the peaks of Five Finger Mountain are several hostels that welcome escapees from the urban rat race
Even in the car it was a tough climb up to the hostel. Though the weather was fine and the road was in a reasonable condition it was easy to imagine slipping and plunging hundreds of meters to the bottom of the valley.
But the view was worth it. A sea of clouds lapped against the peaks of Five Finger Mountain (五指山), part of Taiwan's central mountain range in Hsinchu County (新竹縣). At an altitude of over 800m the air was light and clean, refreshing the lungs after their daily battle for oxygen in smog-bound cities.
Hsinchu is at the heart of Taiwan's much-trumpeted "green silicon island" revolution. When Chen Shui-bian (陳水扁) became president six years ago and before clouds of corruption spoiled the view, he outlined a vision of Taiwan being a high-tech country that could also be a premier tourist destination. Economic progress and environmental protection would walk hand-in-hand into a bright future sunset.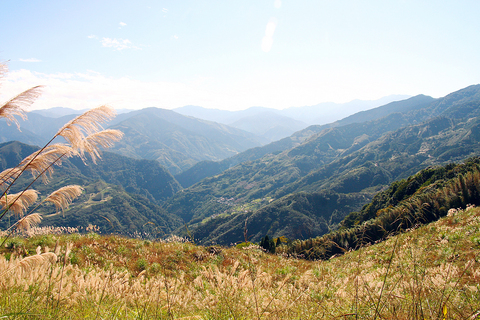 The stunning views, fresh air, rustic accommodations and scenic drives make a trip to Five Finger Mountain well worth the effort.
PHOTOS: JULES QUARTLY, TAIPEI TIMES
As Taiwan's manufacturing base migrates to China, it has been reasonably successful in transforming itself into a knowledge-based economy. Copying the example of California's Silicon Valley, Hsinchu Science Park has become a center of innovation and home to the world's top semiconductor foundries.
But the green part of silicon revolution hasn't really happened. Although there was a 16 percent increase last year in the number of visitors to 3.2 million, according to the Tourism Bureau, this was achieved mainly through celebrity endorsements rather than tending to its natural attractions.
Even so, there are a few good-news stories and examples of businessman going green. On a clear day (and there aren't many of them) you can see Five Finger Mountain from Hsinchu. This is where Hsieh Te-jin (謝德金) built his hostel, Time in the Mountains (山居歲月), on land in Wufeng (五峰) owned by his wife, who is from the Saisiyat tribe.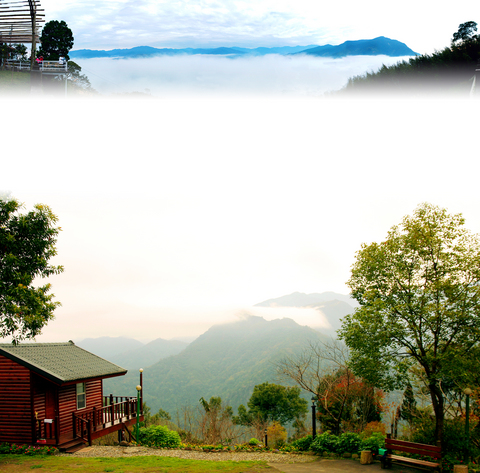 "I started construction 10 years ago and did all the work myself. At first the property was a vacation home for my family and friends but then I had the idea about five years ago of expanding and building small chalets for tourists," Hsieh said.
Since then visitors from Hsinchu and beyond have been heading to Time in the Mountains for long-weekend breaks to recharge their batteries. Hsieh provides afternoon tea and coffee as well as fresh, home-cooked meals. Business has grown steadily and other hostels have been opening up in the area, Hsieh added.
Some of them, like Lu Wooden Farm (魯木農場), also in Wufeng, have drilled deep and found cold-water springs. The owners have marked out trails for walks that suit a range of people, from fitness freaks to the basically sedentary. There are benefits to one's mental and physical health from simply sitting on your porch, reading a novel and watching time go by.
Other attractions in the area, which is listed among the 12 most enchanting places to visit by the Tourism Bureau, include forest walks and bamboo groves. There are also caves, some of which were used by the short people, a race the Saisiyat believe were the original inhabitants of Taiwan.
By the roadsides there are informal markets where farmers from the predominantly Atayal, Saisiyat and Hakka population sell produce fresh from their fields. In many settlements you will find small huts by the side of the road that have KTV equipment and offer light refreshments. There are also many restaurants offering Hakka and mountain food.
The towns that connect Five Finger Mountain include Chudung (竹東), which has a few temples but not much else of interest; and Wufeng. In Peipu (北埔) there are first-grade historical sites and an old street that is worth browsing. But if it's birdsong and unspoiled nature that you crave, it's easy to find in the mountains of Hsinchu.
Mountain road factbox:
The towns of Chudung (竹東), Peipu (北埔) and Wufeng (五峰) are jump-off points for tours of the peaks of Five Finger Mountain. All are easily reached from Hsinchu.
Time in the Mountains (山居歲月) is at 269, Lin 14, Da-ai Village, Wufeng, Hsinchu County (新竹縣五峰鄉大隘村14鄰269號). Open Friday to Sunday. Phone 0970-153-283. Check www.mtlife.104inn.com.tw for further details, including a map of how to get there. Rates are from NT$1,300 to NT$1,600.
Lu Wooden Farm (魯木農場) is at 463, Lin 23, Maopu, Da-ai Village, Wufeng, Hsinchu County (新竹縣五峰鄉大隘村23鄰茅埔463號). Open all week. Phone 0933-267-460. Check www.minsu.com.tw for details of this hostel and others in Taiwan. Rates are from NT$2,500 to NT$5,000.
Comments will be moderated. Keep comments relevant to the article. Remarks containing abusive and obscene language, personal attacks of any kind or promotion will be removed and the user banned. Final decision will be at the discretion of the Taipei Times.