Restaurant: VVG Bistro 好樣
Address: 20, Alley 40, Lane 181, Zhongxiao E Rd, Sec 4, Taipei(台北市106忠孝東路四段181巷40弄20號)
Telephone: (02) 8773 3533
OPEN: Weekdays 12am to 11pm, Weekends 11am to 11pm
Average meal: NT$600
Details: Menu in English and Chinese. Visa and Mastercard accepted
The VVG Bistro is a small French restaurant that can be difficult to find if you haven't been told its exact address. Although its entrance is half obscured by shrubbery, it has nevertheless generated a following and can get quite crowded on the weekends. The creative dishes provided solid fare that lives up to the restaurant's name: Very Very Good.
Upon entering the eatery, one is greeted by a wooden horse towing a wagon of fruits. The walls are lined with bottles, jars and cardboard artwork. The restaurant was designed by owner Grace Wang (汪麗琴) with the help of her friends. It has a Bohemian feel with its mismatched furniture and colorful water glasses. The staff are young and dedicated, but be prepared to wait a while before your food comes.
The kitchen takes up the center of the restaurant, where you can see the chefs always busy preparing dishes. This activity produces a lively atmosphere for conversation.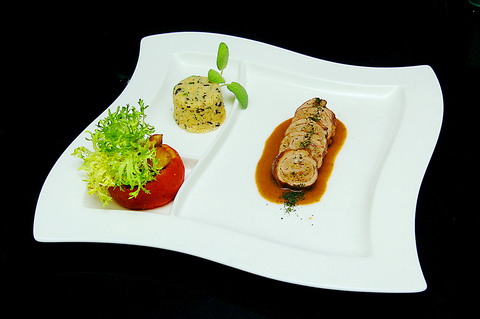 VVG Bistro stands for ``very, very good.''
PHOTO: SUNG CHIH-HSIUNG, TAIPEI TIMES
The VVG Bistro offers French cuisine that is sometimes prepared in inventive ways. To start off, the watercress and coriander green soup, a consomme garnished with bacon, is served in a tall cocktail glass. Its thick flavor and interesting presentation makes up for the fact that it's a small portion.
The main courses range from NT$520 to NT$680. The fisherman's dream is a spicy seafood combination with prawns, squid, clams, oysters and tiny shrimps. It's well cooked and topped with savory fettuccini. The roasted chicken dome is a large fist-sized ball of tender meat on a bed of bell peppers and risotto. There is an accompanying chocolate sauce which provides an interesting taste combination.
Each main course comes with a plate of bread and for an additional NT$60 you can add a cup of homemade pesto sauce. The pesto achieves a balance in the strength of its garlic and olive oil that most pesto sauces do not. For less expensive fare, the linguine dishes in the pasta section are priced at NT$320 to NT$380 and are just as filling as the main courses.
While the main entrees are consistently good, the weekend brunch (NT$420, served from 11am to 4pm) is the most popular lunchtime order. It offers a full variety of breakfast items, including a refreshing chicken roulade, an amaretto pound cake, strawberries with homemade yogurt, and a choice between fruit champagne or a glass of cucumber juice. The brunch also includes tea or cafe au lait. The cafe au lait is an entertaining experience as it is served in generous amounts in a large soup bowl. VVG Bistro also has a wide range of other teas, coffees and alcoholic beverages, along with a selection of homemade desserts.
Comments will be moderated. Keep comments relevant to the article. Remarks containing abusive and obscene language, personal attacks of any kind or promotion will be removed and the user banned. Final decision will be at the discretion of the Taipei Times.