Fall of the Banana Kingdom
For the past three decades, Taiwan's banana farmers have had to work more and more for less and less. The good old days are a memory for them, and the future only holds threats, primary among them being entry into the WTO
It's another harvest day for banana growers in southern Taiwan. For nearly a half-century, 79-year-old Chang Jung-yao (張榮堯) has sweated his life away on his tiny 1.5 hectare plot of land near Chih Shan (旗山), a small township in Kaohsiung county. He is doing it again today. Using a worn, ox-horn shaped knife, he cuts clusters of bananas from a tree. From each stem, banana oil gathers in dewy beads. It drips onto Chang's shirt, adding to previous stains and leaving a sour smell. He says this oil cannot be washed off.
Then he begins to tell a story, sifting through 45 years of farming memories to recall a time when the oil stain and its pungent odor meant wealth and status. He remembers evening strolls among the bars and red-light "tea houses," wearing a similar T-shirt. The girls would eagerly attend to him, knowing that the stained shirt meant he was a banana grower, that he had money. He was a swaggering youth, Chang remembers.
But that was when bananas were the best export business in Taiwan. It was a Banana Kingdom, of sorts. Chih Shan, which had the largest banana farms on the island, produced nearly one-third of Taiwan's bananas. And as such, it also had the densest collection of red-light venues around, with more than 10 "tea houses." For both the farmers and bar girls, the yellow shining fruit seemed like glittering gold, making Chih Shan one of the most bustling towns in southern Taiwan. "There were so many girls soliciting me," Chang says, "that my sleeves were almost torn off."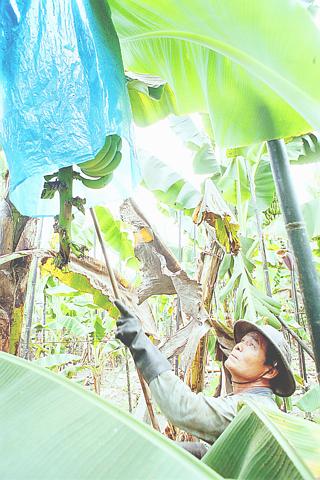 A farmer picks bananas with his hook. Banana picking is not only grueling and time-consuming, but very poorly paid.
PHOTO: CHEN CHENG-CHANG, TAIPEI TIMES
Chih Shan was no doubt the capital of this banana kingdom. The farmer boasts that the town's Farmer's Association was the richest bank in Taiwan. But now, Chang says, "this stained T-shirt is worth nothing."
Today, Chang cannot spin such happy tales, because banana farmers, as well as other farmers, have watched their incomes wither away, prey to a more industrialized society and an inability to change. Taiwan's farmers make only 40 percent of the minimum wage, according to the Council of Agriculture, which is less than foreign laborers, who are at least guaranteed the mandated NT$15,840 per month. The COA expects things to get worse after Taiwan enters the World Trade Organization later this year.
It would be hard, though, for banana farmers to imagine things getting worse. Just two weeks ago, tens of tons of bananas were stacked in Chih Shan's banana collecting centers, most of them mashed and rotting away. That week, banana prices dropped from around NT$10 to NT$1 per kilogram.
The drop was linked to a simple, yet calamitous, administration error. The Taiwan Province Fruit Marketing Cooperative (台灣省青果運銷合作社), which handles the island's exports, had requested 6000 more boxes than it actually needed. By the time the company realized the mistake, farmers had already sent loads of bananas to the collecting centers. This created a false image that bananas had sold badly in the local market. And this erroneous impression was soon magnified by media reports, which helped create a fear in the internal market, forcing the price down to rock bottom. Following the price drop, farmers began to dump their bananas, the fruit of a year's hard labor. "It was worse than feeding the bananas to pigs," Chang recalls.
In Taipei, officials tried to help with a blitzkrieg public relations campaign. Everyone should do his or her part, they implored, and eat bananas. The Ministry of National Defense ordered all soldiers to consume bananas as side meals. KMT chairman Lien Chan (連戰) urged the party's 2.5 million members to eat more bananas. Legislative Yuan speaker Wang Chin-ping (王金平) bought 36 tons of bananas to share with his legislators and administrative co-workers.
The effort seems to have worked, but may be too late in coming. After farmers dumped thousands of tons of bananas, the supply has fallen short of demand. Thus, the wholesale price has returned to NT$10 per kilo. So now there is money to be made again, but the harvests of many lie rotting in the fields.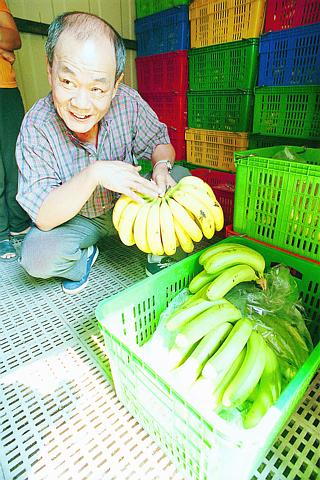 A banana farmer explains how to accelerate the maturing process of green bananas through refrigeratio.
PHOTO: CHEN CHENG-CHANG, TAIPEI TIMES
To farmer Lee Jung-chang (李榮長), who, in his 60s, is a third generation banana farmer, this incident is just a reflection of the common privation and vulnerability he and other farmers face. "The days have been tougher than ever," he says.
Lee's colleagues echo his pessimism. "For banana growers to make a fortune, it is like Obasans giving birth to a baby -- you have to work very, very hard!" says Chang Te-ming (張德明). Another says: "We have been called the Banana Kingdom in the past; now it's the fall of the kingdom."
Lee is like the other 5000 farmers in Chih Shan, a town of old farmers where the average age of each worker is 60, and where most have grown bananas for more than 30 years. Everyday, Lee begins working in the fields at 5am. He and his wife are the only workers on their farm of 3000 banana trees. "We usually work until the sky turns dark. And during the harvest season, we need to begin at 4am," he says.Lee says each banana tree produces around 20 kilos. If sold for the average year-round price of NT$10 per kilo, the fruit, which is harvested once a year, can only bring the family NT$600,000 annually. This means he and his wife earn around NT$15,000 per month once fertilizer is deducted. "For this amount of money we need to work non-stop without days off. And also the cost of our labor is not yet deducted from the NT$15,000," Lee says. He doesn't want to think about the net profit of his banana farm. That might make him more depressed.
A farmer shows off a bunch of bananas that have contracted a disease which blackens banana trees and their fruit.
PHOTO: CHEN CHENG-CHANG, TAIPEI TIMES
This is a business that none of Lee's three children want to take over. "They are all taking jobs in Kaohsiung city. They did not even learn how to work in the farms," he says. It's hard to blame them in light of other recent COA figures, which show that some farmers make as little as NT$6000 per month.
Mrs. Sheng, who is about 50, says she earns around the same amount as Lee. As the daughter of a banana farmer, she says in the old days she couldn't enjoy the hedonistic privileges the male farmers had in the "tea houses". "If I knew I would make only NT$10,000 each month, I would have chosen to work in the factories," she says. "But there is no factory around this area." Sheng works at a Chih Shan banana collection center, where she places bunches of bananas into cartons. To each strictly selected bunch, she pastes a "Taiwan Bananas" sticker, a symbol of quality. But the name Taiwan Bananas has not been as famous as in the past, especially in Japan, which is the only export buyer of Taiwan bananas.
Every year, the Fruit Marketing Cooperative, makes production contracts with banana farmers according to business deals with Japan. A guaranteed price is offered -- NT$10.5 per kilo -- in an arrangement that has existed since the Japanese colonial days.
However, from the 50s to the 90s, the market share of Taiwan bananas in Japan dropped from 80 percent to 7 percent -- a decline partly linked to Taiwan's industrial transition and a shift to banana plantations in other countries, says Chung Shing-chang (鍾星昌), manager of the marketing cooperative. The majority of the market has been taken over by Filipino and Central and South American bananas. This change, in addition to a rain-delayed harvest and overproduction this summer, has also led to the deteriorating livelihoods of Taiwan's banana farmers.
Starting from the 1970s, Japanese business groups have been engaged in large plantation projects in the Philippines. Using similar seedlings, Chung says Filipino bananas, especially mountain ones, taste similar to Taiwan's spring-summer bananas, but sell for only half the price.
This kind of large-scale operation in the Philippines and Central and South America, invested by multinational corporations like Del Monte, Dole and Sunkist, is too daunting for the small Taiwanese farmer to counter.
Solely from the cost aspect, Taiwan bananas are becoming less competitive because of Taiwan's small farmland system, says agriculture economist Peng Tso-kwei (彭作奎), former director of the COA and currently a professor of agricultural economics at National Chung-hsin University. The average size of a multinational plantation is 1000 hectares. The farmland Lee Jung-chang inherited from his father when he was 20 measured only half a hectare.
Where did the money go?
One might be curious about where the money went that was made during the good old days of bananas. Did savings in the "banana bank" transform into nest eggs that could be used in times of trouble or to support a career change?
"We peasants are all naive, simple-minded countrymen. We stick to our ancestors' lands," Lee says. "Thirty years ago we never thought about investment in industry or real estate. When we saved some money, we bought a small plot of farmland, and when we had more, we bought a bigger plot. But we did not know during the years as we bought more lands that prices for farmlands declined drastically."
"The era of the banana kingdom has passed," says professor Peng. He thinks bananas are one of the fruits in Taiwan that lack competitiveness in the global market. "The only people who appreciate the taste of Taiwan bananas are Japanese and Taiwanese themselves," he says.
According to Peng, the only way to save Taiwan bananas is to reduce production. He believes this must be the strategy adopted by many of Taiwan's fruit growers. "Fruit products will be affected the most after we enter WTO," he says. Except for a few subtropical fruits, many kinds of fruits will face reductions, especially citrus fruits and most of Taiwan's temperate fruits, such as peaches, plums and apples.
In the face of such potential damage, the COA has set up a warning system for supply and demand imbalances.
And in the wake of the banana crisis, the list of products with potential for over-production has been upped to 19 items, including rice and bananas.
The COA's new director, Chen Shi-huang (陳希煌), recently announced that the council will set up a joint Marketing Board for Agricultural Products (農產運銷局), which will intervene and integrate affairs of production and marketing after WTO entry.
As former director of the COA, Peng says during his tenure the government undertook a Fruit Farm Restoration Plan (果園振興計劃), which aimed to reduce and re-plan fruit farms.
"The COA should be playing a more active role to help promote agricultural products. Once an item is listed in the warning system, you should summon all supermarkets and retail systems to help the selling," Peng says.
Despite the change that is in the air with WTO approaching, for traditional farmers like Chang and Lee, it is almost impossible to switch crops or even careers. "What else can I grow? I cannot even sell the land for a good price!" Lee says.
"It is little profit but it's stable with the guaranteed price."
Both Lee and Chang say they will keep on growing, even though the joy of the old days seems destined to remain there. "In the past he sang Hill of Youthfulness (青春嶺), a Taiwanese ballad, when he worked in the farm," says Chang's son, Chang Te-ming (張德明). "Now he sings The Highway of a Sad Affair (悲戀公路)."
Comments will be moderated. Keep comments relevant to the article. Remarks containing abusive and obscene language, personal attacks of any kind or promotion will be removed and the user banned. Final decision will be at the discretion of the Taipei Times.